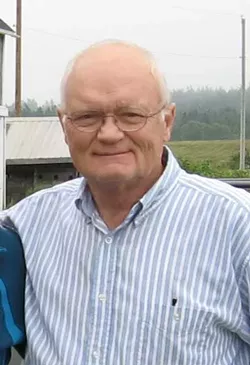 Herm Wills brought ringette to Nova Scotian girls, then tried to deny them the right to abortion. Photo from http://ringette.cansportlive2.com/en-us/oursport/halloffame/hermanwills.aspx
It's an old joke that anytime an institution uses words like "family," "morality" or "decency" it usually means the exact opposite. That appears to be the case in the upcoming Family Values Awards, which is set to give longtime local anti-abortion advocate Herm Wills recognition for his work with the Campaign Life Coalition.
Wills has worked for over 25 years with the Nova Scotia chapter of the national advocacy group, which lobbies all levels of government to "defend human life" against abortions and other "threats to the family."
"Campaign Life supports traditional families, there's no question about that, but we don't impose on anybody. We try to point out the advantages of that," Wills said when contacted for this story.
A past president of the CLCNS, Wills retired from his position in 1997 but still serves on the board of directors. At the time of his retirement, a press release announced that "Herm's trademark has been a constant stream of pro-life messages and updates to every government member, church leader and community activist whose fax number or e-mail address he could get."
In the same release, Wills expressed his displeasure towards the state of Canada, and its "appalling expansion" of sex education, "militant homosexual activism" and "virulent anti-family legislation."
A soft-spoken, polite speaker over the phone, Wills says he tries to offer opportunities instead of imposing intolerance.
"People come to our door in need, we help them. We don't turn them away," he says, noting that "family life is the first community we have."
Talking to him, Wills doesn't come off as a raving misogynist. Despite his organization's clear message to legislate women's bodies, he in fact took some time to bemoan the Canadian media's lack of equal coverage of women's sports (in 1974, Wills was responsible for introducing the game of ringette to Nova Scotia).
It's possible Wills has no malicious intent towards women or gays, but organizations like the CLC will often cloak their ideological mission under the banner of "family values," making any opposing viewpoints seem inherently immoral.
"It's frankly laughable, says Jude Ashburn. "I think that putting out some sort of notion of what the family is is really funny in terms of reproductive justice. I mean, whose life are you valuing? Whose family?"
Ashburn, of Dalhousie's sexual and gender resource centre, South House, says phrasing any battle for reproductive rights in terms of "values" misses the point.
"Reproductive justice is not a moral issue. It's a health care right," she says. "Anyone else is just anti-women and anti-autonomy. It's not a philosophical standpoint. It's not a moral dilemma. It's health care. Deal with it."
The Campaign Life Coalition recently hosted its 6th annual "March for Life" rally on May 9 in front of the Legislature. The group claims to specialize in political action, identifying and supporting pro-life politicians in all parties. They're currently working against an "anti-bullying" bill in Manitoba which, in part, seeks to create Gay Straight Alliances as "safe spaces" for high school teenagers. The CLC warned its national members that the bill "could force all schools to promote morally depraved sexual concepts," while also contradictorily reaffirming its stance opposing "bullying against any child for any reason."
Organized by the public affairs council for the Church of Jesus Christ and Latter Day Saints, the Family Values Awards are being handed out on May 24 at a ceremony in Dartmouth. Other recipients this year include Margit Weschler, who has fostered 40 children since moving to Canada from Germany 17 years ago, and MITE theatre education instructor Janice Cruddas. Messages for the organizers were not returned by press time.