Thanks to prime minister Stephen Harper, we are facing not just the drudgery of yet another election, but international scorn too. "At a time when Arabs risk life and limb for political freedoms, Canadians seem largely apathetic about the erosion of their democracy," wrote Ramesh Thakur in The Australian. He went on to say "the extent to which constitutional conventions, parliamentary etiquette and civil institutions of good governance have been worn away in Canada is cause for concern."
Maybe taking to the streets is the answer. After all, last election in the federal riding of Halifax, we did everything we're supposed to do to voice our displeasure. We barely voted for Harper's Conservative candidate. We sent a talented, articulate advocate, Megan Leslie, to be our representative in Ottawa. Leslie turned out to be such a strong voice in opposition that the other members of Parliament named her the Rookie MP of the Year. And so what? Harper rolls on.
However, as much as our system sucks, Nick Fillmore isn't ready to give up on it. Sure, he is realistic about apathy: "Everybody just says, 'I don't think my vote is going to do what I want it to do,'" is how he puts it when we talk over the phone. But Fillmore is the type of person who gets involved rather than turned off.
Originally from Kentville, in 1969 he started Halifax's fondly remembered crusading newspaper The 4th Estate, then worked twentysomething years as a CBC journalist. Now Toronto-based, he spends a lot of time in developing countries teaching journalists and otherwise encouraging a free, strong press. And in this country, he helps run Catch 22, an organization devoted to free, strong democracy.
Catch 22 (find it online at catch22campaign.ca) takes its name from the 22 days Harper shut down Parliament last year in order to make an embarrassing inquiry disappear. C22 is registered with Elections Canada as a legally recognized third party participant, and has launched a campaign explicitly aiming to defeat Harper's Conservatives for "undermining democracy" chief among other reasons.
The key Catch 22 strategy is to target about 20 ridings the Conservatives narrowly won in 2008, and stump for the anyone-but-Conservative candidate with the best chance of winning: organizing a C22 committee in the riding, getting volunteers handing out flyers at campaign events, buying a little advertising. All the old-school grassroots political moves, brought up to date with online visibility (TwitFace and the like).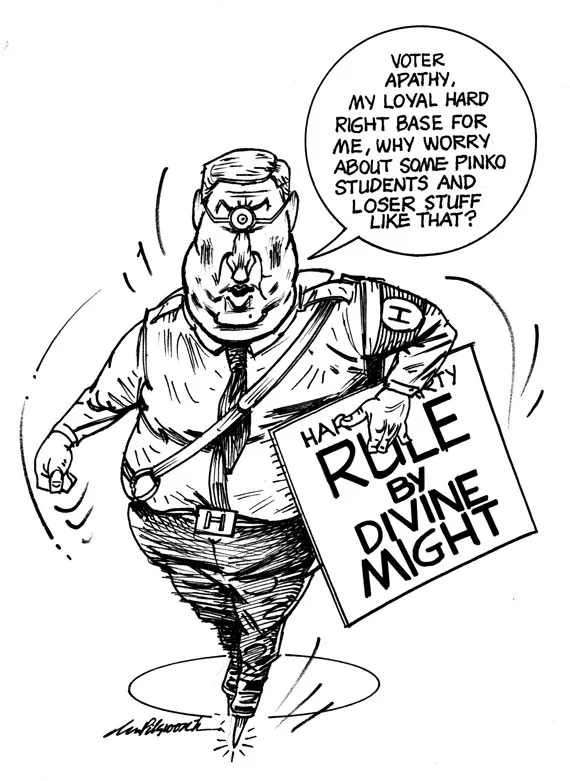 If you're thinking about donating to Catch 22, Fillmore stresses that, except for one student hired to do bookkeeping, C22 is volunteer-run, so your money will be spent getting the message out rather than on office workers' salaries. Your donation is also going to the pro-democracy cause, not a particular party. "We're not going to hand money over to campaigns," says Fillmore.
In this way it differs from Swing 33, another strategic voting initiative that popped up for the election. Swing 33's site (swing33.ca) endorses a non-Conservative in 33 ridings, with a link straight to each candidate's donation page if you want to get involved.
But whether you give to Catch 22 or to a promising candidate, either way is really strategic donating, not strategic voting. And buying your way into political influence is hardly in keeping with the ideal of a free democracy. Fillmore gets the catch-22 here, and sees the Anyone But Conservative donation effort as a step on the way to fixing Canada's democratic process.
"The longer-term answer that will encourage people to vote more is to adopt some kind of proportional representation," says Fillmore. In other words, if a party gets seven percent of the total vote, as the Green Party did last election, they get seven percent of the seats in Parliament. (The Conservatives won 47 percent of the seats with 38 percent of the vote. The Greens didn't get any seats.)
Most first-world democracies use some form of proportional representation, Fillmore points out, and people seem to like it because every vote truly matters. He believes Canada's voter turnout rate---currently under 60 percent and in decline ---would rise as high as 80 percent with proportional representation. But since p.r. can open the door to smaller parties, "big parties in power don't encourage it." Of course, the big parties don't encourage strategic donations, either. But for now, that's the best tool we've got.