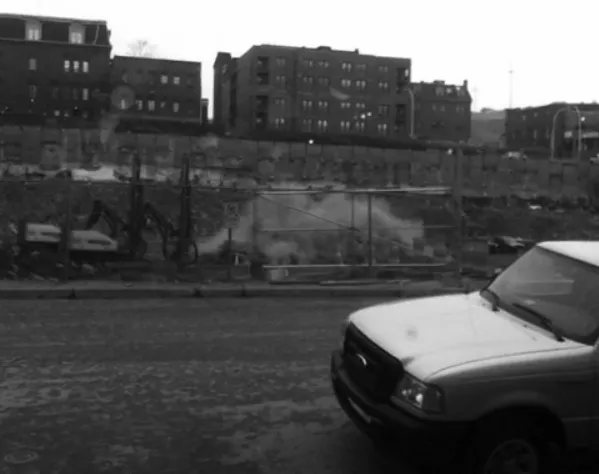 As patio season approaches, restaurant and bar owners along Argyle Street are dealing with continued blasting for excavation of the new convention centre site across the street. Crews have been drilling since January, blasting two or three times a day during business hours, although the city has yet to receive a construction permit for the centre itself.
Mike Rhodes, co-owner of the Carleton, wanted to offer customers a free shot every time they felt a blast---but it being a daytime phenomena, he decided pins that say "I had a blast @ the Carleton" might be a more sober option.
Rhodes is cautiously optimistic that blasting and patio business will co-exist. "I'm pissed off the blast crew are taking up parking spots but I'm glad to see things are happening in this sleepy little burgh," he says.
Marcus Brade, a Carleton bartender, refers to the forthcoming centre as a "white elephant"---he'd much rather see the area used for mixed residential, commercial and green space. "I wonder if the developer has a contingency plan for when people are out on the patios in May."
Patios will go out as planned and streets will no longer have to be evacuated when blasts occur, says Paul MacKinnon, executive director of the Downtown Halifax Business Commission. Visitors shouldn't fear flying rocks or debris as the construction goes deeper, he adds, but they'll still have to deal with dust and noise.
Downtown denizens can feel the underground tremor of the blasting blocks away from the site.
"The first time I heard it, I thought it was the noon gun!" said a government employee who works on Granville Street.
Wendy Friedman, owner of the Biscuit clothing store, says the blasts aren't so bad -- she just has to tell baffled customers what's going on.  The developer had promised to put up hoarding---sheets or wooden walls around the fence---in order to keep the messy hole out of sight for people on Argyle, she says.  But that hasn't happened yet. 
MacKinnon, however, says the developer's intention was to hoard when the blasting is complete.
City spokesperson Michaelyn Thompson says the blasting permit for the new convention centre site will be valid---and so blasting could continue until July 15---well into the patio season.
See Megan Tansey Whitton's Vine video of the explosions here.