In yesterday's Globe and Mail, Lisa Rochon wrote a great story about the new University of Waterloo's School of Pharmacy building in downtown Kitchener (my birthing grounds). Since the demise of the manufacturing industry, the city's downtown has gone the way of the shitter. In fact, King Street, where the new building is located, has at times looked an awful lot like Barrington, with its papered-over windows (luckily Barrington never had the arson spree that King Street did) and an attitude of malaise.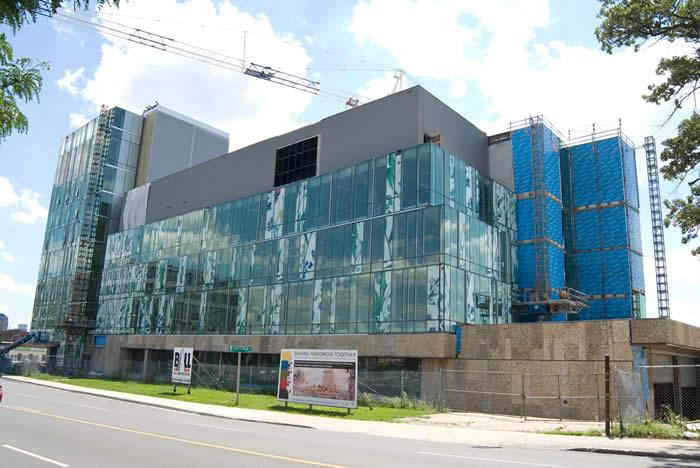 Under construction.

Detail of the flowers.

Instead of a dull, boring, green-glass finish, the architects Hariri Pontarini Architects, have created a botanical dream: "Photographic murals have been inserted beneath a series of glass spandrels that wrap the building's exterior. In those photos, verdant leaves grow everywhere; there are violet and red blossoms, too, and philandering bees. Surrounded by the sober, taupe palette of the neighbourhood's historic brick warehouses, the pharmacy building's lush gardenscape, dancing beneath glass, suggests that - convention be damned - there are delightful alternatives to lifeless cladding systems." The images are designed to be pleasing to pedestrians, drivers and even children. Inside, you can't see the floral imagery, but there are plans to continue the motif with an indoor herb garden.
You may remember that Hariri Pontarini Architects are responsible for Halifax's Twisted Sisters design. Ahem. I'm not weighing in on that old horse, but this building is a reminder that architecture—as an art form—has the potential to delight and inspire.