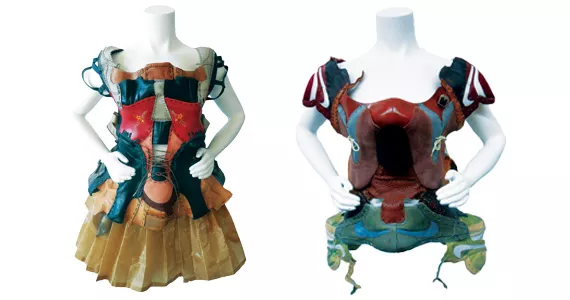 Lesandra Dodson's The Trilogy Project
Dodson collaborated with Mocean Dance and Live Art Dance to produce three pieces that merged original music, film, animation, performance art and dance in a uniquely layered and quirky experience the explored how far duets can go.
Activist Ink at the MSVU Art Gallery
Artists Emily Davidson, Dan O'Neill and Ericka Walker had full access to the Dawson Print Shop where their digital, letterpress and lithograph prints took inspiration from historically powerful images of activism in a socially show stopping way.
Cat Person: A Show all about Cats at Argyle Fine Art
It's no secret that Coast staffers are cat people (putting a feline on it is our M.O.) so February's aptly themed group exhibit from over 30 local artists was a veritable smorgasbord of furry delights featuring everything from greeting cards, prints, sculpture, photography, paintings and so much more. We only hope it'll turn into an annual affair---with a countdown better than birthdays.
From Illusion to Immersion in the SMU McNally Building
We got quite literally immersed in Lisa Frank's art this spring when the SMU data cave was transformed for the first time into a 3D art gallery where groups of four took a virtual nature walk down to every last detail---completely blowing away what visual artists thought possible.
Nocturne 2013
This year, the festival's first-ever curator Eleanor King tried to create cohesion in the city-wide nighttime art party by giving it the Space and Time theme and soliciting works like Lucy Pullen's nostalgic Interval for Halifax and art collective Sophie Farewell's However you do it...consider the stars, one of many steps in a more serious direction.
David Askevold: Once Upon a Time in the East at the Art Gallery of Nova Scotia
The AGNS's Askevold retrospection ran the gambit from chaotic installations and video pieces to photographic narratives, making this exhibit of the former NSCAD prof's experimental work curious, entertaining and maybe even a little life-changing.
Migrating Landscapes in the Canadian Museum of Immigration at Pier 21
When Canada's entry in the 2012 Venice Biennale ---maybe the biggest deal in architecture---made its way to Halifax, we were in for a treat. Architects shared their migration stories through built environment, and the 18 winning models proved to be a whole new way of telling stories.
Tony Fouhse: Live Through This at ViewPoint Gallery
Fouhse's summer photo series on Stephanie MacDonald's battle with drug addiction and subsequent recovery was a transformative and powerful perspective on addiction.
Mitchell Wiebe: Portal Shifters at the Khyber
This series of flourescent paintings had an almost hallucination-inducing rave-like atmosphere that worked both in and out of black light, creating a playful tension between neon gimmickry and personal preconceptions that practically glowed.
The Fieldwork Residencies
Taking the solely natural and social sciences sheen off fieldwork resulted in three projects this summer that got a lot more hands-on than a gallery might allow. The residencies involved picking up uncollected garbage (the Artifact Institute), 3D mapping lakes (Anne Macmillan) and inspiring new ideas for the Common Roots Urban Farm (Kelly Andres).
Arianne Pollet-Brannen: FLESH at the MSVU Art Gallery
If the shoe fits...it's probably fashioned into a dress. At least that's how it went at Pollet-Brannen's garment-sculpture exhibit of wearable art this month. Using the shoe as a guide and resulting in an amazing variety of recycled, feminist art inspired by the history of women's shoes, FLESH was the perfect way to finish the year.