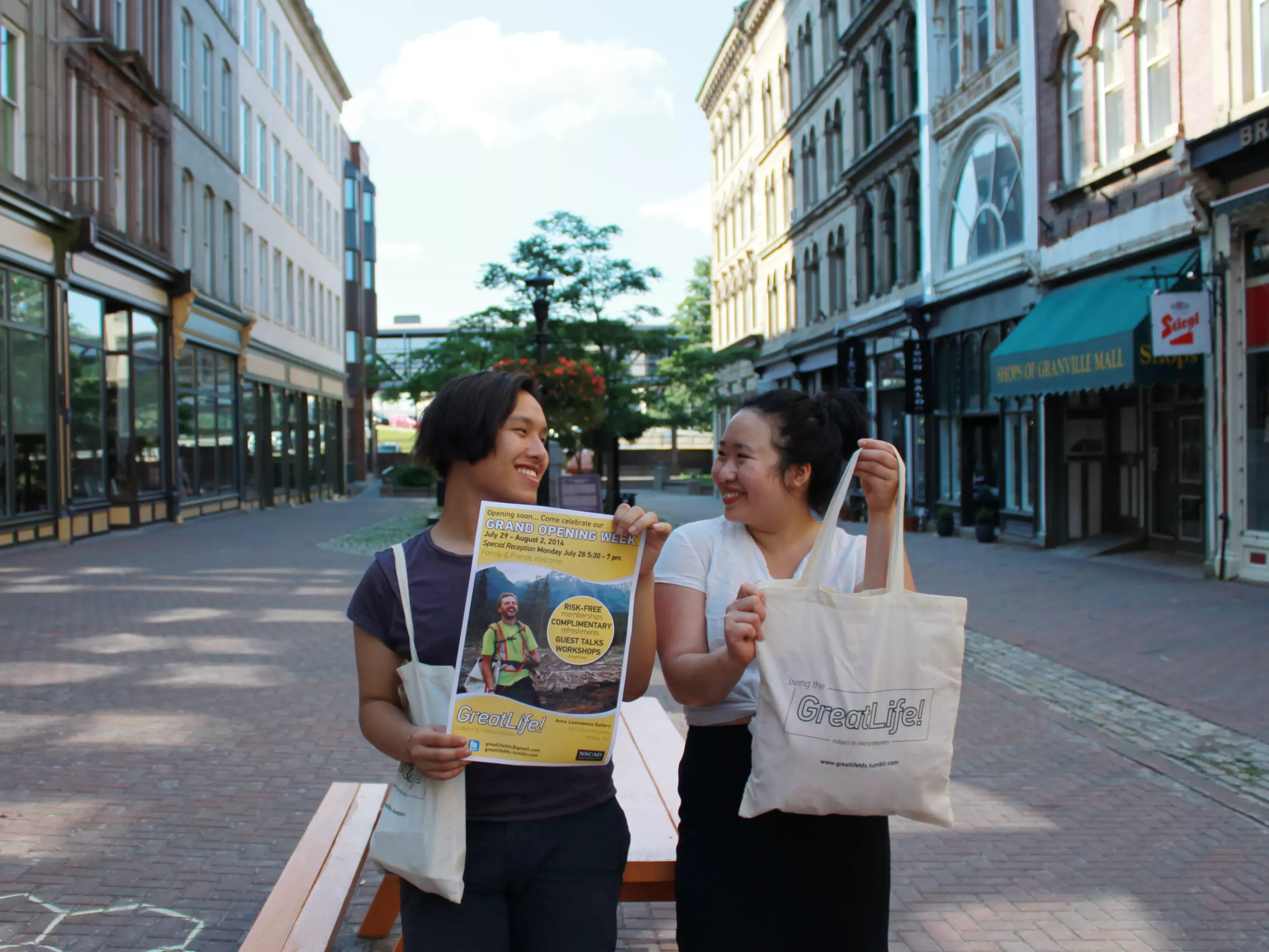 Like every good idea, the upcoming GreatLife! exhibit (July 28 to August 2 at Anna Leonowens Gallery, artist talk July 31, 12pm) started as a joke. NSCAD student union president Caleb Hung and artist Stephanie Yee were discussing emerging artists' reliance on artist-run centres, centres that often have their own location and funding problems. "Sometimes what emerging artists coming out of school need most is stability, a place they know is committed to the art community's growth and doesn't have to worry about space," says Yee. Hung was discussing his upcoming summer show at Anna Leonowens Gallery, and Yee jokingly suggested he have a show called GreatLife!, "which, if you know the area, would face the new GoodLife Fitness across the street."
They got to talking, realizing they could "address certain frustrations as well as engage the community in thinking about what the good life is and imagine what an arts and cultural utopia could look like," says Yee. The utopia sounds pretty sweet. Hung and Yee are friendly staff members, offering guests ice water, smoothies, informational pamphlets and free GreatLife! bags and merchandise (with "membership"). Nine artists including Hung and Yee have work in the show—performance, video, photography, textiles, sculpture—dealing with the mind/body dichotomy.
"One of the performances is a day long work, 'Directed Participation #1' by Laura Baker-Roberts that explores types of participation through various interventions and interactions with the objects and viewers in the space," explains Yee. Andrew Rabyniuk's "Run This Block" features a participatory 5km fun run around the Granville Mall courtyard on Saturday, August 2 (interested parties can email runningrunnersrun@gmail.com to sign up). Adrienna Matzeg's photography piece, "Benefits of a Membership" will be in display in the reception area, using pinhole photography "to explore spectatorship and performance."
Yee and Hung are offering a type of "customer service" that isn't always present in the average exhibit: because they will always be present, visitors can fully engage with the work—confused about a piece? Want more info? Yee and Hung are there to provide orientation sessions.
It's that spirit of engagement and community drives the idea of GreatLife!. "In contemporary life, arts and culture seems to be so far from the mainstream, but we're trying to prove that arts and culture are synonymous with community." Yee explains that "real-time communities" are far more exciting than virtual ones, after all, what's the point of having super fit quads if no one ever sees them? "Real, live body language is so much more exciting!" Yee says. "Our memberships are kind of a play on this. They're free and you're signing up to commit to a community that upholds certain values and ambitions, plus with a membership, you get a cute little GreatLife! tote bag. Really this commitment to community values or to your own well-being shouldn't need a contract, but that's kind of the point, we like that this show is playing with that corporatism as we question the taking ownership over the intangible."