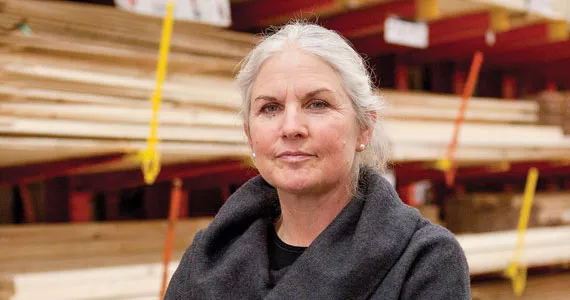 Deborah Herman-Spartinelli
Homes Halifax:
What's the first thing a person should ask of a contractor?
Deborah Herman-Spartinelli: First of all they should be discussing what they want as a finished product. Start out with the style. Because I also work with clients who don't work with architects, we do that together. Then there's the location of the property: You have to position the house on it. Are there services to be brought in? Sometimes that takes a long time.
HH: How long will that take?
DHS: It depends. At times you can't get power. You have to go through Nova Scotia Power and it takes a couple weeks to get an appointment. Then you have a scope done and you have to start the process of work orders, to bring in power, to bring in poles or underground. There's all kinds of things that can come up. It could be months or a month.
HH: What is the next step?
DHS: To hire me, you get a feel for each other and see if it'll work. It's a very personal process and you need to find out whether you'll enjoy the process, both of us together.
HH: Let's say you've agreed upon a design, you have a crew working for you. Would you then start to source the materials for the build?
DHS: First I'll price it. Get an estimate for them, so they can see the reality. I'll give them a ballpark so they are aware of the reality of the building, and then an actual estimate which is much more precise.
HH: The building begins once financing is in place?
DHS: And you have a set of plans and a building permit, a development permit. All the permits that are needed.
HH: In a climate like this there must be an ideal time of year to start building.
DHS: Well, we work year-round. We start in May putting foundations in and you can do that pretty much up to Christmas. Where we are especially, on the south shore. I have my crew that I have all the time, which is five. But this year being busier I have to hire a few more people. And I've had the same subtrades for years: Electrician, plumber, drywaller, roofer, that kind of thing.
HH: Of the people coming to you to build their home, what are the common misconceptions they have?
DHS: Cost. Some are very realistic, but if you've never built before it's a shocker. It keeps on going up.
HH: Is there any advice you'd give to people considering building a home?
DHS: There are materials that are available out there that I don't use. I don't use chipboard or MDF [medium-density fibreboard] and those kinds of composites. They don't have the durability of wood or even plywood. You have to think about it: An older home that is 150 years old and still standing in good shape---well, it was made out of boards and timber. And then you have houses that are only three years old that are rotting because they were made out of chipboard and bad building practices.
Talk to friends or acquaintances who've had houses built or renovated. That's how I get most of my work, through word of mouth. It's the best way, because then you have a trust already.