Last night. Get out and see
something
.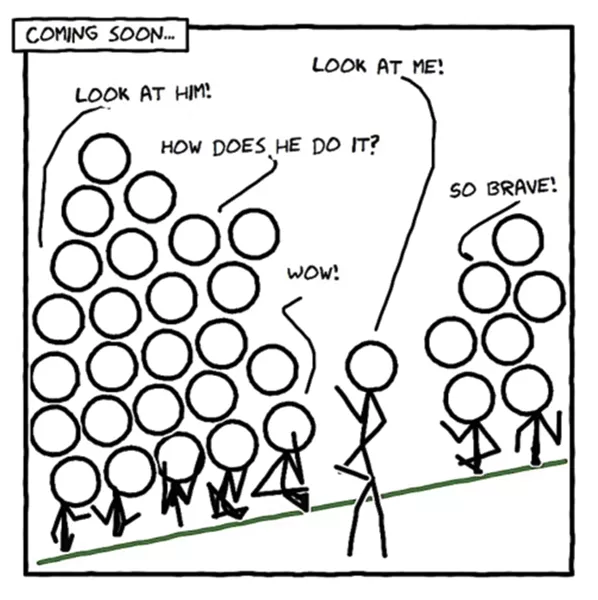 Attention Seeker
written and performed by Gerard Harris
A year after Gerard Harris' 2015 Fringe show,
A Tension To Detail
, we find that time has not changed Harris much, nor slowed him down. He still paces around and bounces in his seat on his own imaginary coals. He's still, undoubtedly, the master of spinning yarns, sometimes losing track of the threads he weaves. Harris still battles against the clock and time management, and he still speaks with lightning speed accessibility, forging a Fringe show that is uniquely his.
In this chapter, we have a show that feels both immediately familiar, yet stands as its own separate beast. While Harris still engages the audience with his own eccentric warmth, Attention Seeker is something we haven't seen before. At the show's onset, Harris confides that, despite his inner grappling and anxiety, he has always sought to be the centre of everyone's attention. Harris loves sharing his rapid-fire personality with those around him and that is precisely what the audience is given here. Ditching the more intimate storytelling style of his preceding work, he anchors his newest performance with a centrepiece story regarding his rocky journey delving into the world of stand-up comedy and finding some semblance of success. As a result, Attention Seeker presents an interesting combination of amusing personal anecdotes, a somewhat centralized storyline, and actual funny (and less funny) jokes straight from Harris' stand-up vault. The stand-up motif is a particularly clever thematic device, and subtly harkens back to Harris' inherent need to acknowledged and appreciated.
Attention Seeke
r is an interesting step of evolution for Gerard Harris' comedic brand of story-telling; he's clearly in his element, brandishing his cringe-worthy humour and shameless self-deprecation. Harris is definitely one to check out this Fringe season for although it may not have quite the same heart of his previous work, it definitely has a whole lot of nerve. —Carey Bray
The Bus Stop
2203 Gottingen Street
$10

Sunday Sept 11, 2:40pm
---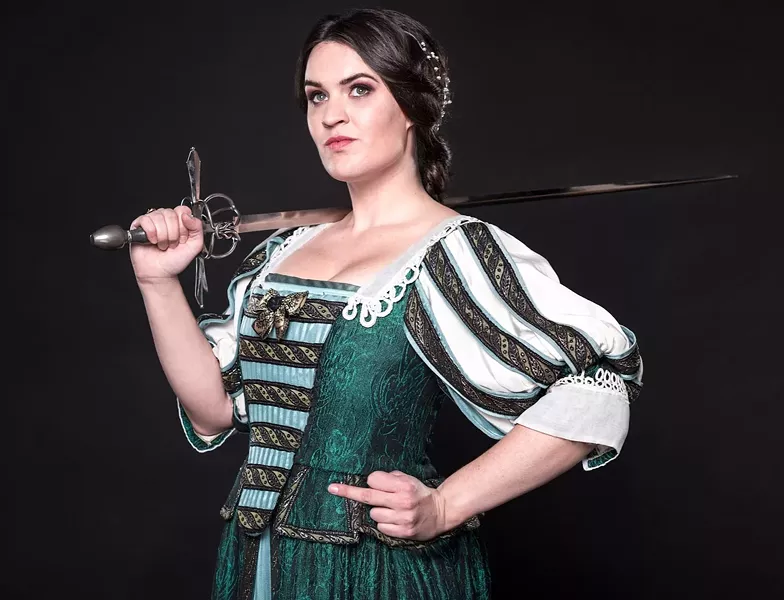 A Bitter Shrew
written and performed by Gillian English
In
A Bitter Shrew
, we learn a LOT about Gillian English's sex life. In fact, since her story runs from the time she first became sexually active to a few months ago, I'd say we pretty much cover it all. (There are a few missing years, but the gap is covered in English's other show,
Drag Queen Stole My Dress
, which, on the night I attended, started a half hour after Shrew finished.)
English is very much what gets called a "honest" performer, which is to say she's not afraid to go into detail which is both physically and emotionally graphic. Whether she's talking about the flaccid lover who tries and fails to "thumb it in," the man who's okay with period sex but repulsed by farts, or the guy who, without asking, replicates a disgusting move he learned from watching porn uncritically, English heads fearlessly forward, not shying away from even describing her own sexual misdemeanours ("I know, I know, but this is what I did.")
A lot of English's humour is of the "fuckandfart" variety (or here more specifically, "fuckthenfart"), of which there's always a plethora in Fringe shows. It's attention-getting, but I was more struck by the theme of maintaining strong self-esteem in the face of rejection and disappointment that ran throughout the stories. I wish this theme had been more strongly emphasized.
(I also wish there had been a bit more of the regional humour, as when she talks about her father describing "a hard-looking woman," or her Grandmother's revulsion at the idea that English might be dating a "traitorous" Campbell. This type of material is often seen as "tamer" than sexual and scatological jokes but I think that in the current environment, it's often fresher.)
English clearly excels at the one-person-telling-funny-stories-from-their-own-life form, a form that's increasingly dominant in the Fringe (whither drama?) She had two sold-out productions last year, and I anticipate her having similar success with this year's two offerings.
—Martin Wallace

The Company House
2202 Gottingen Street
$10

Sunday Sept 11, 6pm

---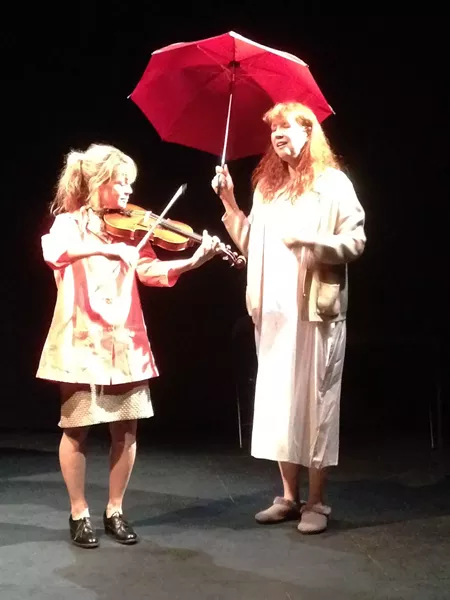 Butterscotch Palace
written by Ryan van Horne
featuring Val MacKenzie, Dana Rhyno and Alexander MacDougall
Another hit from Ryan Van Horne's play-pen. In some ways a polar opposite to his first play, the absurdist
Department of Common Sense
(Fringe Hit 2013),
Butterscotch Palace
is uncomfortably true-to-life. In a packed 40 minutes, Van Horne manages to scratch a number of itches 'til they bleed: bribes by Big Pharma, institutional sexism, doctors being bought, familial abandonment, blackmail, patients digging their own graves and quack remedies.
Of course, sixty years later, the 'quack remedy' called Music Therapy is now fully proven and successfully used in nursing homes and hospitals worldwide. That's the poignant part, and in many ways I would liked to have seen and heard more about the birth and growth of music therapy as a science. Indeed, it's what we were expecting.
Instead, if anything, there was too much covered. Was it necessary to paint the doctor as SO evil right from the get-go? The bribes, bullying and blackmail seemed to be an unnecessary sideline, methinks, to an already solid story. They're worth telling, for sure, but perhaps not in a 40-minute play about music therapy.
Alexander MacDougall is a little stiff as the thoroughly unlikeable doctor. We hate him the moment he opens his mealy Mengele mouth. He *looked* trustworthy, but sadly, we were never given the opportunity. By the time he utters "You can trust me, I'm a doctor" the line is redundant and just makes us cringe.
Val MacKenzie is expertly cast as the smart depressive who responds well to the doe-eyed Carmen and her calming tunes. As street philosopher Carmen points out, it's the difference between treatment and care—something our doctor cannot understand. She shows us that care goes beyond the four walls of this sad institution: "compassion is everyone's job" and part of the treatment.
The play rolls along beautifully with some clever nasty/kind counterpoints until the doctor (and the establishment he mimics) are exposed for what they are(—anything but patient-centered. The final scene, however, seemed far too abrupt. Take another 5 minutes, Ryan, to help swell our hearts—they're ready.
A note about the location: the dance floor at Menz Bar does not start shaking until 10 o'clock, but then, boy does it shake. Late evening Fringe plays will be competing with some heavy beats. Kudos to the actors for fighting through it and the volunteers for trying to address it. Hope you can lip-read.
—Alex Handyside
The Rainbow Room
2182 Gottingen Street
$7

Sunday Sept 11, 6:40pm
---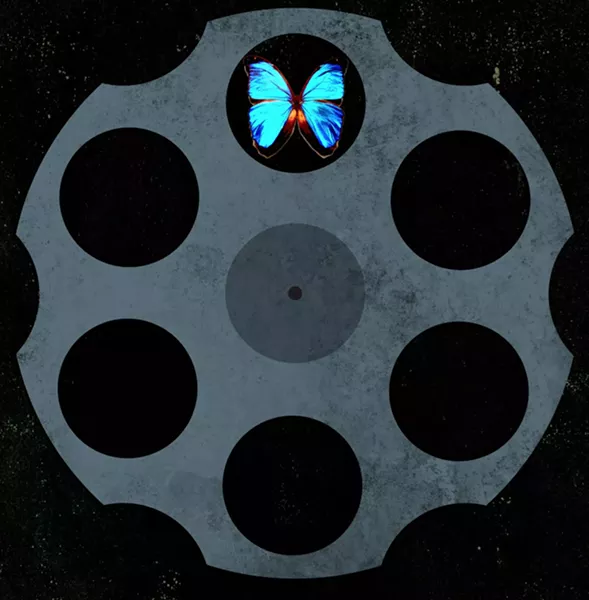 Callaghan! And the Wings of the Butterfly
by Sex T-Rex
Sex T-Rex's
Callaghan: Wings of The Butterfly
, is another brilliant, rollicking adventure from this exceptional Toronto-based comedy troupe which is continually using long form sketch comedy to tell highly theatrical and captivating new stories.
Wings of the Butterfly
introduces us to Jack Callaghan, an often brooding hero on an archaeological quest in Guatemala to find the ancient Mayan relic, the wings of the butterfly, which holds the secret to time itself. With the help of his friends Sal and Walt, Callaghan navigates a plethora of dangers before confronting the villainous Dr. Klaus Von Handerstopp, who has disastrous plans for the butterfly wings. Callaghan must also come to terms with the fate of his wife, the savvy and intelligent Muriel, in order to save the world from Handerstopp.
The story is tightly and imaginatively woven, the characters are well defined and and strongly portrayed by the cast, especially those who play multiple secondary characters as well, but I think the trademark of Sex T-Rex is how joyfully and genuinely fun their shows are to watch. From their beautifully choreographed fight sequences (Kevin MacPherson), to their self-referential asides and clever pop culture references, to the fun dance sequence (Robin Henderson)
Callaghan: Wings of The Butterfly
, like
Swords: A Play of Swords
keeps the audience in nonstop laughter. It is silly. It is playful. It is exactly what theatre, in its purest form, was meant to be.
Go see this gem of a show. You'll wish you could go back in time and experience it all again.
The Bus Stop Theatre
2203 Gottingen St.
$10

Sunday Sept 11, 10:20pm

---
The Common: For As Long As You Have So Far
Original Production Created by Dustin Harvey and Robert Plowman with Brian Riley, Andrea Dymond and Rae Brown
a play that only exists between your ears, 1 person at a time 
Book in advance and you will receive notification via email of the secret meeting place the day of the performance. You will be outside walking for 40-50 minutes, so dress for comfort and the weather. Please arrive 15 minutes before your departure time. Get your tickets in advance to receive SPECIAL INSTRUCTIONS! Starting at a secret location in the North Common audiences follow the path of a mysterious natural underground creek arriving at Victoria Park. You are both the star and the only audience, set on a journey through the city with only a voice on an iPod, a book and your imagination as a guide. Along the way you create images that transport you through decades in time; you drift by the skate park when it was an Egg Pond, the Citadel as it was being surveyed by Charles Morris, sit at the bench in the Public Gardens where Sanford Fleming devised time zones, Samuel Cunard won a shipping contract, Joseph Howe fought a duel. It is a dreamlike world twisted up with historical facts, mythology and serendipitous encounters. Expect to be entertained, educated, to get emotional and to never look at a park bench the same way again.
$15
Sunday Sept 11, 3pm, 3:15pm, 3:30pm, 3:45pm,4pm, 4:15pm, 6pm 6:15pm, 6:30
---
Dark Matter
by Colleen MacIsaac
At only 15 minutes, this is a delightful, pensive little Fringe treat, easy to squeeze in between your other shows. Three characters orbit each other closely on a tightly cramped stage, but emotionally, of course, they're each worlds away, navigating grief, the tension between science and the supernatural, and the logistical challenges of breakfast.
Performers alternate which role they play nightly, so keeners can go twice to get a nuanced experience. See this if you've ever felt lonely when faced with the vastness of the universe.
—Nicole Maunsell
Plan B
2180 Gottingen Street
$15

Sunday Sept 11, 2:35pm
---
Drag Queen Stole My Dress
written and performed by Gillian English
Gillian English doesn't need my help to promote her show
Drag Queen Stole My Dress.
Before performance time she had a line out the door, and people a buzz with excitement—for a moment I even questioned if I would get in. She's a pro on stage and delivers personal anecdotes with a sarcastic humour many would kill for. She would teach you how to hide the body (a family joke she candidly admits during the show).
The trick of the play that is almost immediately apparent is that this is actually a more relatable show than a drag queen theft. It's about a bad relationship—a relationship she wanted desperately to go well even as the man she was in love with failed her over and over. Some part of me hoped the ending was that her betrothed was the titular drag queen, but unfortunately real life is far more messy and endings more ambiguous.
English's betrayal is very much fixed in Halifax and as she winds us through the names and places changed to protect the innocent she gets more willing to share what the "true story" is, slipping playfully back into the real place names and what might be her genuine feelings about what may sting more harshly than she reveals. This is a crowd-pleasing familiar journey that is a success because of English's larger than life personality and her ability to spin a story with the best of them.
—Ian Mullan

The Company House
2202 Gottingen St.
$10

Sunday Sept 11, 4:30pm
---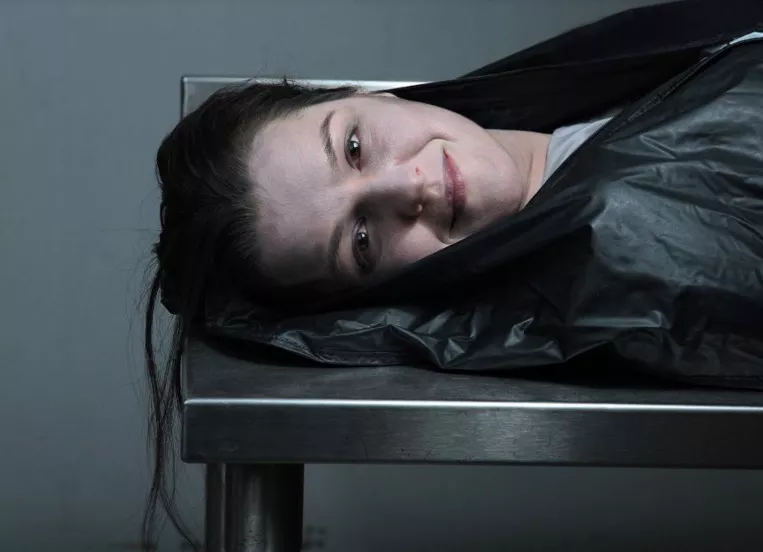 Everybody Dies in December
written and performed by Nancy Kenny
Nancy Kenny steps easily into the role of Claire, a third generation funeral director with a warm smile and comforting voice who talks to the deceased on her table with a generosity rarely paid to her in life.
Kenny's choice to address the audience directly gives an unsettling reminder that death is something we will all face, and her cheeky suggestion to "wear clean underwear" is the sort of dark humour that peppers the show. Her voice as Claire has an unsettlingly familiar tone of a person delivering bad news with a positive spin as she reveals her secrets.
The world Claire inhabits is claustrophobic, with friends and acquaintances appearing frequently on her table giving the impression that she lives in a small town with few choices. Claire lives with the expectation she will inherit the family business, get married, have a child, and it's assumed that she too will find herself on this table being prepared for her funeral.
Though the story is a familiar one at its heart, its unique telling is deliciously clever and funny and will leave you wanting to live your life to its fullest, because none of us are getting out alive.
—Ian Mullan
The Bus Stop
2203 Gottingen Street
$10

Sunday Sept 11 8:50pm
---
The Fear Project
written and performed by Kristi Anderson and Garry Williams
A new music theatre creation by DaPoPo Theatre. Kristi Anderson and Garry Williams explore personal and cultural fears from June bugs, clowns, and terrorism to gentrification, anal sex, and the utter meaninglessness of existence.
Fear
features original songs by Anderson and Williams, and was workshop directed by Guillermo Verdecchia as part of DaPoPo Theatre's 2015 Live In Festival. The creation of this piece has been supported by Arts Nova Scotia.
The Waiting Room
6040 Almon St.
$10

Sunday Sept 11, 4pm & 9:15pm

---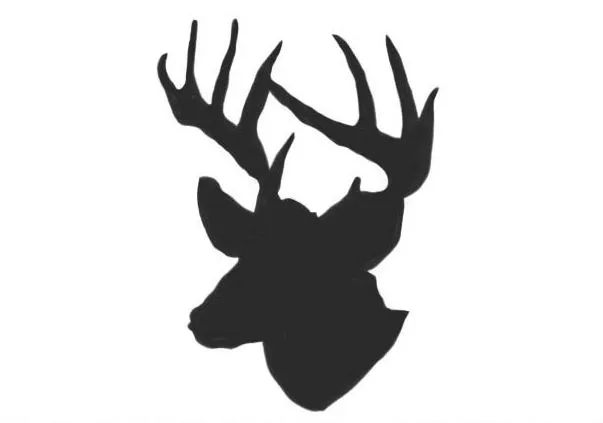 Going West
by Jake Planinc
A play about the persuasive allure of a drunken story. Michael has been in the same shirt and the same bar for 10 years, but he still feels like an outsider in the small New Brunswick town he's trying to call home. Every night he pours drinks for the affable Donny, a tall-tale teller who is about to get off his hunting suspension and go in search of an elusive tree stand he once stumbled upon by accident. When Mike's university roommate, a walking cliche of a "wheeling and dealing," "make time don't waste time" businessman rolls into town and paints him what I guess is supposed to be a convincing picture of expensive watches, willing women and his own parking spot on Bay Street, Mike has a chance to sell the bar and start over.
There are some stilted moments in the performances, but some endearing ones too, like Ian McMullen as Donny animatedly telling a hungover Mike about a mystical albino buck. Like many drunken stories, the material here feels pretty familiar. Sam's motivations are pretty clear from the beginning and we're never in much suspense about where Mike's loyalties lie. Skip this if your attraction to the Fringe is the edgy and unpredictable. But like the best drunken stories, maybe it doesn't matter if we've heard this one before. As any of us come-from-aways know, it's the people that anchor us to the east coast, and Mike and Donny aren't the worst ones to spend an hour with.
—Nicole Maunsell

Plan B
2180 Gottingen Street
$5
Sunday Sept 11, 8:40pm

---
God Made Me This Way!
written and performed by Joanne Miller
Before comedian Miller comes on stage, there's a projected image of a tie-dyed spiralized rainbow with the show title:
God Made Me This Way!
Seems like it would be gay, amirite?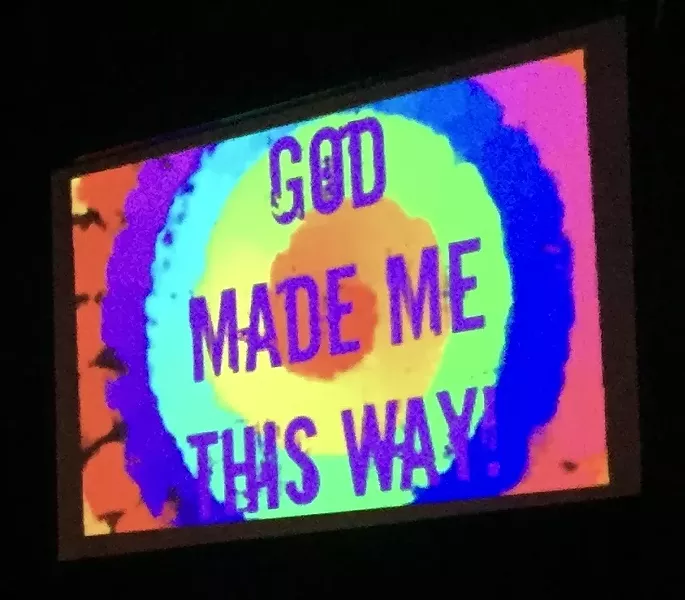 Wrong. Joanne (also called MJ) Miller is a straight, middle-aged mother of three (her words). She's hard-working: her material is polished, word and gesture.
MJ's Wall
is her Youtube channel.
She talks about being raised Catholic, being mistaken for a Chinese boy, racism, Trump, women in comedy and more using a (fake) copy of
Stand Up for Dummies
and consulting ten chapters. The childhood stories were the best. The show felt long; maybe seven or eight chapters would have been enough.
—JK
The Company House
2202 Gottingen Street
$10

Sunday Sept 11, 8:55pm


---
Hummingbird
with Emily Jarvis and Sean Baker
Much enjoyed. The blurb in the Fringe Guide and stage manager's preamble before the play are a bit too didactic and self-serious but
Hummingbird
itself (and the work by its two actors) has a very nice sweetness alongside its depiction of anxiety disorder. Louise has the disorder but both she and her partner Gus feel the pain of it in hard times and the relief and lightness when times are better. Great use of the small limited stage showing Louise and Gus's apartment and garden. Adept sound design by Liam Cole. The funny yoga sequence resonated with the whole audience.
Anxiety disorder affects many people (including this writer) and those around them; both are shown very nicely here.
Hummingbird
is for everyone: beyond the trials and triumphs of the disorder, there are terrific vignettes here of a relationship's give and take.
This is a small venue. Don't lollygag about getting tickets.
—JK
Plan B
2180 Gottingen Street
$5

Sunday Sept 11, 1:15pm

---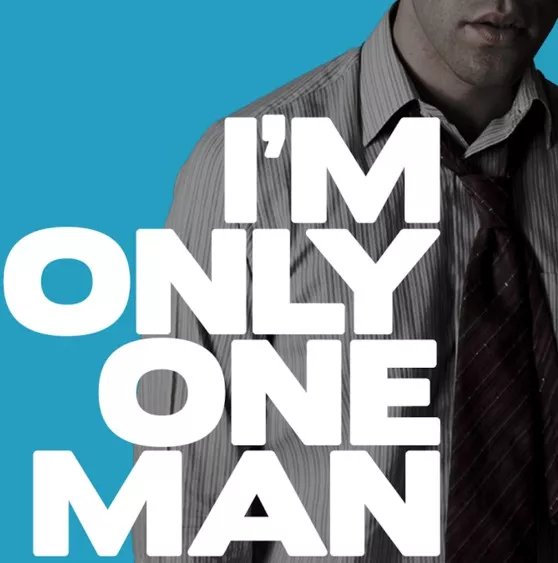 I'm Only One Man
written and performed by Jon Blair
Jon Blair's
I'm Only One Man
plays like a
Saturday Night Live
audition tape as he cycles quickly through at least 12 different quick comedic scenes (I lost count). Blair is comfortable on stage and knows how to get a laugh with characters and scenes that are smartly constructed for an audience that is used to television jump cuts. The shocking juxtapositions taking the familiar and turning it on its head is the mine from where Blair extracts his humour.
If you were one of the many who turned out for the local comedy group Picnicface in their heyday you will love this show; the fast-paced joke density is perfect for those looking for crowd-pleasing sketch comedy by a seasoned comedy professional.
—Ian Mullan
The Company House
2202 Gottingen Street
$8

Friday Sept 9, 11pm
Sunday Sept 11, 3pm
---
It's Greek to Me
written and performed by Kevin Gerald Connors
You have no idea how much of a struggle writing this review is. Although in my mind I can be a harsh critic, there is a part of me that wants all of you performers to do well, that believes that you should get some praise for your hard work, even if you don't succeed in everything you try, that wants to find something good to say about even the most disappointing production.
But here I can't. I just can't.
Look, Connors is a hard-working performer, who commits to each character he plays, each dreadfully stereotypical, horribly hackneyed, woefully offensive...see I can't do it.
Connors' idea is sound and really promising. He plays, in succession, a series of characters from Greek mythology and performs a brief sketch based on their characteristics and the myths surrounding them. (By the way, while it's far from the worst thing here, and I know acting is physically demanding, I could have done without Connors' onstage gulping of water, heavy breathing and sighs of "oh boy" during character changes.)
Once you go through the theatre door, the idea is that you'll be transported to Ancient Greece, but, well, it ultimately feels like you've been transported to the 1950s. The bevy of characters includes a pink-scarf wearing "flamboyant" Ares who'd rather have the blood of handsome young men spurting in his face than rape women ("eww"), an "urban" Zeus who calls women "bitches" and speaks on his cellphone with an equally "urban"-sounding Hera who threatens to mess up said "bitches," and a thick-glasses-wearing Hades who throws out words like "shtup" and "tuckus" and talks about his mother-in-law moving to Florida. (Do you begin to see the problem here?) There's also a joke about a man being raped by the Minotaur, just to cover all the bases.
At the end of the play Connors tells the audience he hopes he didn't offend anyone, but I don't really think he understands precisely what is offensive here. The show reminded me of nothing so much as the episode of
The Simpsons
where Krusty tried to revive his standup career by reviving the "golden" "ethnic" material of his formative years.
It's Greek
is not just bad, it's Mickey Rooney in
Breakfast at Tiffany's
bad. Avoid it.
—Martin Wallace
Plan B
2180 Gottingen Street
$8

Sunday Sept 11, 3:25pm & 7:25pm

---
Mel Malarkey Gets The Bum's Rush
by Cathy Petch
Mel Malarkey is the owner and host of The Vagabond, a Vaudeville theatre under threat from the increasing popularity of movies. We're with Mel (Cathy Petch) on the final night of the Vagabond's existence, a fact she's concealing from the implied audience, but not, of course, from the real one, as we are invited to see not only the flamboyant and raunchy onstage Mel, but the more solemn and emotional backstage Mel, who reads us odes she's written about the life that brought her to the Vagabond and about what will be lost with its closure.
It's the backstage Mel, I suspect, that has led other reviewers to refer to the play's "pathos," but I think it's Onstage Mel you'll enjoy most with her musical saw, her dildo songs and her period-specific jokes. Her often obscene and disparaging, but always vivid, introductions of the acts that are performing while we join her backstage make you wish you could see them, but  for my money the best Vaudeville act is Mel's interaction with the relentlessly mugging Dickie the Pianist (played by Director Em Glasspool). The mostly silent Dickie's exaggerated facial expressions are the perfect counterpoint to Mel's barker spiel.
At the heart of Malarkey, there's a lament for a form of entertainment that was superseded by the arguably less intimate formats of TV and movies. Where, one may ask, can we find entertainment that captures at least some of Vaudeville's riot, joy, and raunch? Well, with Mel and Dickie at the Rainbow Room, of course! Stop on by! While you're there, pick up a bottle of Elixir! (if Mel and Dickie haven't drunk them all already.)
—Martin Wallace
The Rainbow Room
2184 Gottingen St.
$10

Sunday Sept 11, 7:50pm

---
Merrily We Prance About
written and performed by Ned Petrie
Ned Petrie has become an Atlantic Fringe favourite over the last few years and with his solo sketch show
Merrily We Prance About
this year Petrie is in finer form than ever. The show features an array of sketches, without an obvious theme tying them together, but each one highlighting the inherent absurdity in a variety of facets of American and Canadian society.
One of Petrie's strengths as a performer and writer is his ability to use the specificities and colloquialisms of language to firmly root his characters in a particular time and place. In one sketch he plays a Kentucky Defence Attorney giving his Closing Argument to the jury in a murder trial and it's not just Petrie's accent, but also his turns of phrase, that allow him to really thoroughly poke fun at a very specific Southern stereotype that is immediately recognizable. In a great example of the very specific being the most universal, I also saw an immediate correlation between Petrie's Southern lawyer and Toronto's former Mayor Rob Ford. Similarly, Petrie uses language to root his unhinged neighbour and frisbee thief Sid Lundy in a particular place as well, and there is an interesting connection between Sid and Petrie's awkward flirter in the Opening Sketch, as both explore the connection between masculine fragility and unbridled rage.
Petrie is an extremely affable performer and
Merrily We Prance About
is smart, funny and topical.
—Amanda Campbell
The Bus Stop
2203 Gottingen Street
$10

Sunday Sept 11, 7:20pm

---
Midsummer Night's Dream & Macbeth
performed by Bard on the Boardwalk
Tear yourself away from the craft-beer comfort of the North End and head down to the Rotary Arts Amphitheatre on the waterfront, where Bard on the Boardwalk, whose mission is to bring us accessible and affordable theatre (it's pay what you can) is doing busker-style Shakespeare.
If you can make it through the awkward rapping and beatboxing that should have stayed firmly in a 1990s high school classroom with a teacher trying to make Shakespeare hip, I promise it gets better. First up is a 15-minute
Macbeth
, and the time constraints force the comedic treatment the play is well-suited for. It really cuts down on all Macbeth's whining about his guilty conscience, but keeps the good stuff like the witches. There's Yakety Sax, a Mortal Kombat style showdown, and sock puppets. You know, just the way ol' Willy Shakes intended.
BOTB's 20-minute rendition of
A Midsummer Night's Dream
is a little more faithful to the original text (there's a fistfight between Helena and Hermia in that one, right?), allowing the troupe's well-choreographed physical comedy to take centre stage as they roam about the audience and out into the path of passing pedestrians.
This one's easy to drop in and out of if you can't stay for the whole thing. Just bring a sweater—it's starting to get nippy out
—Nicole Maunsell
Rotary Arts Amphitheatre
Bishop's Landing
$PWYC

Sunday Sept 11, 3pm & 5:30pm

---
My First Last Waltz or The Queer Ages
written and performed by Hugo Dann
Hugo Dann's
My First Last Waltz or The Queer Ages
begins with an introduction that lets the audience know that this show is still being crafted, still "a work in progress" with Dann holding his pages, sometimes glancing down, and occasionally putting them down entirely when the story comes to him naturally. These moments of natural story-telling are the core strength of the show. While the AIDS crisis robbed the gay community of our history, Hugo's personal stories feel special.
Stepping back into childhood Hugo plays his younger self perfectly with an obsession with facts that only the very young seem to dwell on, rattling off names and observations of his family which eventually lead us to formative discoveries about his father and sister. His teenage years in Montreal bars utilizes The Company House itself as the stand-in for those places he frequented before the story takes us to Toronto where he marched in his first pride parade.
If anything, the show races along too quickly, unusual for a man who I know enjoys to talk. His final character piece of a gay married Russian man pressed by his husband to talk on the "evils of marijuana" seems like it is from a whole different show and left the central story of his life, without closure for the audience.
Hugo's final words about the pull between assimilation and liberation in the queer community and mimicking straight institutions when perhaps we should be creating our own queer composites is a strong message, and one I hope he weaves through the story as he continues with creating this piece.
—Ian Mullan
The Company House
2202 Gottingen St.
$5

Sunday Sept 11, 1:50pm
---
Noel James, What's Welsh for Funny?
written and performed by Noel James
Fresh from a show at the Comedy Lounge at Lubljiana, Slovenia (by way of a holiday in Newfoundland where he was apparently screeched in and had no idea what the fuck was going on), James has washed ashore for his third fringe in Halifax. His casual (read: shambling) style and silly-putty face Fast-paced and brash show, yet James has this self-deprecating look on his face much of the time. A master class in the art of the pun taught by a bit of a daft. The word play is constant and funny. James runs through girlfriends, Wales, the amazing number of eccentric jobs he's had with a bit of physics thrown in, which James has a degree in. Really excellent bit about Stephen Hawking. James is indeed from Wales, from the city of Swansea, also home to Dylan Thomas (fans of
Under Milk Wood
are in for a treat).
—JK
Plan B
$12

Sunday Sept 11, 6pm

---
NOUN
by Brandon Lorimer
directed by Annie Valentina
I was just reading about a quirk of the english language:

NOUN
has lots of weird word order, mostly offered up by the insufferably hyper-cute idiot chirping man-child character (either A or B; I forget who was who) Lorimer has written for himself. Two men—the other is older, wiser, ailing and has a man bun (played by Jeffrey O'Hara)—have survived an apocalypse and made camp. O'Hara's character spends time coughing up a lung and receiving mysterious baseball-like objects lobbed at him from off stage. Lorimer channels the boy centaur Newton from the 1960s cartoon series
The Mighty Hercules
.
Two redeeming things in
NOUN
.
First, the idiot man-child has somehow stumbled across a record player and a copy of Gil Scott-Heron's first LP,
Small Talk at 125th and Lenox
, still in its record store plastic protective sleeve. And although the idiot man-child doesn't know what a toaster is for, he does know how to operate a record player and the audience gets to hear snippets of Scott-Heron.
Second, there's a third character in the play (possibly The Vendor), a woman of ominous warnings in a boss wizardly muumuu costume. The actress is not identified in the program. The women mentioned in the thank you section are Lee-Anne Poole, Mauralea Austin, Margaret Legere, April Hubbard and Hilary Scott. I don't think it was Legere. It definitely wasn't Poole or Hubbard; I know those two. Scott looks too young on Facebook So my guess is Mauralea Austin, but I don't know for sure. Another mystery of life.
—JK
The Bus Stop
2203 Gottingen Street
$8

Sunday Sept 11th, 11:30am

---
Operation 87
written and performed by Adrianne Gagnon
Adrianne Gagnon invites us to look at her life, look at her choices, at her story of growing up redheaded, awkward and looking for love. Some of her comedy misses the mark (I wasn't a fan of the #gingerlivesmatter segment) but she's often endearing (her over-zealous sixth-grader gunning for snow queen) always energetic, and she finishes strong, with lots of laughs.
See this if you relate to Ariel in
The Little Mermaid
before she met Eric and/or you've ever done anything crazy for love.
—Nicole Maunsell
The Rainbow Room
2184 Gottingen St.
$10

Sunday Sept 11, 3:50pm


---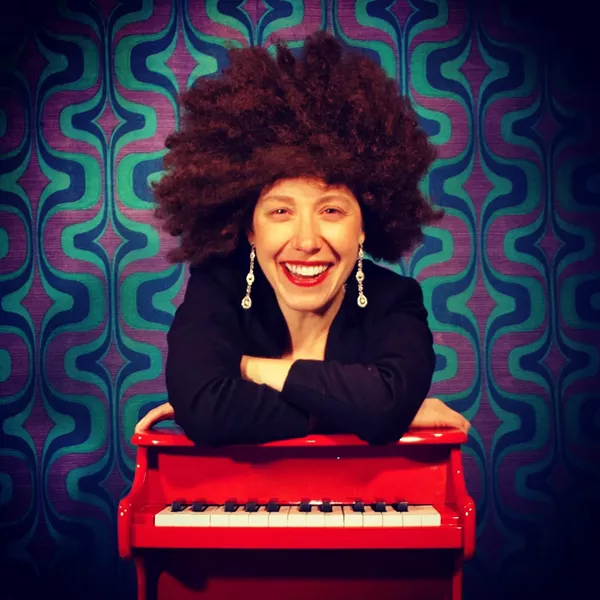 Perk up, Pianist!
written and performed by Sarah Hagen
Sarah Hagen sits at a piano, playing classical pieces while simultaneously making wry observations interspersed with jokes. It's a style of entertainment more often found in expensive lounges (although with arguably better music here) and represents yet another entry to the seemingly endless list of genres and forms that the Fringe can accommodate.
 Hagen's brand of humour is well represented by the dirty (and somewhat goofy) pun in the title (a pun she connects, with apparently characteristic self-deprecation, with her dating life.) She's an engaging and endearing performer, delivering her lines in a warm voice that contrasts nicely with the silliness of some of  her jokes. She's also, of course, an accomplished concert pianist, and the way in which she subtly times her lines to match the tone and rhythm of the pieces adds to the overall charm of the experience. One of the best hours I've ever spent at the Fringe.
The Rainbow Room, incidentally, is the perfect venue for 
Perk Up Pianist!
 It's a small space with a layout that enhances the intimacy between artist and audience, so necessary to performances like this. (And, btw, if you like you can buy a drink from the bar next door and bring it into the venue. Enjoy your beer and Beethoven!) 
—Martin Wallace
The Rainbow Room
2184 Gottingen St.
$12

Sunday Sept 11, 5:10pm

---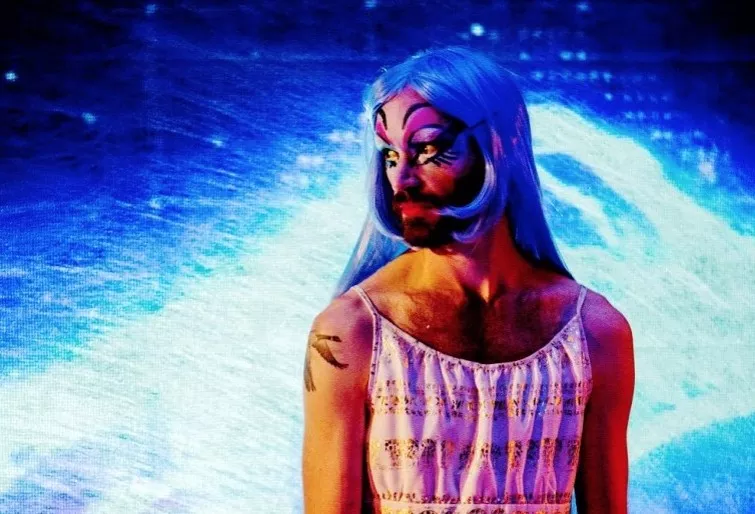 The Princess Show
by Aaron Collier, Richie Wilcox and Deonie Hudson
Angels and Heroes and Theatre Outré's multimedia musical
The Princess Show
is a beautifully theatrical parable about the power of the self to empower, create and also to destroy.
Using conventions from the world of anime and the world of camp, creators Aaron Collier, Richie Wilcox and Deonie Hudson give us a strange new world for characters Princess Edward (Collier) and her boyfriend Abel (Wilcox) in a piece that is part theatre, part television, part Performance Art. As in children's cartoons
The Princess Show
hinges on its protagonist's need to go on a quest, to defeat a beast and to learn a lesson. The dialogue primarily services the plot, telling the audience information they need to know rather than worrying too much about being "realistic"; the movement is stylized with incredibly strong specificity, and Collier and Wilcox lip synch all their lines over their own pre-recorded voices. All of this creates a bit of Alienation Effect, but the cartoon imagery they are playing with (that many of us associate with our childhoods) also creates a striking sense of familiarity. We already know how to connect to Princess Edward and Abel because this type of parable is one we have grown up with. It's not even surprising at the end when the moral is clearly defined for us.
It's interesting that the most ardent way the audience connects with Princess Edward and Abel is through their movement, especially in dance and during Princess Edward's lip synched performances. It is also interesting that, unlike in anime, Collier and Wilcox's lip synching is perfectly timed to their recorded lines. Collier has some powerhouse performance moments where the lip synching reaches truly phenomenal heights. Indeed, there are many layers of performativity at play with these characters, in performing gender, performing as an artist, performing in society, and performing our various incarnations of self. This innate playfulness allows Collier and Wilcox to make large leaps of creative faith and to trust that the audience will leap with them.
The projected set, which includes some characters in Claymation, along with Collier's original music, does a great job of creating Princess Edward's futuristic world. Visually, Collier is aptly regal in an array of fanciful outfits, while Wilcox captures the parable theme vividly, looking like a sort of Hipster Geppetto from Pinocchio.
In all,
The Princess Show
is a very strongly performed, intelligent and theatrical parable for adults told using a creative mixture of media conventions. Everything pulls together into an interesting and cohesive whole.
—Amanda Campbell
The Bus Stop Theatre
$11

Sunday Sept 11, 4:10pm
---
The Quitter
by Al Lafrance
I attended three shows in one night at the same venue; The Quitter had by far the largest audience. It seems destined to be a popular show. But let me be honest, and I admit I may be in the minority here, I don't get it.
Oh, the free doughnuts on the way in are definitely a plus, and LaFrance seems like a nice enough guyhell he seems like a great guy, but that's just not enough for me anymore. There's a glut of one-person-telling-humorous-and-insightful-true-stories-from-their-life shows on the market and it takes something very special for someone to distinguish themselves from the one-person crowd.
LaFrance's life story of moving from being "the smart kid" to being a compulsive quitter to finally finding peace and a sense of belonging definitely has its moments. He's a skilled writer. His story has funny moments and tragic moments, and covers a lot of time and ground without feeling at any time digressive. And despite the sometimes harrowing experiences LaFrance has had, he's generally positive without being pollyannish (like I said, a great guy).
But some of the funny moments—realizing that he had bled into the fast food burgers he had made with speed and pride, starting a "doughnut club" in college, "climbing" Mount Royal while on 'shrooms—seem like boilerplate young adult shenanigans, the sort of stories you entertain each other with at parties at that age. And while other people seemed to enjoy these stories more than I did, I only heard scattered laughs throughout. There's just not enough new or startling here to stand out.
When LaFrance reaches his well-prepared-for conclusion, it turns out there's a message. Sometimes it's best to have the courage to quit, sometimes quitting is what you have to do to find where you really belong. (I'll admit, the one joke I found really funny is when LaFrance pretended to quit the show ten minutes in.) That's a good thought in the abstract, but it's not exactly revolutionary and needs a little more help from the performance or the material to provoke and excite.
But what do I know? Maybe I'd just old and jaded. Maybe if you haven't seen dozens of such performances before, the material will seem fresh to you. As I said, the play was well attended, and others seemed to enjoy themselves. In fact, as I left I overheard a young woman say to her companion "That's what I like. People telling their life stories!"
—Martin Wallace
The Rainbow Room
2184 Gottingen St.
$10

Sunday Sept 11, 9:20pm


---
Rabbit Moon: A Tale of Japan
by Sarah Jane Blenkhorn
In 2006, writer and performer Sarah Jane Blenkhorn was supporting herself with a series of part-time jobs when she saw (in
The Coast
no less) an ad offering the opportunity to teach English in Japan. Whether through "a whim, or an act of desperation," she applied. Her application was successful, and she went to Japan, where she found wonder, confusion, exuberance, and finally, a sense of belonging and fulfillment.
There's a double risk in the presentation of such material. On the one hand, there's the queasy philosophical and political implications inherent in stories of North Americans going to foreign countries and "finding themselves." Too often, the customs and people of other countries are treated as exotica, as colourful backdrops to the author's personal journey.
Paradoxically, there's also the opposite risk of over-familiar material. Japanese culture, or at least aspects of it, now permeates many segments of our society. And going to an Asian country to teach English is a far more common practice now than it was in 2006.
Blenkhorn avoids these pitfalls, primarily by maintaining a sense of humility and wonder about what she encounters. This is her story, but it's also the story of a very particular Japan. We learn about her brief relationship with a Japanese man, her karaoke debut, her nervousness about teaching, and her eventual triumph over that nervousness. We also learn about the City of Many Gods, about the protocol for drinking at Japanese parties, about aquariums where labels describe not only the names and biological details of fish, but also how each one tastes. Blenkhorn is always as much observer as protagonist; there's a sense that we are taking this journey with her for the first time and she's as surprised and delighted (or nervous and disappointed) as we are.
Blenkhorn is a fluidly physical performer, whether bowing in memory of various introductions, or dancing with abandonment in tribute to nights in boisterous Japanese clubs. She's barefoot for much of the performance, having removed her shoes at the point in the narrative where she enters a Japanese home for the first time. She's also retained a lot of Japanese, which she speaks with (to my untrained ears at least) fluidity and correct pronunciation. It's a delightful production and it will—yes I'll say it—broaden your mind.
—Martin Wallace
The Living Room
2353 Agricola Street
$9

Sunday Sept 11, 3:30pm & 6:20pm
---
Roomies
by Paul Power
Travel back to 1968 with this award winning coming of age story about two unlikely roommates: David, a clean cut scholarly student living with a disability and Nick, a rebel with only one cause—himself. On the surface it may seem these two have nothing in common—except they have just become roomies.
Featuring music from the era and an award winning story from Newfoundland playwright Paul David Power,
Roomies
captures those rare times when the most unlikely person changes how we think about ourselves and our lives forever.
The Company House
2202 Gottingen St.
$10

Sunday Sept 11, 11:50am
---
Rut
written by Mark Foster
performed by Paisley Conrad, Alexandra Cubbon, Justin Moir and Peter Sarty with Genny Dow and Edie Reaney Chunn
directed by Lara Lewis
Rut
is playing in a very small venue, and there is no room to cram in more chairs for an overflow crowd. Go to your communication device
now
. Buy your ticket
now
.
Two straight couples are in the beginnings of relationships. Jack (Justin Moir) and Molly (Alexandra Cubbon) meet in a school library. Hannah (Paisley Conrad) and Dez (Peter Sarty) meet in a bar. Hannah and Molly are friends, as are Jack and Dez. The action switches between the two men talking about the women, the two women talking about the men, and each couple.
The stage is set with a small couch, table, and chairs. The actors do most of the shifting of this furniture, and do it very well. The library study table becomes a table in a bar with the addition of a red checked plastic table cloth. There's been some brainstorming somewhere to figure out how to do these shifts, and it all works very nicely.
First off, Mark Foster's writing is great. He has a terrific ear for dialogue. Everything the characters say (and they say a whole hell of a lot) rings true and natural. Characters don't proclaim. Sometimes they're fast talkers. Sometimes not. Just like in life.
Second, the acting is solid. It's real acting. All four actors do really fine work; Paisley Conrad as Hannah is the stand out. Her Hannah is a whirlwind of sour and sadness; elation and inebriation. She has a great potty mouth. She's the most physical of the four. At one point she and Molly are sitting on a table, with drinks; Hannah's drink is knocked over and a big puddle spreads over the table. Was it supposed to? Hannah takes off her shirt and mops it up, laughing. Or is it Conrad mopping up the mess, responding beautifully to an on-stage accident?
The four are watched by two gods: Latitua, God of Performance, and Coninua, God of Community, who start the play off and sit off to the side, occasionally commenting on the entanglements of the mere mortals, and pulling strings. Genny Dow's Latitua is a terrific worry wart; Edie Reany Chunn's Coninua is a bit of a smooth criminal. Props to costume designer Naomi Froese for their robes.
All that said, no fringe play should be more than 60 minutes long, and
Rut
clocks in at 80. Risky. Here's a thought: get rid of the Gods. The airy fairy question of whether or not they meddle with mortals could be tackled by Foster in another work. Here the nuts and bolts of how Jack, Molly, Hannah and Dez are going about things is much much much more interesting.
All for a measly five bucks.
—JK
The Living Room
2353 Agricola Street
$5

Sunday Sept 11, 7:35pm


---
Shift
by Mike Hirschbach
Halifax Circus is delighted to bring Shift to the Atlantic Fringe. Mike Hirschbach was accepted for the Cirque du Soleil after a 1998 audition in Montreal. Shift is a serio-comic look at audition, performance and circus, and the way a life can turn upside down in three seconds flat. A portion of the ticket sales will go to Circus Circle, the Halifax Circus outreach program.
The Waiting Room
6040 Almon St.
$12

Sunday Sept 11, 1:05pm & 5:40pm

---
Speaking in Tongues—African Nova Scotian Storytellers
directed by David Woods
Voices Black Theatre Ensemble, whose
Once: Africville Stories
was one of the highlights of last year's fringe, returns with another anthology of stories and song. Once more the Ensemble shows that both its source material—the often neglected history of Black people in Nova Scotia—and its stable of talent are nigh inexhaustible.
The first performer is 89-year-old Wanda Robson, the youngest sister of Nova Scotia civil rights icon Viola Desmond. While any 89-year-old with a good memory would arguably be a reliable, or at least interesting, source of historical knowledge, what's remarkable is Robson's sheer talent as a storyteller. Her first tale, about two things her mother loved, poetry and Clark Gable, is vividly told with a carefully construction that highlights rich family humour while also conveying a deeply felt sense of history.
A similar vein runs through the equally talented performance of Nathan Simmons, with his story of the Marble Mountain Maxwells—twin brothers, one of whom was the inspiration for the Gaelic-speaking cook in Kipling's
Captains Courageous.
Vetty Thomas tells a riotous story of the thanksgiving celebration of her large family. Director Woods finishes the show with a poem based on the stream-of-consciousness thoughts of an older family friend, a woman who "had walked everywhere." It's in this harrowing piece that the strongest connection to the damage caused by the racism at the heart of North American history is made.
This entwining of family stories with the broader history of Black people in Nova Scotia, and by extension, North America, is Voices' hallmark. Director Woods has for decades been engaged in a mission to bring these stories to a wider audience, to save them from loss or erasure. We live, after all, in a world where a late-night comedian can get a laugh by declaring Drake "the only Black person in Canada."
The opening night performance differed sharply from what was printed both in the Fringe guide and in the play's own handouts. Afterwards, Woods said that a technical rehearsal had shown that the planned performance would take too long ("several days" as he jokingly put it) and so many of the promised stories had been jettisoned. (On the plus side, Woods hinted that this may mean that the content would vary from performance to performance, as stories left out one night could be included in the next.)
Woods' usual method of cobbling together a show by calling upon his stable of talented performers for individual contributions, however, is ultimately less successful here than it was in
Once
. Whereas
Once
linked these contributions together with a shared theme and loose chronology,
Speaking
has no clearly defined structure and therefore, despite the talent on display, seems less focused and is not as powerful. (The play, quite frankly, does not seem quite finished; subsequent performances could be substantially different.)
Even given that comparison, however,
Speaking in Tongues
should be part of your Fringe experience this year. Robson's performance is worth the price of admission alone.
—Martin Wallace
The Bus Stop Theatre
2203 Gottingen St.
$12

Sunday Sept 11, 5:40pm

---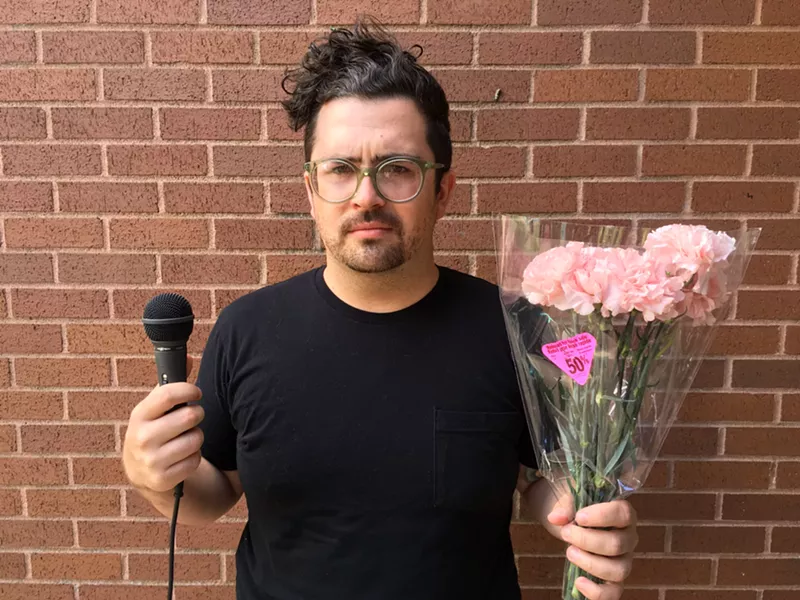 Stood Up
By Adam Myatt
Adam Myatt has been stood up in
Stood Up
, his new fringe show. The real bar of the Company House stands in as the bar of his date gone wrong,
and
the bar of his stand-up show where his set list going much better. Settling into the familiar trope of Seinfeld and Louie and many other stand-ups-turned-sitcom-stars we're tossed between the date and the show, each seeming to comment on one another, weaving us through observations on wine, relationships and life, all in a likeable and comfortable way.
Myatt is easily one of the most charming new comics I've seen, avoiding pitfalls of others who can sometimes seem too mean or too self-deprecating in their quest to get a laugh. Here the laughs come easily and frequently, hampered only by the slow scene transitions slowing the momentum of a show which has heart, because Myatt has heart.
—Ian Mullan

The Company House
2202 Gottingen Street
$8

Sunday Sept 11, 7:45pm
Swordplay: A Play of Swords
by Sex T-Rex
Sex T-Rex's
Swordplay: A Play of Swords
is a swashbuckling epic adventure of filmic scope deftly brought to life with beautiful and creative theatricality and nonstop hilarity.
As in a futuristic
The Princess Bride
, a grandfather, born in the 1980s, brings his sick granddaughter an old video game to play, where three Musketeer-like comrades, Roland, Salvatore and Barnabas are serving the Princess Pimpernel, when suddenly Roland burns to death in a fire and Pimpernel is kidnapped by the evil Baron Thorne. It is up to Barnabas and Salvatore to save the day. What is so wonderful about this story is that what comes next is entirely unexpected, jammed with popular culture references that are woven elegantly into the story and the characters' development, and creatively culminating in gruesome sword fights and all the plot points coming together tightly in a most satisfying way.
Sex T-Rex is a comedy troupe made up of highly skilled improvisers, and
Swordplay: A Play of Swords
shows how long-form sketch comedy can be pushed to its limit where it melds into devised playwriting and
Swordplay: A Play of Swords
is an excellent example. The physicality of the cast combined with the imaginative vision of Director Alec Toller proves that theatre is still the perfect medium for creating the impossible. We are taken across seas, on to a dragon, through video game green tubes, and swinging from chandeliers, with immediacy and silliness abound.
Simultaneously, Sex T-Rex creates an entire world for us to wholeheartedly believe in, while also poking fun at how little they need in props and sets (foam swords, cutout set pieces, and a large piece of fabric) to achieve this feat. The fight choreography by Kevin MacPherson is both fierce and joyful, if morbidly so, and the music choices add another dimension of cinematic proportions and pop culture bliss.
Get thee forth, on thy honour, and sit thyself down, and play. 
—Amanda Campbell
The Bus Stop
2203 Gottingen St.
$10

Sunday Sept 11, 1pm


---
Tunnel of Love
by Kevin Hartford
We're all probably in a little bit of denial that we'll die someday. But what if your denial outlives you? Kevin Hatford's dark comedy about heading toward the light starts with a car crash and two recently deceased strangers who are lying to each other and themselves.
Jessica Barry plays Claire, a muscle-car driver in a lacy dress and denim vest, who's getting increasingly exasperated with Frank (Scott Baker). Despite all evidence and an otherwise annoyingly logical mind, Frank refuses to admit that he's dead, and Claire realizes she'll have to drag him along to whatever comes next. As the two get to know each other and Frank's mental gymnastics become more and more impressive, you start to wonder who's helping who. Barry and Baker have great onstage chemistry and hilarious material to work with: it's fun to watch them play off each other. Don't look here for deep lessons about the meaning of life, but expect to relate to both characters as they hover between life and afterlife.
—Nicole Maunsell
The Waiting Room
6040 Almon Street
$10

Sunday Sept 11, 2:30pm

---
The Vanishing Woman
by Trevor Poole
directed By Trevor Poole & Keelin Jack
performed by Zach Faye and Meghan Hubley
The Vanishing Woman
is a love story between opposites. Once together, we learn that Kevin and Jessica have since separated and both parties are taking it in different ways. Jessica wants her space—just to be simply left alone. Kevin on the other hand, refers to himself as a romantic and is not content to let her go so easily. The result is a haunting, heartfelt magical act.
I'm not quite sure how
The Vanishing Woman
manages to develop such depth in a show that clocks in at just under fifteen minutes. What I do know, however, is that Trevor Poole, Keelin Jack, Zach Faye and Meghan Hubley have brought a beautiful flicker of a show to Fringe.
—Carey Bray
The Waiting Room
6040 Almon Street
$8

Sunday Sept 11, 7pm


---
We'll Always Have Port Stanley
written by Marion Johnson
In 
We'll Always Have Port Stanley
, we are taken to the Harbourview Resort, a hotel referred to as a little piece of heaven, where folks can get away, maybe even getting a little lucky while they're at it. The entire show is set in the room of timid, apologetic Harry (Quincy Russell), who we quickly learn is preparing for a romantic rendezvous with fellow hotel-goer, the more direct Jen (Maggie Hammel). Whereas both seem to embrace the Vegas mantra of "What happens in Port Stanley stays in Port Stanley," there is palpable awkwardness and nerves for both characters—and it's not just pre-game jitters…
Akin to its premise,
We'll Always Have Port Stanley
is a short-lived affair that would benefit from more big emotional punches to make its climactic moments resonate more with audiences. Whereas Quincy Russell does wounded, vulnerable Harry justice to a degree, his overall performance came off as quiet and reserved in comparison to his counterpart Hammel, who seemed much more confident and comfortable in Jen's skin.
All told, there is heart to be found at the Harbourview Resort. It is a place that offers pure escapism. It's a play about life, and as such, it's a reminder that life isn't always so easy to escape.
Winner: Best Production & People's Choice at 2015 London One Act Festival.
—Carey Bray
The Waiting Room
6040 Almon Street
$10

Sunday Sept 11, 8:00pm


---
World Tour: A Tragedy in One Act
by Shawna Edward, Scott Marleau, Jennah Foster-Catlack and Monica Serodio
World Tour: A Tragedy In One Act
is an unfortunate and misleading title for a sketch show starring Shawna Edward, Scott Marleau and Monica Serodio.The three comedians bring a lot of passion for their craft to the stage with sketches that run the gamut from jokes about feminist porn, to Pokemon, to pot and politics.
There are several fun moments, such as a re-enactment of the Justin Trudeau elbowgate incident sung to the tune of
The Lion King
, as well as a performance of Miley Cyrus's
Wrecking Ball
played on most school children's first instrument: the recorder.
The show is silly with the energy of a college comedy night where the raw talent is still being honed but makes for a fun evening nonetheless.
—Ian Mullan
The Living Room
2353 Agricola St.
$12

Sunday Sept 11, 9:25pm

---