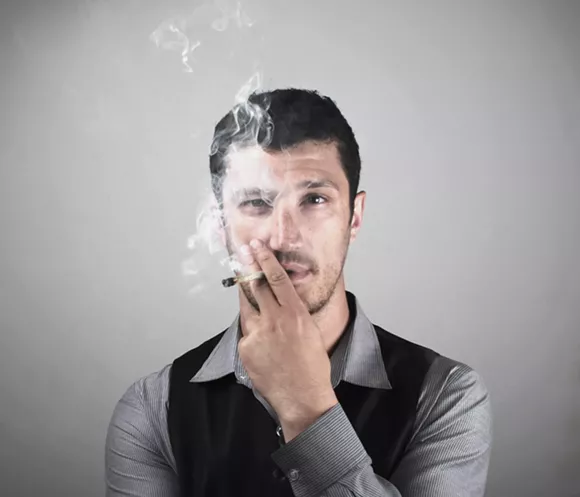 Smokin' hot performances at Atlantic Fringe




Sit On My Face
A school teacher recounts her difficulties with the sex education curriculum in an Ontario high school in director Sam Horak's Sit On My Face. The anecdotes segue into monologues, by Horak and others, on subjects ranging from hooking up in a bar washroom to growing up bisexual in PEI. Like sex itself, the monologues are, at times, awkward, uncomfortable, funny, amazing, heartbreaking, totally hot, and, in the case of the "shark week" and PEI bits, something you've never experienced before. No, really - in the age of the internet, how easy is it to say something novel about the human sexual experience?
Sit On My Face
does. Twice.
- Kevin Hartford


Up in the Air: A Circus Love Story
Kristin Langille Dahl looks like an angel floating high above the St. Matthew's Church grounds, and the outdoor atmosphere of
Up in the Air
makes it unique among this year's fringe offerings. Don't expect circus-style spectacle in this show, which is actually an intimate duet. In a nearly wordless love story, a romance blossoms and fades, told through acrobatics. The affair starts off with Alex Smith serenading Langille Dahl on his guitar, and she invites him to dance. Slow dance turns to lively break dance, and soon romance sparks between them. Where there's spark there's fire, and the couple's fire dancing is impressive, even as our hero's flame burns out early, leaving our heroine's fiery passion unrequited. The show is at its most glorious when Smith and Langille Dahl interact in a somewhat balletic motion, both aloft high in the air, entangled in flowing white fabric and bathed in dancing light. The transitions between numbers in the show are a bit slow and inelegant compared to the beauty when the performers focus on one another. Langille Dahl's prowess, hovering high above a concrete slab, keeps the show feeling lively. The uncomplicated girl-meets-loses-boy narrative may only skim the emotional surface, but one can be moved by the daring of the performers, because this acrobatic show, just like love, is all about trust. It's one of the most visually arresting shows at the festival.
- Patricia Denyko


With the Help of Tony Robbins
Let me be honest here. Performances like
With the Help of Tony Robbins
are the reason I come to the AFF in the first place. Bare bones, cheap ($2 admission!), staged with no more than a few worn props,
Tony Robbins
is pure Fringe, the sort of thing you wander into expecting little and leave feeling energized and amazed.
Musical comedy, pure drama, farce—all of these forms are available in other venues, but where else but a Fringe Festival would you find room for the fiercely intellectual, often misanthropic, always very funny Dave Millett, who, in a hour-long monologue, gleans durable and subtly complex philosophical observations from such relatively mundane acts as getting a haircut.
Scatological and obscenely anatomical as they often are, Millet's observations show real insight, as when he casts honesty as "the genitalia of conversation," or when he argues that childhood embarrassment at pants-soiling is one's "first true moment of self-awareness."
Let me slip into advocacy here: Spend your toonie. Spend an hour. Go see With the Help of Tony Robbins.
- Martin Wallace
Ginger Nation
Shawn Hitchins has a plan to populate the world with gingers, and in his hilarious one man show,
Ginger Nation
, which plays at the Bus Stop Theatre as part of the Atlantic Fringe Festival he explains to us why.
Hitchins is a charismatic and entirely engaging storyteller, with good natured comic timing and he is equal parts hilarious and touching in his tale about becoming a zealous gay redheaded sperm donor. Hitchins dramatizes, with great physicality and a joyful sense of fun, his experience attempting to help his friends, a lesbian couple, conceive a child, without sex or a clinic. There's dancing to "My Sharona," a nod to Liza Minnelli and a hilarious sad birthday clown schtick in a nightmare bathroom, but there is also honest reflection about what it means to give up your paternity and navigate this new life you helped create, but not as a father.
Hitchins' play is a beautifully polished comedy of wit and silliness, but it's also incredibly uplifting. In a world where the news is often about violence, it's wonderful to remember that people also have the capacity to help each other bring children into the world, surrounded in love, optimism and laughter.
- Amanda Campbell


My Impaired Moral Compass
I wanted to like
My Impaired Moral Compass
more, I really did. Jonathan Baum is a low-key but charming performer, and on the night I attended he had to contend with the worst form of heckler—not people who insult, but rather those who seem not to understand that the point of audience banter is to drive the comedy forward, not to interrupt it by shifting attention to themselves.
But, well,
Moral Compass
is essentially a stand-up comedy act, a form that's hardly in scarce supply, and Baum's material—bad relationships, sex, masturbation—is the boilerplate of the genre and there's nothing particularly new about his handling of it. (The one exceptional moment of the night was when Baum read an excerpt from his book, an Email from his disapproving mother, who encouraged him to be "more Jerry Seinfeld and less George Constanza". There's a lot of poignant and darkly comic potential in the relationship implied by this note.)
As Baum is not working from a script, maybe subsequent performances will be more successful, but that's not a gamble I can work up much enthusiasm for, given the plethora of much more tantalizing possibilities available.
- Martin Wallace


Theatre Brouhaha's Punch Up
Theatre Brouhaha's Punch Up
, as performed by Sydney, Nova Scotia's Highland Arts Theatre, is an utterly charming, consistently hilarious piece of work. Directed by Kristen Gregor from a script by Kat Sandler, the play follows the Most Pathetic Man That Ever Existed (Wesley Colford) as he enlists the aid of the Funniest Man Alive (Nick Porteous) to help cheer up the Saddest Girl in the World (Hilary Scott) and that's about as much as you should know about the plot. Other than that: near-perfect comic timing from the cast and a script that rightfully assumes its audience is as intelligent as it is. Scott is adorably morose as a shrinking violet disappearing into her cardigan. Porteous deftly captures the vulnerability underlying his character's tightly-wound, volatile exterior. And Colford, as a sweet, hapless loser in a shirt two sizes too small, is remarkable - this guy is one of the most talented, compelling, and watchable actors this side of Shelley Thompson.
- Kevin Hartford


The Wakowski Brothers
Another winning effort from Sydney, Nova Scotia's Highland Arts Theatre,
The Wakowski Brothers
follows a sibling vaudeville act from Cape Breton as they work their way up from street urchins to touring professionals in the 1920s. If the idea of watching vaudeville makes you want to run for the hills, fear not - the show tunes are quick, catchy, and relevant, and The Wakowski Brothers never uses them as a crutch. There aren't enough nice things to say about lead George Mackenzie's charming performance as Jimmy Wakowski- he ably carries the production on his character's ambitious, regretful shoulders. Lisa Penny, as Jimmy's beleaguered wife Caitlyn Rose, skillfully avoids tipping Caitlyn's feistiness into schtick, and Ron Newcombe, as slightly-outshone brother Conrad, has impeccable comic timing. The choreography alone is worth the price of admission, and the hard work that went into this show is obvious. Cape Breton vaudeville? Yes, please.
- Kevin Hartford

Spellbound
It was a joyous experience to watch
Spellbound
, Serpentine Studio's display of bellydance, contortion, hoop dance and burlesque. As Laura Selenzi mentioned in her introduction to the show, these dancers are of a variety of levels of expertise. They are mothers, librarians, teachers, professionals, who share a love of dance. Regardless of their individual mastery of technique, the women onstage all exuded such feelings of exhilaration, it was impossible not to share in it. Highlights included a hoop duet by Monique Ryan and Madeleine Morris, a fun balloon burlesque by Kay Licious, a bellydance solo by Elinor Crosby, and a riveting bellydance duet by Ryan and Salenzi. Of course the excitement was at its highest when six or more women danced together, and it's also in these numbers that the full array of feminine beauty on stage was thrown into sharpest relief. There aren't any more performances of Spellbound at this year's festival, but Serpentine Studios are Fringe regulars and an act to look for in future editions.
- Patricia Denyko
A Tension to Detail
Performer Gerard Harris is a British-firecracker. He speaks with the speed of lightning strikes. His hyperactive movements, or "parallel processes," match his dialogue's velocity. Harris is extremely engaging but in the show's first moments, I worried he would get lost in tangents, that many anecdotes would be sacrificed as he got slammed for time. Fortunately, the entertaining Harris keeps his train on the tracks. He makes it to the end of his show by the skin of his teeth and it is to the audience's good fortune.
Harris provides a smorgasbord of stories. Like any great autobiography,
Tension
focuses on Harris grappling with neuroses and shyness, wearing it like armour, which undermines his long-term quests to find reciprocated love and genuine contentment. Thematically, Harris avows that story-telling safeguards the passing of old generations into new. Instilling values into our tales help us gain insight and control over our ever-changing lives. 'Tension' is a hilariously heartfelt showcase with Harris unflinchingly delving into deeply personal experiences. He skillfully undercuts moments of darkness by peppering in lighter subject fare like yoga, food poisoning, bulldogs, and fire escapes. Quoting the old adage, Harris reminds, "Never trust the teller, always trust the tale." But we trust him. That's what makes these tales classic Fringe-viewing.
*Note,
A Tension to Detail
has an additional performance on Sunday Sept. 13th at 4:25.
- Carey Bray

Many Loves
Many Loves
is a pretty puzzle.
The short multimedia show uses paper silhouettes, an overhead projector and a recorded soundtrack to paint a picture of the life and death of a lonely, questing young man named Bucky.
The silhouettes, some simple and some intricate, are manipulated by a man who sits outside the frame, flipping through a book that holds the papers. The audience wonders, is he controlling Bucky's life, or merely relaying it?
Bucky's story includes a brief meeting with a captivating stranger named Silas. In one life-vision, Silas and Bucky's paths never cross again. In another, they build a life together, though it is unclear if it is truly "life", or a reunion after death.
Many Loves
leaves the audience with many questions, and I like that.
- Kate Watson

Love with Leila
Izad Etemadi IS Leila, a young, expressive, and, strangely, bearded Persian woman looking for love amidst all the pressures of a traditional family and a modern Cosmo world. All loose hips, broadly gesturing hands and wide eyes, Etermadi forges a strong emotional connection with the audience, causing us to overlook the conventional and melodramatic nature of the plot, in which Leila pursues, is rejected by, and then, in her own way, rejects the handsome man next door.
There are also snacks distributed and a mid-play audience dance party, the sort of "breaking the fourth wall" business that is among my least favorite of Fringe conventions, as it interrupts the momentum of the drama. And it is the drama that is important here, not so much for the predictable plot points, as for the way that each of these points allows Etemadi to practice Leila's coquettish and self-confident charm on the audience.
A gender-bending, and for much of its audience, culturally unfamiliar figure, Leila is primarily someone that we enjoy spending time with, and this, after all, is the most relevant recommendation anyone can give.
- Martin Wallace


Toxicity
I like catching dance at the Fringe! And any performance that opens with tap dancing to the apocalypse over the morning corn flakes gets my attention. Alas, due to a prior commitment I had to duck out of
Toxicity
(Waiting Room) at the interval, but I will be making a point of going back for the second act. This ambitious and imaginitive troupe of local dancers presents a series of imagistic pieces that tackle the aftermath of a global catastrophe. Costumes, masks, sons et lumieres are all employed to good effect. Even without having caught Act II, I have no hesitation in recommending
Toxicity
. Catch it fast! Only two more performances.
- Hugo Dann


Toxicity
Being less than physically "pliable," I've respected the skill required for interpretative dance, but I've never really taken anything away emotionally from past performances. In its first ten minutes,
Toxicity
was clunky and muddled. I turned off. Then clumsiness and ambiguity dissolved. Daft Punk's "Technologic" blazed on and the show became infected with hypnotic urgency. I clicked back on. I realized the previous vapidity was deliberate. It was a pre-meditated slow boil. A brooding foreshadow. Well played, Interpretive Dance.
Throughout its duration, this performance continuously evoked memories of Don DeLillo's great novel "White Noise." In many moments, several of DeLillo's themes are mirrored in the wake of Toxicity's increasing apocalyptic disparity. Evident are the hard truths that humanity is strung along by financial security, that we revel in elitism and privilege, ignoring disasters we've made. Yet with its skillful dancers clad in tuxedo vests and gas masks Toxicity is its own beautiful beast. The result is downright Maltovian. The show thrives in uncertainty. Smoke machines breed chaos. Music births dystopia.
Toxicity
's even-paced progression won me over. As destruction peaks, the apocalyptic cool down sets in. Dust settles. The rebuild begins. The new migration can take place.
- Carey Bray
For information about show times, venues and costs, visit
AtlanticFringe.ca