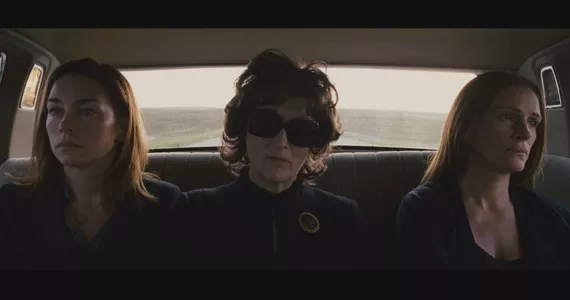 Julianne Nicholson and Julia Roberts with mom Meryl Streep in one of their non-screaming moments.
"You spend a lot of time as a playwright wondering why the hell all these people are in one location and why they're not leaving it," says Tracy Letts, author of August: Osage County. "When you write a screenplay, suddenly they're free to go."
Most of those people running around sweaty Oklahoma in the film adaptation of his 2007 play, which won five Tony Awards and the Pulitzer Prize for Drama, are gathered here on a September day in Toronto the morning after its film festival premiere. Missing are a flu-stricken Meryl Streep, as Violet, the terminally ill boozehound matriarch of the Weston family; Margo Martindale as her sister Mattie Fae and Benedict Cumberbatch as Mattie Fae's fuckup son Charles. Present is an impressive collection of actors, including Julia Roberts, Julianne Nicholson and Juliette Lewis as Violet's daughters ("It's a Julbilee!" Roberts chirps); Ewan McGregor, Dermot Mulroney, Chris Cooper and Abigail Breslin, plus Letts and director John Wells (ER).
"I think it was a good collaboration," says Letts. "In the theatre, the playwright is the final arbiter. The buck stops with the playwright. That's not the case with cinema---it's A John Wells Film. That's the way it is, that's the way it must be. I recognize and respect that hierarchy, so once we started working, I felt and said to John many times, 'I'm here to help you make the best movie.'"
For his part, Wells declares that August: Osage County---with much of the action taking place in and around the Weston home after the death of Violet's husband---is "one of the great pieces of American stage literature of the last decade, so the danger for me all along---which I shared with Tracy many times---was that I didn't want to be the person that screwed it up."
A long, dense, ensemble drama, August is about family---the relationships and microcosms of relationships within, the battles fought and never won (or forgotten), the lies we tell and believe to protect ourselves. (It's funny, but it's not fun.)
"Tracy's got an amazing way with characters and story but especially dialogue. He has a very specific style of writing," says Nicholson. "And if you said 'er,' or you added an 'um,' it changed the whole scene."
During shooting the actors lived together in a newly constructed condo complex---"Hotel accommodations were hard to come by," says Cooper---and shot in a house in the actual Osage County, by default spending more time together than is normal, even on location. They also made the time in order to help the work.
"I was fascinated by all the actors who played members of the family starting to pick up the rhythms of what Meryl was doing, which is what we do with our parents," says Wells. "Those things are subtle, and even if you don't exactly look like your parents, you smile the way your parent smiles; you grab a cup of coffee the same way; you brush your hair the same way---that's where you learn it."
"We worked our asses off, because there was no other way to do it. I've never worked so hard in my life, and I've given birth to three children," says Roberts. "It was like a mountain to climb every single day and the only way to climb it was by holding hands--- whether we liked it or not. And we would work all day, go home and shower and then run to Meryl's house and start practicing for the next day. Because you had to have that momentum going 19, 20 hours of the day or else it would just leave you. And it was the best acting experience of my life."
---
August: Osage County
Opens January 10