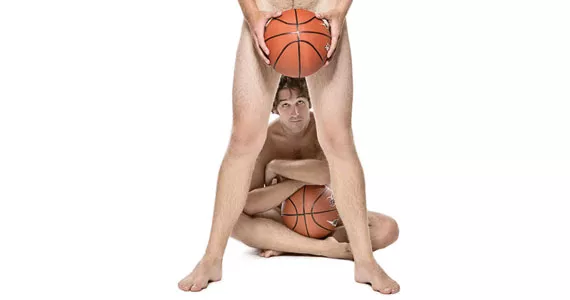 I always wished I was one of the guys, shooting hoops, telling fart jokes, grasping the simple codes of masculinity. I wanted in on the exclusive camaraderie of all the boys down all the streets of my youth. I could never really belong because I was a girl, after all. But Toronto's Rob Salerno confirms what I have always hoped in his Canadian Fringe sensation, Balls!.
Under a basketball net, Sebastian (Ryan Doucette) and Paul (Zack Faye) bring together vignettes of a friendship affected by testicular cancer. Challenged by expectations of virility and loyalty, Paul and 'Bastian move through the motions of treatment realizing that what it means to be men---to be anybody---is not defined by a scrotum, even though we tend to see it that way.
In the Seaport Farmers' Market, Atlantic Fringe festival director Thom Fitzgerald's production presents the kind of friendship I really admire. Playing two young men at their most vulnerable, Doucette and Faye have a comic dynamism that avoids the gravity of illness without making light of it. Their performances are honest and daring, and both actors and audience are exposed.
Salty like a locker room, Salerno's widely acclaimed 30-minute play shows us how the rules of the game can change and betray us with the resounding bounce off the backboard. Sometimes we need to be understood as people, scared shitless of the inevitable. Other times we need wedgies and clown porn. But mostly we need love and support, balls or no balls. --Adria Young