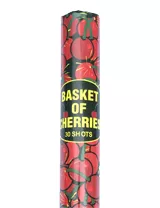 Basket of Cherries
Thirty seconds of sky high cherry blasters. Bury this baby halfway, light the fuse, take cover and prepare for the flaming red shooting stars. This firework is relatively silent, a safer option for neighbourhood celebrations.
Army Navy Store, 2660 Agricola Street, $12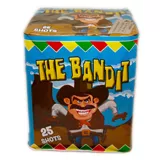 The Bandit
Cartoon Tom Selleck pulls the trigger on some major explosives, firing off bright tails, whistles and crackling stars. It's loud as fuck, and a major spectacle. Prepare for a pro show and take this one out of town.
The Trading Post, 661 Caldwell Drive, $20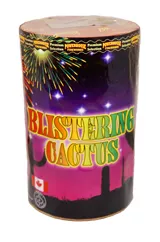 Blistering Cactus
This waterfall-style understated firework gently blasts off a shower of colours, sparkles and polite crackles for nearly a minute. It's long-lasting, but pretty low impact noise-wise, ideal for you city slickers.
Glow Parties, 3600 Strawberry Hill, $9.99
Bee Hive
Thank god not all bees sound like this (the quintessential middle-of-the-night, badass teen firecracker). It shoots seven spinning, whistling (read: high- pitched squeal) bees 40 metres high. Editor's note: our Bee Hive was a dud, with only one bee, but we were kind of relieved.
Needs, 6124 Coburg Road, $7.99
But first, be a good neighbour, will ya?
There's nothing worse than being caught off-guard by loud noises. If you're planning on lighting it up in your neighbourhood this weekend, keep the noise by-laws in mind—the main one being, "No person shall engage in any activity that unreasonably disturbs or tends to disturb the peace and tranquillity of a neighbourhood". Make a plan, give fair warning, hear out your neighbours' concerns.
Also, BE SAFE, you pyro. Read the directions, obey the directions, make sure the firework is secure (and pointing upward), light the sucker and get the heck out of the way. Here are Natural Resources' handy tips for fireworks safety.