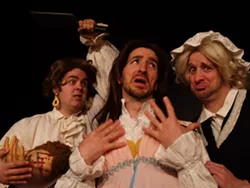 The
Shakespeare by the Sea
season opens in a refurbished home with a playful (yet respectful) take on the Bard.
The Complete Works of William Shakespeare (Abridged) is the perfect piece for showcasing the virtuosity of the actors of Shakespeare by the Sea, says the show's co-director Jesse MacLean.
"Imagine fitting 37 plays into an hour and a half," he says, shaking his head. "Something like that means lightning changes from one extreme to the next that require extraordinary team work…There's everything from sword fights to soliloquies, and that really gives these guys a chance to strut their stuff."
"These guys" refers to Kevin MacPherson, Tom Gordon Smith and Jeff Schwager, the three SBTS veterans who'll get the chance to sink their chops in to many of Shakespeare's most memorable roles, including the female ones.
"Jeff plays most of the girls," says Smith, with a snort, "It's not pretty!" The show's other director, Elizabeth Murphy---who founded the company in 1994 with Patrick Christopher-Carter and Jean Morpurgo---is fairly bursting with pride as she shows off the recent improvements to SBTS's headquarters. These improvements have allowed the building to become an easily reconfigurable 90-seat theatre space called "Park Place."
There are many changes, from the outside of the building which sports new windows, siding and a spiffy new sign thanks to a grant from Councillor Sue Uteck, to the interior which is now equipped with professional lighting, a tech booth and moveable risers thanks to a grant from HRM.
"This space will allow us to extend our season from May to October, so we're not just a summer theatre any more," Murphy explains. "Plus, it gives us a place to move our outdoor shows from Cambridge Battery on rainy days."
The space, which MacLean describes as the middle ground between the Bus Stop Theatre on Gottingen and the Neptune Studio, will also be available for rental by other local theatre companies.
"People are going to really enjoy this show and appreciate this new space," says Murphy with a contented smile. "We certainly do!"  
The Complete Works of William Shakespeare (Abridged) runs May 4-22 at the Park Place Theatre, lower parking lot, Point Pleasant Park. Tickets are $20 +HST. Call 422-0295 to reserve a seat.