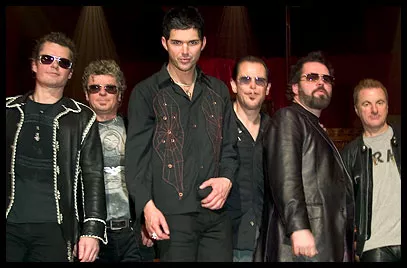 Our Canada includes reformed 80s Aussie bands and reality show winners.
OK, call me old-fashioned, but I miss the excitement of seeing athletes receive their medals right after they win, while they're still in the sweaty shock of realizing, "Holy shit, I just won!" And I was just watching the parents of Canadian speedskating bronze-medal winner Kristina Groves crying in the stands—don't make them wait!
But VANOC has done away with individual presentations, in exchange for 12 nightly medal ceremonies and concerts. Each night is hosted by a province/territory (except New Brunswick—what happened, my friend?), kicking off with a concert (untelevised) of live music from that region (and good luck trying to figure out who those performers are), then a ceremony, followed by a headlining act.
So Nelly Furtado is the headliner tonight, hosted by British Columbia. That makes sense. So does Burton Cummings on Manitoba night and Great Big Sea on Newfoundland/Labrador day. But on Tuesday, Barenaked Ladies is the main act on Nova Scotia night? No offense Enid, but we don't really know each other. We should have switched with Ontario, who are inexplicably hosting a show by INXS. The Aussies are bringing JD Fortune back for one night, perhaps a reconciliation after dumping the New Glasgow singer in a Hong Kong airport last year. Usually this is where we reclaim Sarah McLachlan, but I'm guessing BC ain't gonna let that one happen.
Loverboy trains 30 years for downhill,
Still, that makes as much sense as honorary Islanders Hedley on PEI night (Feb 18), Theory of a Deadman on Northwest Territories' night, and lucky Nunavut, who gets burned for being the newbie territory, with Trooper and Loverboy (Feb 21).
This does absolutely nothing to assist in our defense when American websites like Gawker claim, "Is it just me, or is every 'big' Canadian musician 10 years removed from being even mildly relevant?"