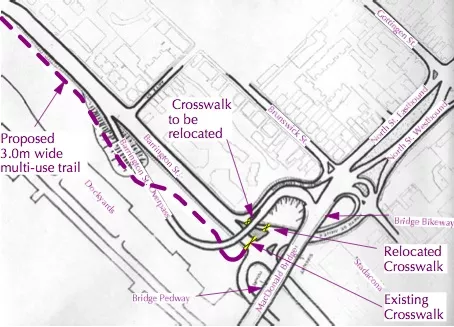 Barrington Street has recently become a little more cycle-friendly with a new bicycle path, running from North Street to Cornwallis Street, that's ready to be used by cyclists and pedestrians alike.
The path, which was originally unpaved and worn down from use, begins at the bottom of North Street and runs along the east side of Barrington between the road and dockyards. It's around three metres wide, has a wooden fence running along it and cost $217,723---around $80,000 more than the projected estimate on the HRM website. "It's a nice piece of infrastructure with a good design, high-quality asphalt and looks like it will drain rain water well," said Ross Soward, co-chair of The Halifax Cycling Coalition.
The primary reason for the path is to encourage commuters to cycle into downtown. Previous to construction, cyclists coming from Dartmouth would cross the Macdonald Bridge and have to either pedal up the steep hill on North Street or cycle down busy Barrington Street. Both options have been a turn-off for cyclists.
Although the new bike path does help the situation by creating a safe cycling space along Barrington, Soward still has some concerns. "At this point that there isn't any signage. As you get off the bridge, there's nothing to alert you that it's there," he explained. Soward also thinks there's a need for the bike trail to go past Cornwallis Street. Currently, the path ends abruptly and doesn't connect to anything at either end.
There's also the issue of crossing Barrington Street, which is congested at rush hour and could pose difficulty for cyclists. Soward hopes a special crossing can be built to give priority to cyclists and pedestrians, even at rush hour, so Halifax can further promote alternative methods of transportation into the city.