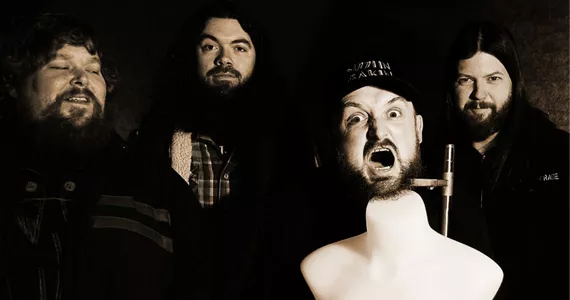 Every band, whether they like it or not, needs a gimmick. So when bassist/vocalist Kyle McDonald started his new project, a melodic doom-metal outfit known as Shevil, he knew he wanted it to have a sound like no other.
Originally fronted by McDonald, bassist Shaun Crawford and drummer Errol Girvan, their initial demos caught the attention of local metalhead P.J. Dunphy and the group decided to make room for one more bass player.
"People really like a gimmick and I guess that's what it is in a way, because no one else seems to do it," McDonald says about the group's bass guitar trifecta. "I guess it was a bit of a surprise when we first tried it out as an experiment, but it really panned out."
Formed "in the ashes" of Moncton doom rockers MANLORD and Iron Giant, Shevil delivers a sludge-induced onslaught of Ghidorah-like proportions that recalls the early years of Sub Pop and Melvins. (The band's name is stolen from King Buzzo and co.'s 1994 classic Stoner Witch.)
To create its punishing rock, the band mixes fuzz pedals, amplifiers and basses of various scales to create a sound combining the rampant buzz of Jesse F. Keeler with the limber riffing of Mike Watt.
"A lot of people right off the top probably say it's not going to work," McDonald admits. "But we really try to craft our playing in a certain range to fill it up."
And with the amount of buzz the group has been making on and off the stage, the group decided to go to McDonald's Superbob Studios in summer 2012 to record the full-length follow up to 2011's debut self-titled EP. "Huge vinyl nerds" at heart, the band has taken to indiegogo.com to help finance the expensive costs of producing records for analog consumption.
McDonald expects the album will be released in early 2013, and says it's fully recorded with six songs and 40-plus minutes of droning stoner rock. "But it may be seven songs," he quickly adds. "There might be another Melvins cover on there.
Shevil w/The Rockville Warriors, Burnt Church, Spew, Friday, December 21 at Gus' Pub, 2605 Agricola Street, $5, 9pm