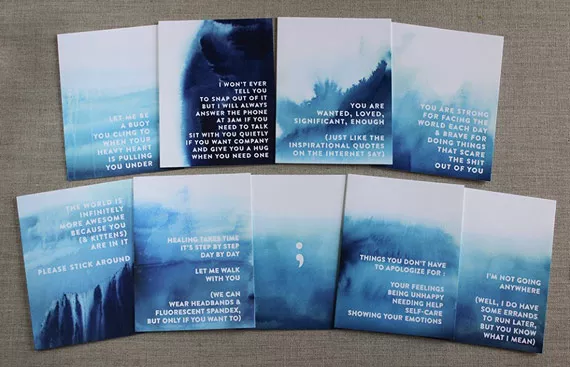 The holidays can be hard on anyone's mental health. It's cold, it's dark, cash gets tight. But it's much worse when you're dealing with mental illness. Anita Bezanson has battled depression and anxiety for over 25 years, and knows the seasonal blues well.
"Everyone's happy and celebrating but you're just totally alone," says Bezanson, the owner and designer of the year-old Nova Scotia stationery brand Rhubarb Paper Co.
This season, Bezanson is helping people show support to those who might be struggling and feeling alone. Her newest line, Cards of Compassion, is a series of nine notecards designed to show empathy and provide a laugh, inscribed with messages such as "you are wanted, loved, significant, enough (just like the inspirational quotes on the internet say)."
Bezanson says the quirky, genuine sentiments provide some of the words that are hard for so many people to articulate—especially when trying to talk about mental illness.
"It's an invisible illness that has a lot of stigma," she says, "so people don't really know what to say when they're faced with someone, either family or a friend, who's struggling."
Bezanson is a survivor of a failed attempt at taking her own life at age 14 and a severe bout of postpartum depression in 2008.
"I didn't have a lot of people in my life that would have given a card, let alone said anything to me to my face," she says.
Bezanson knows, of course, that her cards aren't a cure for mental illness. But giving some compassion is "a step closer to being able to express our feelings to people."
Five percent of the proceeds from each card will be donated to mental health organizations and initiatives. The Cards of Compassion can be purchased at rhubarbpaper.com.