The best cure for weekend panic? F-U-N in the form of poetry workshops, basketball games, Shakespearian theatre and good ol' rock 'n' roll. Read on and get ready to make some plans.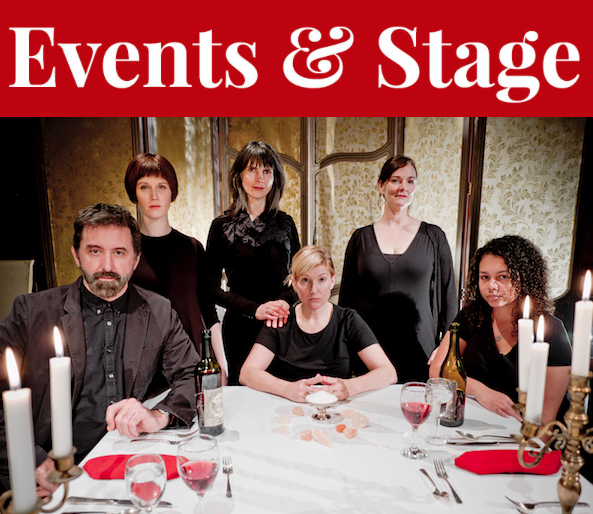 Blackout poetry w/Israel Ekanem
Saturday
CFAT's current artist-in-residence, Israel Ekanem, discusses his latest project, a collection of blackout poetry, before leading a workshop at the Centre For Art Tapes on how to create your own blackout poems. Materials are provided. more deets
Halifax Hurricanes vs Sudbury Five
Sunday
Given they've made the national finals the last two years in a row, it's never a bad time to see Hali's basketball team dribble it out—but seeing a rare match against an Ontario team is something fans won't wanna miss. It all goes down at the Scotiabank Centre. more deets
Hamlet
Thursday, Friday, Saturday, Sunday
An almost-all-female redux of Shakespeare's famous tale about power and revenge, set in an Edwardian dining room, reveals the relevance of Hamlet by, as Neptune puts it, "challenging us to answer a question we currently wrestle with: how do we act in the face of the rise of a demagogue?" See it on the theatre's Scoitabank stage. more deets
Hiking Pot Lake Loop via the Bluff Wilderness Trail
Saturday
Trips By Transit, the local group that's all about using your bus pass to get back to nature, is meeting fellow explorers at Mumford Terminal at 10am sharp to take a seven-kilometer-ish trek around Pot Lake Loop (part of the Bluff Wilderness Hiking Train). Bring water, warm clothing and snacks. more deets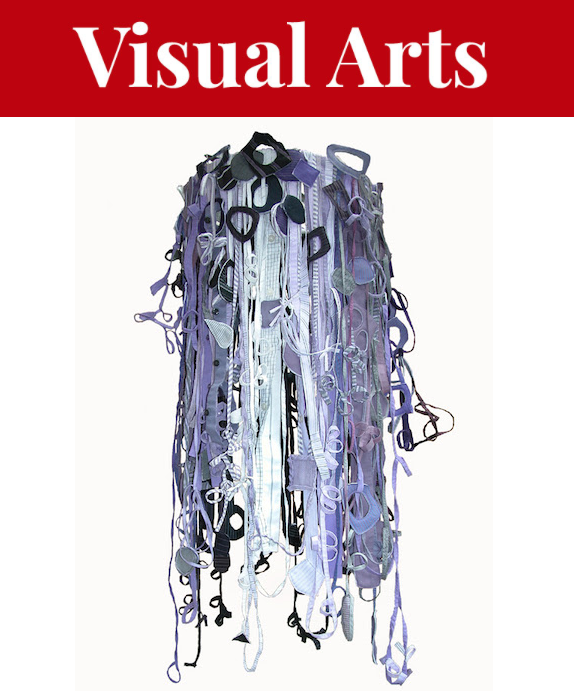 Beyond negative space
Thursday, Friday, Saturday, Sunday
Zalman Amit displays a series of sculptural objects at the Craig Gallery that, according to his artist's statement, "focus on provocative play between negative space and solid components"—meaning sometimes, it's as much about what's missing as what's there. more deets
What does it mean to be good
Thursday, Friday, Saturday
Heather Savard explores "what it means to be 'good'" through the attempt to forge a perfectly square nail, with "the resulting works [acting] as an examination of 'goodness' and its impact on identity." Get ready to reflect at The Anna Leonowens gallery. more deets
Among the Garbage & the Flowers
Friday, Saturday, Sunday
Susan Avishai unveils a series of textile-based sculptures at the Mary E. Black gallery with this showcase that began with her deconstructing and preserving scraps of her mother's wardrobe. more deets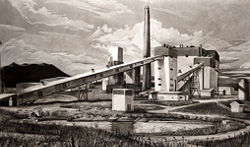 Effluence
Thursday, Friday

Curtis Botham delivers an exploration of "the aesthetic of industry in Nova Scotia" with charcoal drawings of factories and mills at The Corridor Gallery.
more deets
Dancing Queen w/The Flakes, Goatstories
Saturday
Dust off your tallest platform shoes for this, Halifax's all-ABBA cover band, playing a mix of hits and deep cuts at Menz. more deets
No, It's Fine. w/NEW RUINS, Altered By Mom
Friday
"We had intended on throwing a one year anniversary show for our EP release but we waited too long to book it and couldn't get the right date," members of the witty and fun alt-rock group No, It's Fine. confess on Facebook. Help the band celebrate, no reason needed, at this Gus' Pub show. more deets
Cold Smoke: Dub Kartel, Hello Delaware, Sipset, Jah'Mila, Villages, Barrowdowns, Superfluid and more
Saturday
Reggae-rocker Dub Kartel returns with its annual mini-fest that takes over both floors of The Seahorse complex and warms up a winter's night with sounds as diverse as the Taylor Swift-y Hello Delaware and roots-reggae Jah'mila. more deets
Joe McPhee w/Andre Fenton, Hosta
Friday
New York free-jazz legend Joe McPhee arrives in Halifax, courtesy of OBEY Convention's off-season programming, to rain down wild sound on our unworthy ears. Opening the Bus Stop Theatre set is local spoken-word poet Andre Fenton and drone-bringing Hosta.
more deets