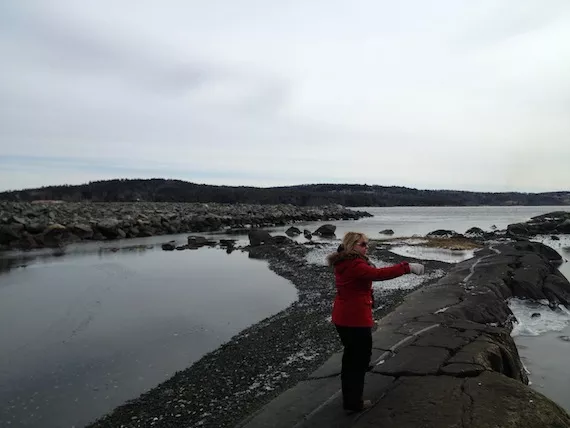 Sandra Banfield points at the Bedford Reef. Behind her, to the left, is the infilling project.
Correction, March 22, 1pm: Sandra Banfield has contacted The Coast to say she was approached about running for office by Jamie Baillie, the leader of the provincial PC Party, and not by Peter Christie, as was originally reported.
The political scene is never boring in Bedford, as the town lurches from one brouhaha to the next. This time around the proximate cause is the Bedford Reef, but as usual in Bedford, the ultimate threads go back seemingly for decades, and are lost in the inscrutable dynamics of inter-family feuds.
The Bedford Reef consists of two fingers of bedrock that extend about 100 metres into the Bedford Basin, encircling a marshy area that is home to a variety of waterfowl and fish. A small patch of scrub trees and brush leads up to the reef, and the area has become a destination for hikers and the curious, a bit of solitude just a stone's throw from the Bedford Highway.
Using an environmental approval that dates back to 1985, the Waterfront Development Corporation has filled in about 20 acres of the Basin, and giant piles of pyretic slate now sit just 20 metres from the reef. The plan is to fill in an additional 10 acres, covering the reef, and develop the area. WDC has trotted out maps and concept graphics showing a series of high-rise buildings on the site.
A group of citizens called Save Bedford's Waterfront objects to the plan. Their goals are to stop the infilling, protect the reef and consult residents before any development is approved. As part of that effort, they've put a video on YouTube showing the variety of life on the reef.
Last year, Halifax regional council put consideration of development in the area on hold until a traffic study is complete, but the Save Bedford's Waterfront group wants to give a 10-minute presentation to the Northwest Community Council, which consists of councillors for the area, including Tim Outhit, who represents Bedford.
That request has precipitated a bitter and public dispute between Outhit and Save Bedford's Waterfront vice-president Sandra Banfield.
Banfield says Outhit has it out for her because former Bedford mayor Peter Christie provincial PC Leader Jamie Baillie approached her about running as a PC candidate in the upcoming provincial election, and that in Outhit's view that compromises her group because former Bedford mayor Peter Christie, also a well-known PCer, is involved.(see correction above) Peter Christie is the father of Tim Christie, who unsuccessfully ran against Outhit in the last city election. And Banfield contends Outhit is "a big Liberal."
Outhit refused to hear from the group. He says that council's decision to freeze the decision-making process on development in the area pending the completion of the traffic study prevents him from speaking with either Waterfront Development, United Gulf (the private company that is contracting to build on the site) or citizen opponents to that development. "I want to make sure we don't fuck it up like we did St. Pat's," he says.
Outhit doesn't disagree that Peter Christie is a motivating factor. "He came in and took over Save the Reef," says Outhit. "Peter Christie does not get involved in anything that isn't political. But, "I believe Sandy is coming from a honest position," he adds quickly.
"We're not associated with the PCs or anyone else," counters Banfield. "Our group is split in two. We started as environmentalists wanting to stop the infilling and protect the ree, and we don't want any development of the site. But about half the group now is OK with development, but is concerned about density."
Banfiled explains that she'd like to see most of the site become a park, but is open to other public uses. She points out that Waterfront Development's proposal calls for adding 6,500 people to the area. "De Wolfe Park is already jammed packed," she says. "Can you imagine 6,500 more people living here?" She is opposed to "high-end condos and commercial."
"There's not place to get coffee on the Bedford Waterfront," says Outhit.
Banfiled's group is "scared to death that they'll lose profile while this is on hold," says Outhit. "All we're asking is hold on, don't screw up the process. Hang on a few weeks or a couple of months, and you'll have your input."
But Outhit says that the since the proposed development requires the consent of the full regional council, it makes no sense for Save Bedford's Waterfront to make a presentation to the Northwest Community Council. Save Bedford's Waterfront wants to give a 10-minute presentation, but it's rare, if ever, that a citizen group is allowed to address council for more than the usual three-minute limit imposed at public hearings.
The dispute has led to a Twitter feud between Outhit and Banfield, who tweets under the handle @SaveBedfordReef. Asked about the dispute, Outhit responds with "Who is she? She's entitled to her opinion. I'm entitled to mine." He admits to deleting some tweets after-the-fact.
"That's no way for a politician to interact with a constituent," says Banfield.