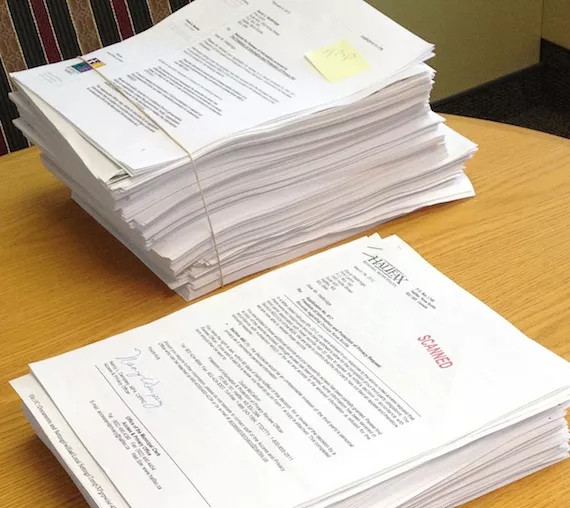 I spent four hours Monday reviewing thousands of pages of documents related to the city's eviction of the Occupy group from Victoria Park and Grand Parade last Remembrance Day. The documents were obtained through a Freedom of Information request filed by the Labour Council, which in turn allowed me some time with them. The smaller stack of documents is from city hall; the larger is from the Halifax Regional Police Department. My job was made considerably easier in that the vast majority of the police department documents were completely redacted; there were hundreds upon hundreds of pages filled with nothing but black boxes obscuring what had once been text.
The documents show that the city's response to the Occupy protest evolved. Soon after the protest was established on October 15, correspondence from the police department to city hall was light-hearted, with the police generally remarking that the protesters were well-behaved and not causing any problems. That attitude, in turn, was conveyed to the politicians. "Spoke to the Chief [and] he and I agreed that as long as everyone is respectful that we will just oversee the activity," CAO Richard Butts wrote in an email to mayor Peter Kelly. "Related to the police event on Sunday"—the unveiling of the new police monument in Grand Parade—"the Chief seemed pretty flexible and thought that they would likely work around the situation in the Grand Parade."
"The Chief of Police and I speak throughout the day as police continue to monitor the situation," deputy CAO Mike Labrecque wrote to mayor Peter Kelly, Kelly's secretary, CAO Butts and councillor Tim Outhit, on October 18. "Up to this point group has been peaceful, respectful and cooperative... As you know the Halifax Pop Explosion event kicks off this weekend with an event in Grand Parade.. We have spoken with the protestoers and at this point they have indicated that they will not interfere with the proetesters."
Officers' notes from the first week or so of the protest were also generally unconcerned about the potential for major problems, although one city staffer complained that somebody from the Pop Explosion said positive things about the Occupiers.