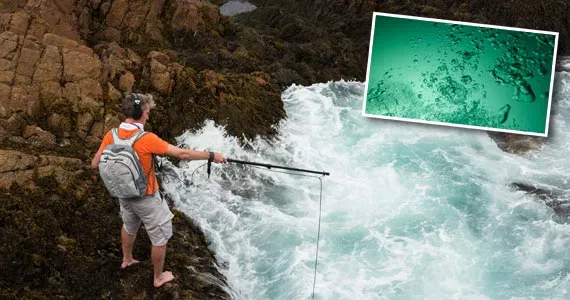 Sandy Saunders
Splashes from Chris Myhr's Approaches to Erg.
"We just want things that are interesting, things that we haven't seen here in a while," says Robyn Mitchell, artistic director of Art in Fest, her yet-to-be- born event.
Art in Fest is the visual arts offspring of the OBEY Convention. For its inaugural year it will be hosting select artists in venues throughout the city, welcoming festival goers to experience more than just music. "It's creating another platform," Mitchell says. "We want people to go and be exposed to new artists or artists they wouldn't have heard of and other forms of creativity they may not have been exposed to. It's pretty small this year so it's not as overwhelming."
These ideas of fresh exposure and new works are at the heart of the OBEY Convention, which was founded by Darcy Spidle in 2007. The festival prides itself in being genre-less, inviting musicians of all stripes to share creations that are pushing and prodding boundaries.
And it's that rebellious spirit that Mitchell is hoping to replicate with Art in Fest. "The idea is to bring in an influx of contemporary art that we're not getting through the other institutions here," she says. "They have their own agendas and they don't usually bring in a couple of artists at once."
Interestingly, the artists being brought in for Art in Fest have a connection to Halifax already. Visiting artists are NSCAD alumni, though some have moved away for other opportunities.
Deirdre Logue got her BFA from NSCAD then went on to become the director of the Feminist Art Gallery in Toronto. Her self-reflexive video series Enlightened Nonsense will be showing at the NSCAD Academy building.
Alexis Grisé, who also holds a BFA from NSCAD, will be curating a group sculpture show at the Parentheses Gallery throughout the festival. And Chris Myhr, who did his Masters work at NSCAD, will be sharing his work Approaches to Erg in the new Khyber space on Cornwallis. Myhr now lives in Ontario teaching at Western University, but he says it's really important that his work be showing in Halifax.
"I think having it in Halifax is crucial for me," he says, "because I think it will resonate for that audience in ways that it would not if it were exhibited in a more remote venue."
Approaches is a 10-minute sound installation chronicling Myhr's exploration of sunken shipwrecks in Halifax Harbour. As part of his larger work, Point Line Intersection: In and Around Urban Waters, Myhr recorded the deep-water sounds above these wrecks.
"One of the things I enjoy most about the experience of diving is the sonic dimension," he says. "Any diver will tell you that what's particularly disorienting about that experience is that sound travels faster and more efficiently underwater, so you're immersed in sound coming at you from all these different angles."
His piece will attempt to recreate that disorientation for the viewer. Though he's considering having a visual element to the work he wants the audio to do most of the heavy lifting: "I think that by starving the eye a little bit you activate the imagination and that's really what I'm working with here, to try and elicit a sort of psychological response."
It's this kind of active engagement that Art in Fest is hoping to elicit. Myhr is asking of his audience what both OBEY and Art in Fest seem to be proffering.
"I think in Halifax there's a community there that will respond to the work and be curious about what it sounds like beneath the surface."
---
For full exhibition listings go here