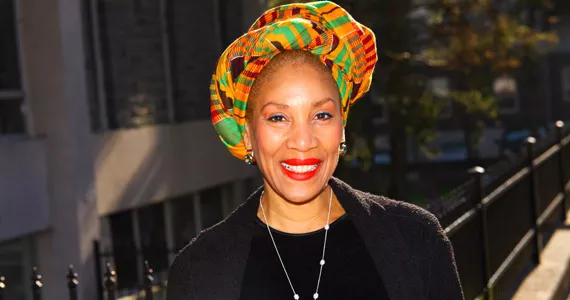 It sounds like the makings of a Law & Order episode---18-year-old Aidan David Cromwell is walking home with his girlfriend late one winter night in Fairview when 25-year-old Marc Bernard Tremblay spots them and begins to follow and verbally harass them. From there you have conflicting accounts---either Cromwell charged Tremblay purposefully knife in hand or he simply attempted to defend himself and his girlfriend from an unprovoked attack by a much larger aggressor before fleeing the scene. Whatever really happened, the result is the same---this March a jury convicted Cromwell of second-degree murder.
"It never should have gone past self-defense," says Quanda Johnson, who is dedicating her theatrical event concert Beyond the Veil of the Sorrow Songs (at the Dalhousie Arts Centre this week and Alderney Landing next) to Cromwell. "The identical thing happened in Toronto and the young man was Caucasian and got off with manslaughter and Aidan got a 10-year sentence. This whole theme [of Beyond the Veil] is about moving beyond tolerance to compassion---looking at someone and really seeing them, even if you consider them as other, still seeing them as valid, as someone who has worth, who has the right to speak and breathe on this planet the same as you."
Originally from Philadelphia, Johnson has spent the past year in Halifax researching fugitive slaves in Atlantic Canada for the Fulbright Community Leadership Program. Despite a chemical engineering scholarship and economics degree under her belt, Johnson has always walked an artistic path---writing poetry, working in oil pastels, acting and touring with the Houston Grand Opera---but what really drives her is a passion for the African diaspora. "Knowing that it's tough, often performers have 'survival' jobs," says Johnson, "finally I said 'Instead of spending so much energy in these survival jobs think about what your passion is.'" Which, of course, led to a focus on the crux of her travels. "There's people of African descent all over the world...when you grow up in the US or Canada when you're of African descent or native you don't realize there's people of colour who look like you and have a similar cultural heritage in other parts of the world---my passion is discovering these chronicles and giving witness to them in the broader narrative."
By starting her company The Quest Factor, a "think tank/production factory," Johnson has been able to devote her energy to producing events like Beyond the Veil using a combination of arts disciplines to bring historical African narratives into the present and spur a community conversation about where we are as a society. "The more multimedia I can throw in the better," she says. "To tell these chronicles in fresh ways so people get a taste of history---maybe their own or someone else's---but in a way that's thrilling. Someone may pick up a history book, they might not pick up a dissertation, but they may go to the theatre and maybe experience something like what I create and it might inspire them, open up a conversation, [and enable them to] talk about things that at one time made them uncomfortable or they found not polite or inappropriate."
The Halifax performances are free and will combine African drumming, the Sorrow Songs superimposed over Mi'kmaq prayers, modern dance, spoken word, fiddling, live art and dramatic vignettes. The piece itself wrestles with these ideas of racial tension and how we deal with the issues that create situations like Cromwell's---an approach Johnson hopes will be an important part of that conversation. "The only way we will heal these ruptures in our society is if we really look and see and listen," she says. "Art is a wonderful magnet for that."
---
Beyond the Veil of the Sorrow Songs
Friday, May 23 to Saturday, May 24, 8pm, Murray Studio, Dalhousie Arts Centre.
  Friday, May 30, 7:30pm, Alderney Landing Theatre. 
Friday, May 23, 11am, Student Outreach Performance, Murray Studio, Dalhousie Arts Centre.