Orange Turner, wild rice farmer
On my way into Palisade it rains cats and dogs and hogs and hens. I stagger into the Palisade Café soaked to the bone. In the back room I order a burger. In Minnesota, if you want tomato, lettuce and onion, you have to order a California Burger and it's 50 or 75 cents more.
I start drinking coffee which in cafés here is served in a big carafe and you can drink yourself silly. In a booth across the way are two men, in their thirties, friendly with each other, joshing, cursing. The one facing me is possibly the love child of Lucille Ball and Paul Bunyan—big, big carrot top guy, slobby, boots undone, checkered lumberjack jacket, white T-shirt. He is missing some teeth, chain smoking, chugging coffee and I know instantly this guy is approachable and I start chiming in on their conversation. "Is that your shit box out there?" I ask, jerking my head at a dark teal heap on the street. Its trunk is bungeed part way closed. Carrot Top laughs. "Yup," he says. "I saw you go by, Mister," I say, "don't think I didn't—you could have picked me up, asshole." I am very happy to be swearing; being so far from intimate company my fluency has dissipated. I had noticed the car. It went by me during the torrential thunderous downpour and I noticed the rust. "Yah," he laughs, "we saw you too."
They are wild rice farmers, and Mr. Carrot Top's grandfather started the first commercial wild rice farm in Minnesota, in the 1950s, and now the family owns 14 farms. The return is good: they get about $3.50 a pound, a full 50% of the retail price. This is in contrast to say, milk farmers. Milk is sold in units of 100 pounds, known as a hundredweight. Last year milk producers in Minnesota were losing anywhere from $2 to $7 per hundredweight.
We talk about the rain, my walk, the land, California. I ask if they have heard about the what's-under-her-butter trick with the Land O'Lakes maiden and Mr. Wild Guy jumps up to show me the man with penis on his Camel cigarette pack, and then after he gets a twenty dollar bill from his table mate, how the 9/11 was forecast. You can fold a twenty so that the picture of the White House on its back becomes the two towers, burning and smoking. I tell them how you can fold a Canadian bill and see the Queen's bum
Eventually I can't drink anymore coffee and I head out, taking route 5 out of town. I cross the Mississippi River; it is 2,320 miles long and I am only 115 miles south of its source on Lake Itasca. I head towards route 210, which will put me on the way to a motel. A hour or so later a car pulls up and it's Mr. Carrot Top. "Don't you have anything better to do?" I yell and I unload bags out of Bob so the stroller can collapse and we load it into that filthy trunk stuffed with oil cans, and bungee down the trunk lid. Somewhere there I gash my right hand; I don't feel anything but as I get in the car blood is running down my hand and between my fingers.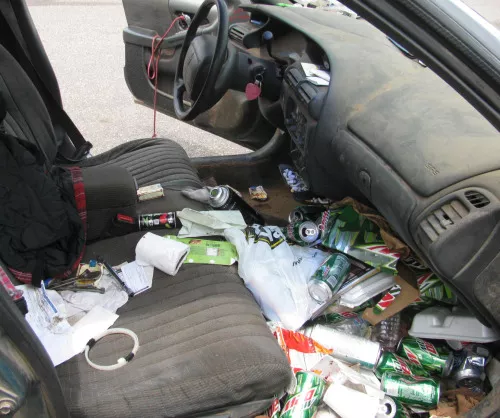 Front seats in Orange Turner's shitbox (note container of pepper in middle)
It's a struggle to get into the passenger seat. The seat and well below are covered with Mountain Dew cans and cartons, take out containers and various debris. The dashboard dials are completely obscured by dirt, except for the panel showing which gear the car is in. "Holy fuck," I say and he laughs. "I see you're a consistent user of Mountain Dew," I say, "in Canada Mountain Dew has just recently been allowed to up the caffeine content." He asks if I want one. You bet I do. "Look what yer friggin' trunk did to my hand," I say and show him the bloody mess. "Oh, oh, oh," he says. "How'd ya do that?" He rumages up a big container of pepper from among the flotsam. "Don't worry," he says, "this is a really good hillbilly trick," and he pours a thick coat of pepper over the source of my bleeding. "Leave this on, put a bandaid over it, and two days later, gone. Totally gone." I ask if he keeps the pepper in the car for just that. He says yup.
He is Bill Turner, and folks used to call him Red Man, but now they call him Orange. He has 13 brothers and sisters, a wife and some kids. I tell him how I was just prying a tick off my leg and brandish the mini plastic green crowbar that is now my favourite tool. His father, Dick, died from Rocky Mountain Spotted Fever, which he says is what people here call Lyme Disease (but I think is something different). "So it's not the big ticks ya gotta worry about," says Orange, "it's the little deer ticks. If you get one, get it off." I make a face. "Use the crowbar?" I ask and he says yes. "And then dig the jaw out and I'm not kidding." I say, "terrific."
Orange drives me to McGregor where there is one motel and glory be—it is not too expensive and has a pool and hot tub. I unpack everything to give it a chance to dry and then hot up in the tub and float in the pool. Bliss. As I float around I think about how me and somebody ought to come back here and get a big ass canoe, hole up with Orange and his family for a bit and then paddle the Mississippi all the way to New Orleans.
The Mississippi River at Palisade, MN