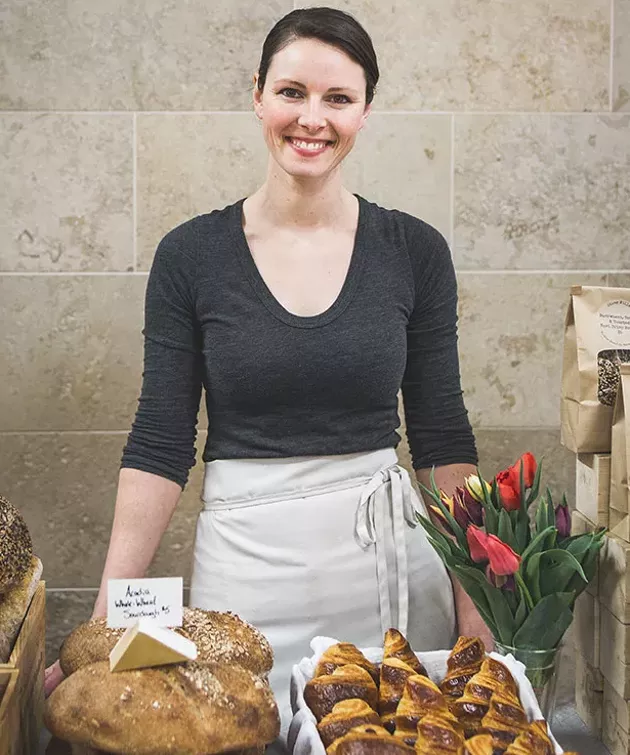 Dylan Chew
Jessica Best spreads her wings with Birdie's
Birdie's Bread Co.
380 Pleasant Street
---
Dartmouth is on a roll thanks to Jessica Best. She is well on her way to opening Birdie's Bread Co. at 380 Pleasant Street in Woodside. "We're getting closer. I say that every day, but oh my god there is still so much more to do," says Best.

The plan is to open Birdie's in the last week of May. "But that might be a little ambitious," Best says. Just last week a grain mill—"a logistical beast to try to sort out," she says—arrived, an enormous crate, so at least the biggest piece of the puzzle is in place.

Best started her baking career at Auntie Crae's and Raymonds Restaurant in St. John's before moving to Halifax where, as head baker, she helped Renee Lavallée open The Canteen. You can currently find her roster of sourdoughs—along with other goods like croissants, cookies and muesli—at the Alderney Landing Farmers' Market (2 Ochterloney Street).

The new bakery will focus on fresh-baked breads, like the sourdoughs, whole wheat, rye and Eastern European-style breads, and freshly milled flour. "And I would really like to be able to do some fresh pastas in-house for retail," Best says. "Anything flour-related I'd like to play with and see if people will buy."

Birdie's will also have a small cafe space with pastries and drip coffee. And Best's bread will also be available at Little C To Go, the new takeout-focused sister restaurant of The Canteen, which should open in June.

"Jess and I have had an amazing relationship for almost four years now and I want to support her as much as I can and vice versa," says Lavallée, who uses Best's bread in dishes at The Canteen.

Little C will open in the small space directly next door to the restaurant. It will serve up prepared sandwiches, soups and salads that are geared towards the grab-and-go lunch crowd.
"Just like everything in our lives, we didn't plan it," Lavallée says of Little C. "A lot of our original customer base wasn't pleased with the long wait for takeout in the new space. And we don't want to lose the people who made us what we are."

"We want to make sure that if you're getting takeout from Little C you're getting a great experience and if you're staying in The Canteen you're also getting a great experience," says Lavallée's partner at The Canteen, Doug Townsend.

Until 5pm Little C will act as a take-out spot, turning into an overflow room for The Canteen, complete with a patio, at night. The hope is to be open for Switch Dartmouth on June 5, though you may find them slinging soft-serve during Open City in May.