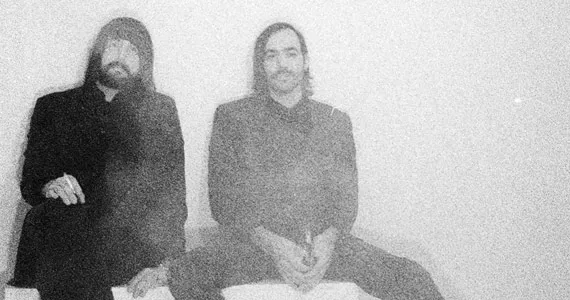 Death From Above 1979 only want to focus on the present
After hitting the stop button five years ago, Jesse Keeler and Sebastien Grainger are back as two halves of everybody's favourite two-headed elephant in the room, Death From Above 1979. In August of 2006 the well-loved noise rock duo penned a note to its fans announcing its split, saying they had met every goal they set for themselves in the short five years they had been making music and citing creative and personal differences as "a totally normal function of growing up."
DFA1979 got its start the way all good rock bands do: in a basement. In 2001, Keeler recorded three songs with only a bass and an eight-track and played them for Grainger in his car. The two started writing music and playing shows together---Keeler on bass and synths, Grainger on drums---and never looked back.
Although the band only released one studio album---You're a Woman, I'm a Machine---the sweaty, feral, self-proclaimed "noise wall" of DFA1979's sound stirred audiences into a lurching, compulsive, involuntary state of rhythmic hypnosis and left them wanting more.
So you couldn't expect guys as talented as these to sit around after they parted company. Grainger busied himself with releasing his solo LP as Sebastien Grainger & The Mountains, and Keeler went on to form MSTRKRFT with Alex Puodziukas.
Fast-forward to February 2011: After some time apart, Grainger took to the internet once more, this time to announce DFA1979's reunion. Calling the collaboration "the collision of two different worlds," Grainger asked fans, "why not say YES to stirring up a writhing pit of sweaty humans?" As good as their word, a mere month later DFA1979 did just that in Austin, Texas, causing quite a ruckus---indeed, a literal riot---at a secret reunion show on the last day of South by Southwest. Playing to mobs of excited fans, the show ended in pepper-sprayed tears and police tasing as if it ain't no thang.
Now, a year and a half and a handful of shows later, the Toronto natives are kicking off a brief Canadian tour and making our dreams come true with a stop in this modest Maritime metropolis of ours.
DFA1979 is calling the tour "song CPR," saying new material had been written and the pair tried jumping into the studio, but "the songs lacked spirit." In a blog post on its website, Keeler and Grainger say the only way they feel like they can make the songs any good is to play them for people: "We're going to throw our little muscle bound babies to the lions and see who survives."
Debuting new material at its Hamilton show on October 28, Death From Above 1979 put a call out to audiences via their blog making the unlikely request to refrain from taking photos or filming the new songs at the shows.
Grainger says the duo is still trying to work out the kinks in the new material, and that the concert-going experience is "an exaltation" that is impossible to capture. "We PROMISE you will have more fun if you just forget about everything and go bananas. Forget the future, forget that past. It's you and us together tonight."
A bold but totally believable proposition.
Death From Above 1979 w/PS I Love You, Friday, November 9 at Olympic Community Hall, 2304 Hunter Street, 8pm, $35.99/$37.99