VIA iSTOCK
Halifax's planning director Bob Bjerke was suddenly let go last week, without explanation to the public.
I'll preface this article by admitting that I don't yet know the details of chief planner Bob Bjerke's
quick exit
(read: dismissal) from his role at HRM. No one does, not even the rest of HRM's planning staff or apparently Bjerke himself (according to media interviews). This alone speaks to the culture of elusiveness that HRM fosters, especially when it comes to transparency in policy direction. But that aside, here's what it seems like happened and why it's a huge problem for Haligonians.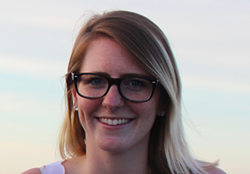 SUBMITTED
Jenny Lugar grew up in Halifax and completed a Master's in planning at York University in Toronto. She works as the sustainable cities coordinator at the Ecology Action Centre and as the coordinator for Our HRM Alliance.
Bob Bjerke was hired in 2014 to move HRM's planning strategy into the 21st century—at least, that's been the rhetoric in the planning community who have long-lamented the backwardness of our "build first, plan later" approach. We've tended to allow amendments to land use bylaws without any pattern or destination in mind, the worst of this being the sprawl that
cannot pay for itself
. Bjerke was tasked with advancing the Centre Plan, while kick-starting other plans like the Integrated Mobility Plan and Green Network Plan. In short, he was asked to build a fair and predictable standard for planning in HRM; one that would provide the development community with a vision for the region as a whole.
Bjerke's approach, according to many of those who worked for and with him, followed this mandate. He began to construct a "plan first, build later" approach. That's the way planning works in cities around the world. In fact, jurisdictions such as the
Province of Ontario
,
James Island in British Colombia
and
Boulder in Colorado
have used moratoriums on development while they completed plans that amended land use bylaws like the Centre Plan will.
Instead of taking such a measure, however, we built while we planned. And now, before the Centre Plan even has a chance to work, requests for amendments abound. One of the
suggested reasons
for Bjerke's dismissal was
his recommendation to Council
to reject
eight proposals
that would require substantial changes to rules in the forthcoming Centre Plan. Another was that
developers were complaining
about the slow processing speed for building approval (i.e. changing a land use bylaw that was in place for a reason, let's call it what it is) within the Planning department. Ironically, Bjerke told
AllNovaScotia
that processing is faster now than it was even a year ago.
The third explanation, from the mouth of (this) horse, is that this is classic conservative Halifax nincompoopery. Someone progressive arrives with ideas for positive change, but as soon as a few powerful, moneyed citizens realize he's not working
for them exclusively
, suddenly Halifax's new sweetheart is an enemy of the bureaucrats, the cause of the problems and frankly, the one thing preventing the absolute reign of the development community to build 100 more Kingswoods—which make developers a lot of money but cause an
ever-increasing tax bracket
—among other incomplete communities.
Here's the thing: the Centre Plan represents four years of work by talented planners. It went through four rounds of public consultation and took into consideration the opinions of thousands of Haligonians. Can Bjerke's recommendation to reject these eight proposals be seen as anything but a
defence
of his department's hard work creating a holistic, progressive plan with a vision for Halifax's future?
Where does this leave us? The city needs to hire someone new. If developers, "select councillors" and "some members of the public" were frustrated with the slow process before (and if this was, indeed, among the reasons Bjerke was let go), they're best advised to prepare for an altogether glacial pace while HRM figures out how to prime a new head honcho. Meanwhile, we run a massive risk. Bob Bjerke was pragmatic yet progressive and set about changing HRM for the better immediately. If innovation and change were the primary reasons behind Bjerke's dismissal, we can only expect that the new candidates will represent neither of those qualities.
In a time when we
desperately
need a cohesive vision for Halifax, quite frankly, this is terrifying and threatens to rewind us decades. If this is the case, it seems that a well-planned, equitable city isn't really the goal for HRM. Now is the time to join together and tell the city what we expect from our new chief planner, even if that planner won't be Bob Bjerke.
———

Voice of the City is a platform for any and all Halifax individuals to share their diverse opinions and writings. The Coast does not necessarily endorse the views of those published. Our editors reserve the right to alter submissions for clarity, length, content and style. Want to appear in this section? Submissions can be sent to voice@thecoast.ca.