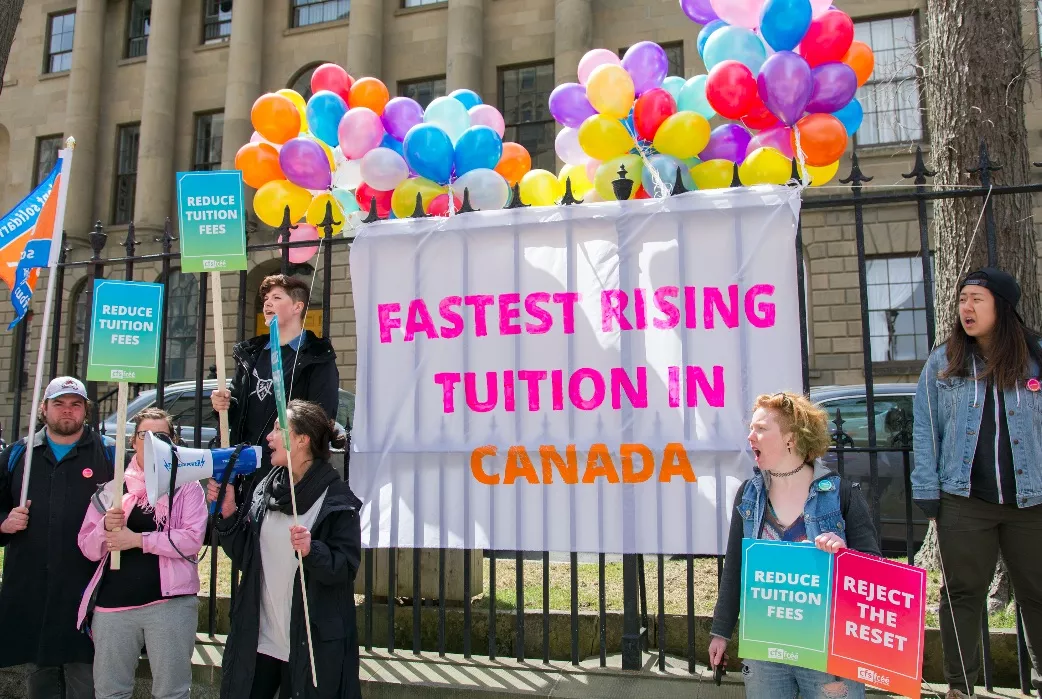 Last year, Nikki Russell-Jamieson decided to chase her dream of going back to school. To make that dream a reality, the 28-year-old single mother and full-time undergrad at Mount Saint Vincent University is going to incur an enormous debt. Tuition at MSVU is expected to increase by roughly 20 percent before she'll be able to finish her four-year degree.
"Education is paramount to reducing and breaking the cycle of poverty to begin with, and then we spend six to eight years to better ourselves, and it ends up just being a burden in the long run," says Russell-Jamieson. "It's kind of a catch-22...they don't really go hand in hand."
Nova Scotia is gaining a reputation for shaking its students dry. In 2015, the province's Liberal government removed regulations on the increase of tuition fees, allowing post-secondary institutions to make a one-time "market adjustment" to tuition and subjected graduate and out-of-province students to uncapped increases in future years.
Cash-strapped universities aren't shying away from the opportunity the new legislation offers, despite Nova Scotia students already facing the third-highest fees nationally, according to Statistics Canada, and the fastest-rising tuition anywhere in the country.
Charlotte Kiddell, chairperson for the Canadian Federation of Students' Nova Scotia chapter, says the province's student debt situation is dire: "Students and youth are in a crisis in Nova Scotia right now, where youth unemployment is three percent higher than last year, outmigration is increasing and students are facing some of the highest debt loads in the country."
Take the Nova Scotia College of Art and Design as just one example. The CFS claims tuition for full-time students at the venerable downtown arts university will increase by approximately 35 percent over the next three years—what CFS pegs as the highest increase for a university in Nova Scotia.
That hike comes from increasing rates for students with five or more classes per semester (who until this year weren't charged extra for loading up their schedules). The estimate assumes NSCAD's Board of Governors will approve three percent increases in 2017-18 and 2018-19 as part of that market adjustment.
Marilyn Smulders, director of communications at NSCAD, says the increase in fees comes at a time when the school already has Nova Scotia's lowest arts tuition costs, and emphasizes the market adjustment won't affect the entire student population.
Other Halifax universities—including Dalhousie, the University of King's College, Saint Mary's and MSVU—are raising program fees at similar rates. The CFS reports that the second- and third-highest increases in the province over the next three years will be for SMU commerce and Dal agriculture students, who are staring down a roughly 30 percent surge.
But while Nova Scotia is stuck with rising tuitions, our provincial neighbours have taken some bold steps in trying to decrease student debt. In August 2015, Newfoundland and Labrador dropped provincial student loans—replacing debt with grants and eliminating future provincial borrowing. It was the first province in Canada to do so. In April 2016, New Brunswick announced free tuition bursaries for students coming from households with an annual income of $60,000 or less.
Both plans have their share of critics, but they're innovative approaches to higher education. For all of Nova Scotia's talk of the Ivany report and its "urgent call to action," putting forward a game-changing strategy for post-secondary education hasn't been the province's strong suit.
The department of labour and advanced education was "unable to accommodate an interview" for this story, but spokesperson Lisa Jarrett provided the following emailed statement:
"We know some students and families struggle with the cost of education, and any tuition increase is stressful. Universities set their own tuition, and are working hard to control costs while ensuring quality programming and respecting what students can pay."
Jarrett also pointed out that the province has increased university operating grants by one percent for the past three years, in order to "provide universities with predictable, stable funding to help them with their business planning."
It's not enough for the CFS.
"I think budgets are about priorities," says Kiddell. "This a government that is not taking students' demands seriously."
Kiddell believes that free tuition is possible in Nova Scotia, and across the country. The student organization continues to lobby for the reduction and eventual elimination of tuition fees, and will hold a national day of action on November 2. Students from across Canada will hit the streets to demand a national investment in post-secondary education, so that people like Nikki Russell-Jamieson won't be buried in debt just for chasing her dream.
"I think that education is important, and everyone deserves an equal opportunity," she says.