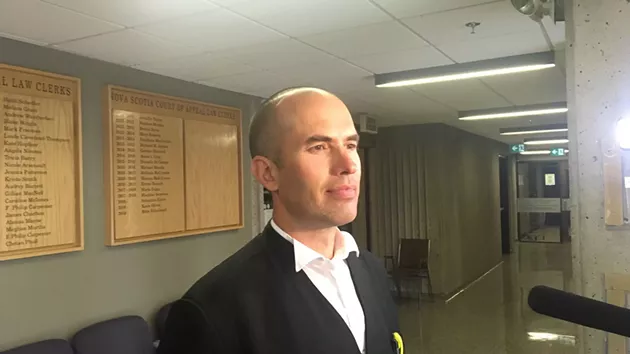 An Alberta advocacy group seems driven to distraction by personalized plates. Last week's hearing in Halifax Supreme Court about Lorne Grabher's plate is the third case the Justice Centre for Constitutional Freedoms has backed in April alone.
The Justice Centre for Constitutional Freedoms, a right-wing law organization, represented Lorne Grabher in court last week.
The Centre sees acts of controversial speech as "minority viewpoints" that may be representative of "unpopular ideas," as addressed in
a report filed
in response to Wilfrid Laurier University in 2018.
Since 2011, the Centre has published an annual report, titled the Campus Freedom Index, that critiques a university based on its constitutional freedom policies and practices—universities will receive better grades if there are no policies within the university and student union that prohibit offensive or inappropriate speech.
Almost 60 campuses were evaluated in the 2018 Campus Freedom Index, including
Dalhousie University, which saw F's
in the student union policies and university criteria—the Centre critiqued the Dalhousie Student Union's mission to "actively represent the diverse interests of Dalhousie students," while the university itself got penalized for
the 2015 suspension of dentistry students
who made comments related to bullying and harassment on a private Facebook page.
The Centre also hosts an essay contest on its website, where students and professors can submit papers based on legal rulings and new law-related bills. The topic for 2018 was around Bill C-16, which states that the refusal to use preferred pronouns for transgender individuals in court can be deemed as discrimination—
the Centre asked
if it should be required by law to use gender-neutral pronouns when referring to those who identify outside of the gender binary. The three winners all argued that, while non-binary transgender individuals are able to freely choose to use gender-neutral pronouns, others should freely choose whether they want to accept those pronouns.
"Canadians have the right to freedom of expression and any time the government censors people's expression, it's an important issue," said Jay Cameron, the Centre's litigation manager, last week in a scrum outside court.
In 2016, Grabher's personalized licence plate displaying his last name, which had been in service for 27 years at the time,
was revoked
by the Registrar of Motor Vehicles after an anonymous complaint, saying that the plate promoted gendered violence against women. (As in Donald "grab 'em by the pussy" Trump's bragging about assaulting women
leading to more assaults
.)
In 2018, the province commissioned Carrie Rentschler, a professor of feminist media studies at McGill University, to write an expert report stating reasons why the plate endorses sexual violence against women. The Centre commissioned its own expert report, written by Debra Soh, a science journalist with 11 years of experience in researching the psychology of sexual offenders, which stated why the plate does not condone gendered violence and should be allowed on the road. In the hearing last week, Rentschler and Soh testified to their qualifications to write their respective reports.

The Centre started representing Grabher after his plate was revoked, and took up not one but two other cases around personalized plate recalls since then. Cameron said in a scrum that the censoring of licence plates has become more than just issues with personalized plates and could be used for freedom of expression defences across Canada: "There are several plate cases right now before the courts or that will shortly be before the courts, but whatever decision comes out first will be a landmark decision."
The
Canadian Civil Liberties Association
, which sits on the left side of the political spectrum, agrees with the Centre and believes that, although the freedom of expression is not concrete, the government has not given enough reasoning for censoring the licence plates.
"There can be reasonable limits placed on [the freedom of expression], but we have a pretty high threshold for making the state make out that case for reasonableness and demonstrating that there's some genuine harm that could come from the expression in order to justify restricting it in some way," said Cara Zwibel, director of the Fundamental Freedoms Program of the CCLA.
"I don't think that case has been made here."
The Justice Centre for Constitutional Freedoms has seemingly put a lot of money into Grabher's legal battle, with the Centre filing several affidavits on Grabher's behalf, Grabher's 2018 award of $750 being paid to settle a previous issue with Rentschler's report, the two days of court last week, paying the lawyers for their work on the case, the investment of renting out
two billboards
displaying the plate—one on Main Street in Dartmouth and one on Barrington Street in Halifax—that can be about $1,200 to $1,500 each, the production costs of bumper stickers the Centre sells in support of Grabher and paying for expert consultation in the fields of sexual assault.
"I was compensated for working on this case," said Soh in a scrum, but was unsure if she was "allowed to publicly comment" on the compensation amount.
In response to the billboards,
a gofundme page
was circulated around Twitter to donate to Adsum, a charity to support vulnerable women and children, along with a proposed fake billboard saying "HELPHER." The page was set to a $500 goal, but has already exceeded that, with the gofundme sitting at over $3,000.
The Coast reached out to the Justice Centre for Constitutional Freedoms to inquire about the financial side of Grabher's case, but the Centre exercised its freedom to not comment.