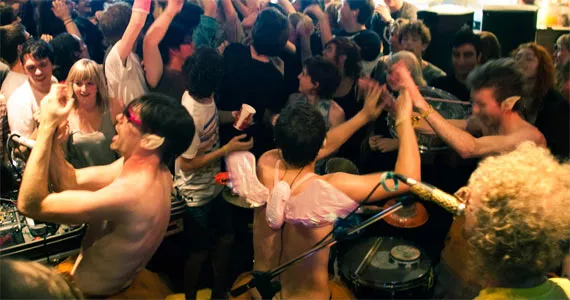 Born Gold incite a delightful dance fight this Wednesday.
I like the way electro-dance pop outfit Born Gold does things. Learning that the flamboyant electronica act (formerly named Gobble Gobble) is heading to Halifax for this year's Pop Explosion, I discover that the group is unwilling to do interviews and generally works with journalists by providing them poems and horoscopes. Kind of an unorthodox way to gain coverage, but if there is anything my very expensive (and mostly useless) English degree has taught me, it's that you can find meaning in almost anything.
Which is why after being given a horoscope written by lead singer Cecil Frena for another journalist, I decided to dissect the messages hidden in the horoscope and analyze how it relates to the experimental dance group and its recent LP, Bodysongs.
In a horoscope written for some guy named Sebastian, Frena writes: "This is a good time to travel, especially to places you've never experienced before." Frena could easily be talking about his own band's success, which has taken it touring across the country with acts ranging from Braids and Miracle Fortress (both will also be playing at this year's HPX) to indie-electro genie Dan Deacon.
Frena also writes: "Your artistic and aesthetic sense is heightened...interest in literature, poetry and culture is strong." Much like that statement, Born Gold's new album seems motivated by the beautiful and varied photographs that occupy its Tumblr account, inspiring their music and creating an Aphex Twin meets Gang Gang Dance sheen to the group's creative interpretations of electronica.
And finally, with the band coming to Halifax's biggest music festival, Frena writes to Sebastian: "Serious and demanding mental work should probably be put off for another time, as...your mind is more on matters of the heart."
But what Frena is really saying is: There is no better way to relax than letting your body go while dancing to Born Gold. Thanks for the advice, guys!