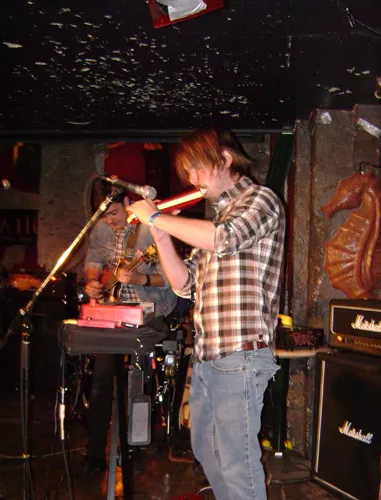 Boys Who Say No came recommended from one of the Carter Flinn household's favourite bands, Spiral Beach, so that wasn't a recommendation we take lightly.
The band's sound is a little over the place (in a good way—means they won't be subjected to rock-writing comparisons), mixing power pop with an alt-country twang. Singer Luke Correia-Damude has a great command of the stage, and a dominating voice. And yes, that's mechanic Jay (Mike Lobel) from Degrassi sporting the 'stache.
While over at the Paragon, Will Currie and the Country French were awkwardly (but endearingly) discussing how "nice" Haligonians are for the ol' "stop your car immediately if it looks like some pedestrian is even thinking of crossing," Boys got another type of welcome to Halifax: being pepper-sprayed by some old dude, who was spraying it against a wall. When they told him it was pepper spray, our old vigilante said, "Oh, is that what this is?" and kept spraying.
Will Currie was an under-attended show, and that's too bad. From my hometown of Waterloo, the band was born out of the basement of Wilfrid Laurier University's music department. The charming, upbeat piano pop band (insert Ben Folds reference here), was one of two bands signed to Murderecords—the other being Pony Da Look—and have toured with Sloan, and just finished another tour with Pop Explosion sweetheart, Dan Mangan. I like a band who knows how to use their handclaps.