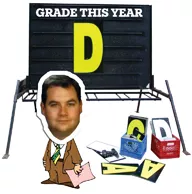 2010 grade: D
2009 grade
: C
2008 grade
: D
2007 grade
: D
Last year, I took Johns to task for not being engaged with his council colleagues, and for generally distancing himself from City Hall, preferring to concentrate his efforts in Sackville. What a difference a year makes
---since then, Johns convinced the other councillors to appoint him deputy mayor, and from time to time he's actually swinging the gavel and screwing up the council chambers' microphone system just as well as Peter Kelly.
But now Johns' problem is exactly reversed: for his most important vote of the year, he screwed over the majority of residents in Sackville. Yep, and again I'm talking about "tax reform," because after Eastern Passage, Sackville would've been the most adversely affected area, with parts of Johns' district seeing a 33 percent increase in their taxes.
Sackville is a working-class town, with wage labourers living best they can in densely packed neighbourhoods of clapboard houses and mobile homes. The very last thing they need is their elected rep agreeing to a plan that raises their taxes so that the owners of Young Avenue mansions can get a tax cut.