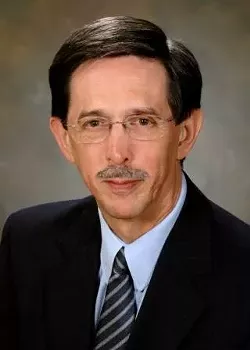 Provincial auditor Jacques Lapointe.
Provincial auditor Jacques Lapointe says the projections Trade Centre Limited made to justify the construction of a new convention centre "lack appropriate analysis and doesn't meet the standard of rigor required in such a significant proposal." Lapointe had urged the government to obtain an independent second analysis of the convention centre projections, but the Dexter government outright rejected that recommendation.
Lapointe made his comments in a press briefing this morning before releasing the results of an audit of TCL this afternoon. The audit looked at TCL operations between April 1, 2011 and September 30,2011. See the complete audit here, starting on page 86.
"The Trade Centre's market projections [for a new convention centre] include growth and market share assumptions that are not adequately supported. Some industry realities were ignored, including the over-supply of convention centre spaces in Canada, new competitors and the stagnant convention market," says Lapointe.
In the audit report, Lapointe notes that the three levels of government have committed to spending $163 million for construction of the new convention centre, based on the projections provided by TCL.
Asked if the TCL projections were even consistent with the analysis provided by consultants hired by TCL, Lapointe is unequivocal: "No," he says. "The figures that they put forward were not really consistent with much of anything. They were simply on their own. We asked to see what analysis went behind those, and a lot of it was based on what we were told was their professional judgement. The professional judgement of the people putting together the numbers seems to be where most of the numbers came from."
Moreover, says LaPointe, Trade Centre Limited is an out of control organization, with "very poor" financial management practices that are in need of a "major overhaul." The audit shows that TCL has failed to comply with provincial tendering and purchasing rules, and that TCL execs were flying around the world, wining and dining people, but making no record of what the entertainment purchases were, who was being entertained or why they were being entertained.
The audit looked at 11 travel expense claims submitted by TCL president Scott Ferguson, reflecting 98 purchases totaling $6,237. None of the claims had itemized receipts. "As well, all 11 claims had expenses with no indication of the names or number of individuals entertained," reads the audit. "This relates to 51 individual expenses totaling $2,613. Additionally, all claims had expenses which did not indicate the purpose of the entertainment; this related to 78 individual expenses totaling $3,436." These omissions are in violation of provincial policy, says Lapointe. None of Ferguson's travel expenses were reviewed or approved by the TCL board of directors.
The audit further details that TCL was violating provincial per diem and mileage policies, that blank cheques were not safe-guarded, that there was almost non-existent performance reviews of TCL executives and many other problems with the organization.
It was the very lack of financial management in Trade Centre Limited that caused him to look at the convention centre projections, says Lapointe.
"The reason we looked at the projections was because we were in fact looking at all the financial management of the organization. We were looking at internal controls, we were looking at the revenues and expenses and how they're managed. And these financial projections were really part and parcel of the finances. They were consistent with the rest of our findings, by the way, which were that the financial management of this organization was very poor. So the fact that the financial projections they put together would also be, in effect, poor, would at least be consistent."