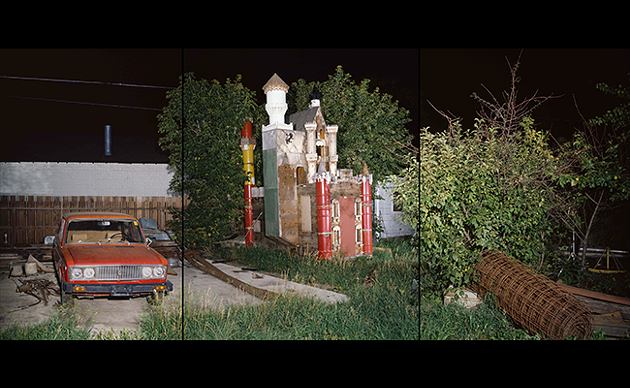 Brenda Francis Pelkey: A Retrospective
Mount Saint Vincent Art Gallery 166 Bedford Highway
April 22-July 9

MSVU Art Gallery's upcoming exhibition explores the work of Canadian photographer Brenda Francis Pelkey in the artist's first-ever retrospective.
With a career spanning over three decades, the subjects of Pelkey's photographs range from empty strip clubs and courtrooms, to nightscapes of neighbours with their collections of lawn ornaments in 1990s Saskatoon. While Pelkey began her career as a documentary photographer, the images she produces are far from concerned with photo-realness. Instead, they are reminiscent of dreamscapes, everyday scenes made to seem haunting in their familiarity and their strangeness.
She creates this effect by constructing the environments of her photographs: Working at night using harsh artificial lights like ones used on movie sets, or allowing a long exposure to distort the form of the image. The result is often eerie and otherworldly, the banal turned unnerving. It is fitting that her photographic series boast such titles as Haunts (2000-01) and the great effect of the imagination on the world (1988-89), works from which are featured in this retrospective. In these cinematic landscapes Pelkey sets the scene for action without ever portraying it, photographing the stage of future potential melodramas.
Pelkey's work can also be understood through a feminist lens, both in terms of how the artist's subjectivity is conveyed through the images she captures, her consideration of the gendered natures of the spaces she photographs and the femme-y pulpy genres whose visuals she references.