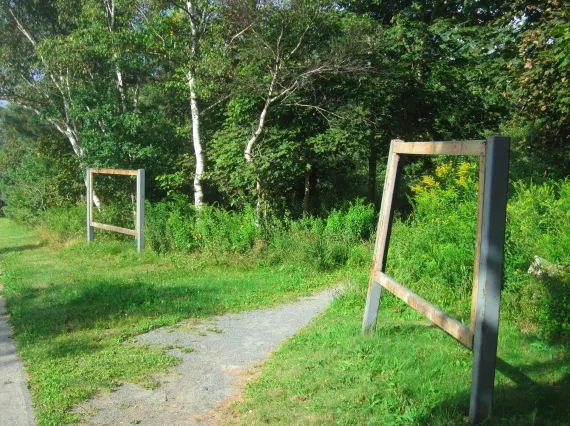 On my way to work this morning I noted a work crew had begun cutting down trees in the Urban Wilderness Park in the Dartmouth Common, behind the Sportsplex parking lot. This is the beginning of construction for the new, expanded Bridge Terminal, which will stretch from Nantucket Avenue to Thistle Street, consuming most of the woods.
For what it's worth, my position has always been somewhat ambivalent: the Bridge Terminal is an absolute necessity, and I'm looking forward to its speedy construction, but I'll lament the loss of the Urban Wilderness Park. The price of progress, I suppose.
I live nearby, so have walked through the woods most every day. I know them well. The woods have been much maligned: they're a waste of space, an eyesore, a haven for criminals. The reality is, however, something different.
We can all agree, I think, that the Wilderness Park was much neglected. At some point, the city (I think the old city of Dartmouth) decided that a wilderness park was a good idea, but then subsequent city governments did not dedicate the money or workers necessary to properly maintain it. An urban "wilderness" can't just be left alone like, say, a stretch of mountain wilderness; the urban preserve has to be regularly cleaned, its paths levelled and re-gravelled and vegetation managed, at least to a degree. I would've like to have seen trailside placards pointing out the native trees and shrubs, bringing an educational component to the wilderness. If people knew what was there, perhaps they would have more valued it.
As for the alleged criminal element... I don't know. I've never run into any trouble walking through the woods, although I haven't often walked through at night. But, for the sake of argument, suppose there were murderers or some such hiding out in the woods; that suggests first of all an extremely ineffective police force, and secondly an illogical approach to law enforcement. I've seen people arrested---presumably, they were at least suspected criminals---on the front steps of City Hall, and in the Grand Parade, but no one would take seriously the suggestion that we should therefore tear down City Hall and the Grand Parade. There are, to be sure, ways to discourage bad elements from hanging out in city parks, but once we start destroying parks, the criminals have won.
More likely, I think the "criminals in the woods" argument alludes mostly to the high school kids who hang out there and smoke pot. I've run across them dozens, maybe hundreds of times. They're inoffensive, and I've never had a problem with them. If anything, they are usually embarrassed, and seem to think they are the first kids to ever smoke pot in the woods behind the school in all of history. Actually, I'd go so far as to say the pot-smoking kids have been mostly courteous, at least so far as teenagers know how to be courteous.
It's strange, this societal fear of pot-smoking kids. Maybe it's a reflection of a society that wants all kid activity approved, programmed and regimented. I don't have kids, so I'm not one to lecture, but looking back, what I value most about my childhood was the un-approved, un-programmed and un-regimented time, the times I used to wander around the tidal rivers in my neighbourhood in a skiff, the times me and my buds would explore the woods back behind the salt factory, the experience of getting hopelessly lost in some place no one knew I had wandered. And yes, in my later teen years a lot of that involved smoking pot, experimenting with the forbidden, learning to work outside the approved strictures, testing myself against the adults. I don't want to overly romanticize being a delinquent, but I've seen a lot of upstanding people navigate through those teenage testing years, and they seem to be better off for it. And I worry about kids who have never experimented with the forbidden; will they have the self-assurance to say "no" to societal dictates, should that occasion arise?
No doubt the high school pot smokers will find some other place to smoke pot, but there was something about the woods that seemed at the same time safe and slightly anarchic, in the sense that something resembling nature is anarchic, wild and free.
I sincerely think that we should make a little room, here and there, for teenagers to be teenagers, to claim a space as their own, to smoke a little pot. Every time we cut down a stand of woods, we take away something from children.
Probably I'm making too big a deal out of this, and like I said, we really need that new Bridge Terminal. In the long run, having decent transit, so that youngsters will be able to freely travel throughout the community, will do more for high school kids than smoking pot will.
Still and all, I'll miss those woods.