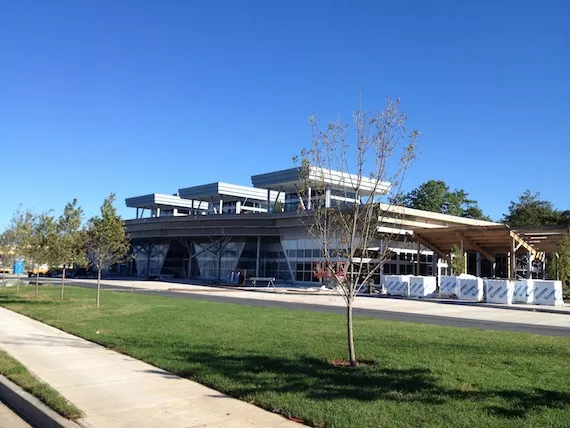 Despite assurances all summer that construction of the new Bridge Terminal was ahead of schedule and would open in time for the new route schedules implemented Monday, city officials abruptly announced last week that the terminal won't open until September 17. On Wednesday, crews were still laying concrete for sidewalks and curbs linking the construction site to the surrounding streets and Sportsplex parking lot. Spokesperson Tiffany Chase says the bulk of the uncompleted work is in the interior of the new building.
On August 17 the city published a request for proposals for operation of a retail kiosk inside the terminal, with a deadline for submissions just 14 days later, on August 31, which suggests that a particular predetermined vendor will win the contract (city officials will no doubt reject that suggestion, but 14 days is simply too short for any true opportunity for companies to fully investigate the opportunity, unless they had been previously informed of the parameters of the project).
The kiosk area is 236 square feet of usable space, plus two storage areas of 67 and 42 square feet. The request for proposals also says the "lessee/vendor may be required to sell transit tickets," which if followed through with would be a much-needed convenience for bus riders, who now have no opportunity to purchase passes or tickets in any Metro Transit facility.
On the other hand, the request for proposals seems to strongly discourage the sale of coffee at the kiosk, quoting a misspelled and ungrammatical Metro Transit beverage policy that basically prohibits coffee in disposable cups on buses: "Passengers wising [sic] to transport food or beverage [sic] area [sic] askes [sic] to store items in rigid containers with secure lids," reads the policy. In any event, the kiosk does not have the water or sewage connections needed for serving coffee.