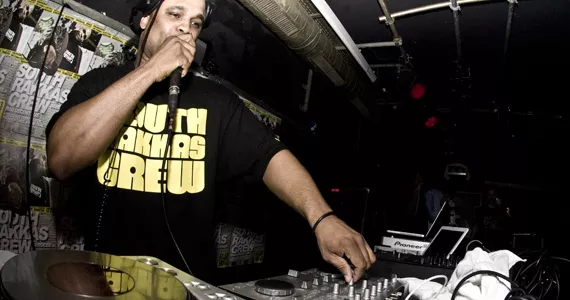 All of us make compromises, but fewer of us do so in pursuit of our creative ambition. When we come across a successful example like Dennis Shaw-AKA D-Rakkas of South Rakkas Crew (SRC)—we take for granted their life choices.
Just over a decade ago, Shaw relocated from Toronto to Orlando. "I had to work three jobs just to afford the things I wanted to do," says Shaw on his departure. As he sees it, there was no infrastructure to support local talent. "No one was looking for Canadian product," says Shaw. When Florida rang he cut his losses and joined the *NSync production team with then partner Alex Greggy (AKA Alex G). Shaw managed the Riprock 'n' Alex G record label while starting up SRC. The move paid off. The boy bands were at the peak of revival and SRC made industry impact with club credits like "Clappas," "Red Alert" and "Bionic Ras." Since landing on American soil, Shaw hasn't had to work a day job again.
Over the last decade SRC's production success and business reputation attracted a range of coveted opportunities to produce and remix tracks for stars like Tricky, Beenie Man, T-Pain, M.I.A., Lily Allen, Beck and Duran Duran. For Shaw, life felt pretty good, he was doing what he loved yet he craved more "authentic" music. "Alex did a lot of pop, but pop goes in cycles," says Shaw. "I wanted to work on something more urban and grassroots. There's a certain respectability from doing that music. When it's all said and done, it's about recognition."
Shaw focuses on reggae-based electronic music, in particular working internationally on the multi-purposed riddim records made popular in his homeland Jamaica. "A riddim record is an instrumental accompaniment," Shaw explains. Several vocalists add their unique melody overtop and dozens, if not hundreds, of club tracks are created. Currently he's deep in production of a riddim record for UK artists.
Meanwhile the internet, file-sharing and economic recessions have changed the music industry. "Now 80 percent of my music is downloadable," he says. "Because of our name we used to get calls asking us to DJ, at first we said no." Ironically, to stay in the studio SRC began accepting those offers, bringing the music to the fans personally. "I used to DJ as a kid, it's like riding a bike," he says. "All I had to do was update my collection. A live show is the only thing that can't be pirated."
The decision proved wise: SRC tours the world playing to crowds of thousands in the largest venues and outdoor festivals. "I love seeing new places, meeting new people," says Shaw. The Halifax show will be Shaw's first time east of Montreal, kick-starting a five-month tour across Europe, Asia and Australia. But if SRC is this big and this good, why come here for a 400-capacity gig?
"If I have fans somewhere, even places I can't afford, I go to give back," says Shaw. "I love the idea of a small town. It makes for a better party." Wouldn't you agree? From electro, hip-hop, dancehall, moombahton, new wave and pop, expect it all. "It's energy and good music. Period," says Shaw. "I grew up in Canada and I have many influences. These days, kids listen to everything. I like to mix it up."
Fortunately for Shaw, his choices sustain him. This Friday, may his set and style sustain us.
---
South Rakkas Crew
w/Topkat, Amazona
Friday, February 1, 10pm, $12
Argyle Bar & Grill, 1575 Argyle