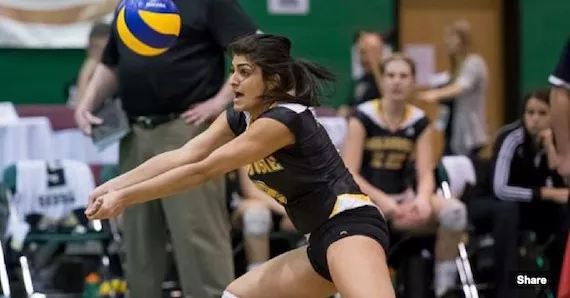 Yves Longpre
Raeesa Lalani wears shorts that violate the Canada Games Centre's dress code.
Daisy Dukes of the world, beware: the Canada Games Centre in Clayton Park is enforcing a strict dress code, banning short shorts and cropped tops. While Gary Furlong, general manager at the CGC, says the policy has always been in place, the Canada Games Centre seems to have recently begun cracking down on skimpy gym clothes in its facilities.
While enforcing a dress code is not uncommon for fitness facilities, the photos posted in the lobby include a close-up of a woman's bum in regulation volleyball shorts as an example of what not to wear, which begs the question: Is it proper to ban shorts that are part of a sports uniform?
According to Raeesa Lalani, a Dalhousie varsity women's volleyball player, short compression shorts are a necessary for indoor volleyball. "I have tried to play volleyball in regular shorts and you get pretty bad floor burn when you dive if they are flopping all over the place."
"I've only had one complaint about them when I was in junior high and high school," she continues. "I don't think they're offensive personally, but I can see how some people may, especially if there are some girls wearing them at an unacceptably short length with their butts hanging out."
Furlong says that this campaign is part of a variety of different education programs. "From time to time we like to take the opportunity to educate people on our policies." In a release on its website, the Canada Games Centre calls the campaign "a light-hearted take" on its existing Fitness Centre dress code. "This is not a centre-wide dress code policy."
Furlong says that while longer shorts are necessary in the fitness facilities, volleyball shorts in the field house are all good. "If it's a part of the volleyball team uniforming, it's fine."