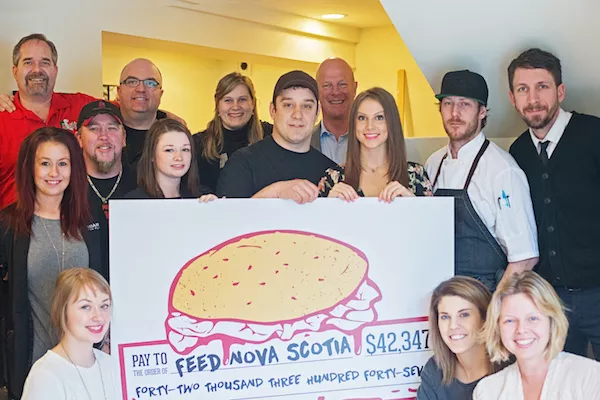 Remember Burger Week? Of course you do! You're probably still having dreams of meat sweats and trying to run off that extra beef on the treadmill. After all, it's not every day that 64 local restaurants work their buns off to bring you patty perfection. The best part of Burger Week, however, isn't the excuse to eat a burger three times a day for a week, but the fundraising that eating does for Feed Nova Scotia.
This year's was the third annual Burger Week, and after The Coast-organized event raised more than $30,000 for Feed NS over its first two years, the 2015 donation goal was set at an ambitious $25,000. Well, it sounded ambitious before the week started. Turns out Halifax restaurants and the people like you who ate at them raised $42,347. Today at The Coast's Maynard Street office, several restaurant owners and representatives of Feed Nova Scotia gathered for the presentation of the oversized cheque.
"We are overwhelmed by the generosity and response from Nova Scotians," says FNS executive director Nick Jennery. "The restaurants, they got behind it, they drove it, they made it meaningful."
Speaking to the room, Jennery explained that for every dollar Feed Nova Scotia receives, the charity turns it into $15 of food. Meaning that giant cheque is worth over $600,000. Just imagine how many people all those burgers can feed, other than you.
"It's fun. It's not competitive," says Bill Pratt, owner of Cheese Curds Gourmet Burgers + Poutinerie. "It's Feed Nova Scotia that's the winner of Burger Week."