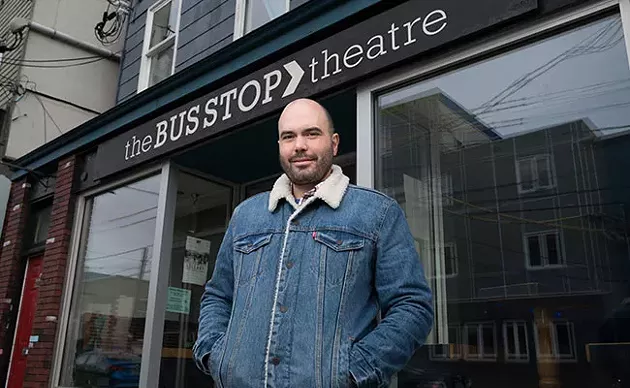 The Bus Stop Theatre's new Stage It program aims to give a voice to those silenced by gentrification. It's a battle the theatre itself isn't immune to.
Bus Stop executive director Sébastien Labelle says he's worried an anticipated rent hike in the next few years for its Gottingen Street home will make The Bus Stop the latest victim of a fast-changing north end.
"The writing is on the wall," says Labelle. "There're a number of places that are closing down. Our time is coming up if we don't do something."
The Bus Stop is now working with Strategic Arts Management—a consultant that supports arts organizations—to develop a strategic plan and business case for the future, to help in applying for government funding. Otherwise, bye-bye Bus Stop.
"We're facing the reality that within for sure the next five years, if the co-op doesn't find a way to buy the building or have someone buy it that can ensure our longevity, then it's gone, and we're going to be the victim of the gentrification that we kind of started."
As gentrification goes, cash-starved artists tend to start the process by moving into affordable, low-income neighbourhoods. Businesses follow to capitalize on the lag between increased vibrancy and higher rents. Finally the combination of cool factor and amenities draws middle-class people to move in, typically displacing the long-term residents.
The Bus Stop, Labelle admits, was part of the first wave of that process in 2003. Now, later-stage development is threatening the theatre's sustainability by driving up property values.
Next door is a boarded-up shop. Across the street a "for sale or lease" sign hangs from the window of the former Company House. But just a block away, towards Uniacke Square, it's a different sight. A five-storey, 103-unit residential development is under construction. A four-foot banner hanging from an unfinished window advertises "apartments for rent January 2018."
Developer Ross Cantwell's Velo Apartment project is funded by Moskowitz Capital, a Toronto-based mortgage lender. Brian Conrad, the Atlantic Canadian associate for Moskowitz Capital, says the project will be good for the neighbourhood, even with the rising property rates.
"It's regrettable that some of these small businesses are impacted, but they are going to have to find another way [to] reduce their cost or overhead to be competitive."
But The Bus Stop is at risk precisely because of the hard balance between affording day-to-day operations and staying true to its mandate to be accessible to emerging artists and community interests.
Last month, the theatre co-operative launched Stage It to ensure that open and accessible intent. The initiative provides disenfranchised local community members and organizations with free access to the venue and tech for their independent events.
Stage It, which is funded through a provincial cultural grant, hosted its first event on October 1, and four more events are planned between now and April. Art curator Martha Mutale says the theatre is aiming for six shows over six months.
"With gentrification, what I hope to achieve is to work to close the gap between users of the north end arts world and residents of the north end who are often overlooked," Mutale says.
The Bus Stop continues to attract people from across the city, but its value really rests with serving those who live in in the neighbourhood, says Labelle. Whatever its future, he wants to "make sure that the space continues to serve a role directly for the people that live here."