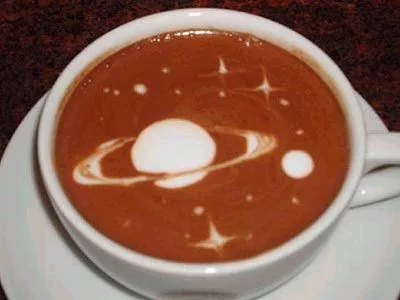 Coffee so good it makes you ponder the cosmos. (General Cafe cappuccinos may not appear exactly as shown)
It all started in a friend's living room. Daina Tavenier and Sam Kinsley came up with the idea of setting up a makeshift cafe in their friend's apartment in February. The General Cafe was a name the two had been thinking about to call their novel idea, although it didn't hurt that their friend's apartment actually happened to be a general store back in the day.
This is a place where friends can gather and exchange dialogue and ideas over cups of quality espresso-based coffee and other specialty drinks.
In March, Eyelevel Gallery (2159 Gottingen Street, 425-6412) invited the General Cafe to set up at their location to coincide with their Eyelevel Reshelving Initiative 5 exhibit.
This month, the Roberts Street Social Centre (5684 Roberts Street, 446-1788) invited the General Cafe to make a stop in its cozy little red house for the centre's last bow in that location. Tavenier, who frequents the RSSC, says it's an honour for them to set up the General Cafe there, as a fundraising effort for the centre.
Because the General Cafe has been popping up in different locations, the setup is always evolving. It does its best with the space that's available, but the main ingredients are always right there: a cozy, interactive atmosphere, some nice throwback tunes on the record player and, of course, great coffee.
As of now, there is no word on where the mobile cafe will make its next stop in May. But stay tuned, because the General Cafe just may end up in your neighbourhood someday
The General Cafe is open until the end of month at the Roberts Street Social Centre, Wednesday to Friday, 9am-3:30pm. Just make your way upstairs. And be sure to check out the zine library and screenprinting studio at the RSSC original location while you still can.