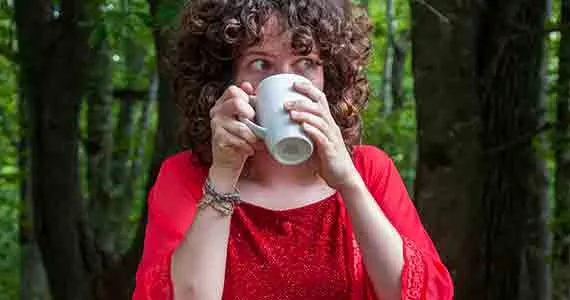 ERIKA FLAKE
Coffee talk with Camila.
For two hours a performance has been unfolding inside the Anna Leonowens Gallery. A figure rotating within a wooden framework, deftly turning turmeric-coloured thread into a hand knitted cocoon that finally enveloped its maker. The show, Present Ground, took place in December 2016. The performer, and co-curator of the show, was Venezuelan-Canadian artist Camila Salcedo.
"This was the first work that I merged textile and performance practices," says Salcedo. "It was reflecting on the experience of going to Kejimkujik National Park and the Fortress of Louisbourg; two charged spaces in terms of Nova Scotia's colonial history."
The issue of dual identity, ethnicity and displacement are constant fuel for Salcedo, as evident in PAN, a bread-based piece performed in Quebec City, made as an homage to the Venezuelan women crossing the Columbian border to obtain food for their families.
"My interest in art-making has been lifelong. My parents are artists so creating was always encouraged in our home," says Salcedo, who recently returned from La Pocha Nostra, an international workshop in Mexico, where artists adorned costumes and improvised performances—a setting Salcedo thrived in. "It was truly amazing to be in a space with many other artists with dual cultures."
The time-based, durational element of textile and performance art is certainly a fertile one for Salcedo, and one she plans to explore further. First she is set to embark to Cape Town, South Africa, for a teaching internship through the Arts in Schools programme at NSCAD, no doubt forging more collaborations and returning with mesmerizing performances to share.