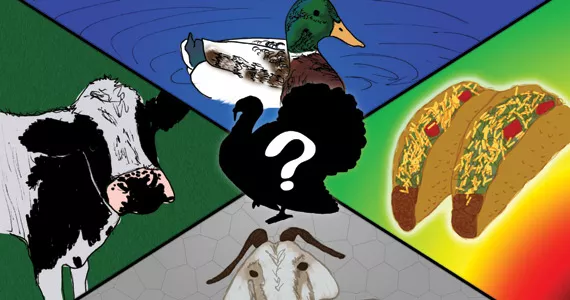 There are lots of other main course choices this holiday weekend.
As the weather grows colder and the leaves start turning brilliant shades of red, orange and gold, we tend to turn to heartier comfort food. No time does this ring more true than over the Thanksgiving holiday when turkey sales skyrocket, cans of pumpkin puree fly off supermarket shelves and adventurous cooks finally dare to buy that daunting, funny-looking squash.
But what do you eat if you're sick of turkey dinner? You might say "That's impossible"---how could one possibly turn down a succulent bird, savoury stuffing and buttery mashed potatoes drenched in gravy? Well, I can. I'm not saying I don't appreciate the occasion---I am, after all, thankful for it--- but I have absolutely no problem going on without the festive dinner.
I mean, to cook the bird alone it takes upwards of three hours; there are vegetables to peel and pies to bake---not to mention the clean-up! And as if the one meal isn't enough, you're eating hot (and cold) turkey sandwiches for days. My mouth waters at the thought of such sandwiches, but the work that goes into making the meal far outweighs the benefit, if you ask me.
This year, I'll pass on the gobbler and try out some other options for Thanksgiving dinner. I'll invite some friends along, too, if they're willing.
Instead of listing restaurants I'd choose for the big day, I thought it would be far more interesting to hear from some of Halifax's finest restaurateurs as to where they would choose to bring their friends and family together to give thanks.
"I would head to Chives, as I know I'm still going to get the treat of an abundant harvest meal," says George Christakos, co-owner of the Brooklyn Warehouse. Christakos admits that he thinks turkey is pretty bland, so "I would probably score some lamb, as I am a fiend for it," he says.
Another Greek restaurateur in the city would choose a different type of meat. Peter Katsihtis, co-owner of Estia, confides that his meal of choice would take place at The Bicycle Thief in Bishop's Landing. Katsihtis is specific in his choice: the "peppercorn- crusted beef tenderloin tagliata, carpaccio-style to replace the traditional turkey."
Also jiving for an autumnal meal is Jennie Dobbs, owner of Morris East. She takes the approach of choosing her wine and pairing her meal to match. "I'd go to jane's on the common; order duck confit and ask [head chef] Paolo [Colbertaldo] if he'd make the skin extra-crispy for me." Dobbs adds that she loves to eat game on holidays, because "it dances so well with my favourite grape---pinot noir."
And if that doesn't give you that warm and fuzzy, thankful feeling, perhaps this will: A restaurateur and wine bar owner alike responded with the same restaurant of choice because of the ability to enjoy the dishes with their loved ones.
Victoria Gaspar, co-owner of Brazilian and Portuguese restaurant Pipa, chose Mezza because "the food is always great and it would please the few vegetarians in our group as well. ... Due to our large family size," she says, "we would order lots of small plates to share, accompanied by copious amounts of earthy Lebanese wine."
Heather Rankin, co-owner of Obladee, A Wine Bar, echoes the sentiment, naming the same resto: a lover of Middle Eastern food and Lebanese wine, Rankin's top pick is "a greedy array of mezze from the wonderful Mezza on Quinpool."
Sounds like a plan to me.
I suppose the point of this exercise was revealed in that Thanksgiving isn't about the food, the wine or where you choose to eat---it's who you eat it with that really matters. No matter what resto I choose for my Thanksgiving dinner, it's who I share it with that's the most important detail.