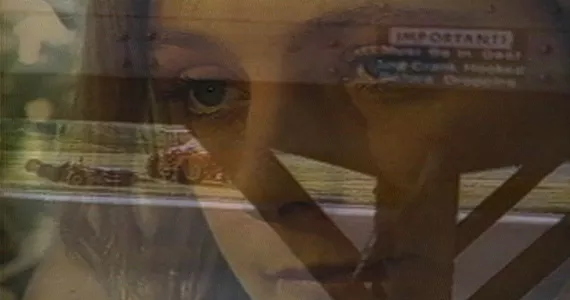 A scene from John Scott's Passing Through, screening on Wednesday.
The Centre for Art Tapes looks back at 20 years of its Media Arts Scholarship program with a screening at the Halifax Independent Filmmakers' Festival.
Upon entering the doors of the Centre for Art Tapes, one is immediately greeted with the contrasting image of old and new electronics. Bulky monitors are piled near the door, while down the hall are editing suites housing cutting-edge software and equipment for rent. Opposite Mireille Bourgeois, interim director, a gleaming Mac sits amongst yellowed files and boxes.
The clutter is a result of the CBC building---where CFAT is currently housed---evacuating before tear-down and condo-building. CFAT is being forced to find a new home. But that won't stop the organization from continuing to offer the city's best in media art programs, which they are celebrating on April 6 at the Lord Nelson with a screening at the Halifax Independent Film Festival---videos from CFAT's upcoming DVD (with accompanying book), looking back on 20 years of the Media Arts Scholarship program.
Launched in 1989, the scholarship program offers artists from a wide variety of backgrounds the ability to construct works in the field of electronic media, including video, audio and gallery installations. As the years have passed and acclaim has grown for the centre, it continues to offer scholarships in a variety of areas utilizing the newest technology.
But more than just an outlet to push new media art in the community, the goal of CFAT is to offer these programs at an affordable price: Free.
"I'm interested in asking the question 'What is free education and what does it mean for the community?'" says Bourgeois of the scholarship program, whose application deadline is April 29. "It's not just a project. It's education and training that are totally comparable to something you could get in college or a university setting."
Spanning June to December, the program offers 10 artists a rigorous course in media arts that involves workshops, mentorships and the ability to show their finished work in art galleries across the city.
"I often say that if you look at the mentors and the scholars that have been involved with CFAT over the past 20 years, it pretty much fills up arts and culture in Halifax," says Bourgeois.
One such artist is John Scott, professor at Ithaca College in New York, as well as a Canadian filmmaker whose work Passing Through is one of the 16 selected videos to be screened. Originally a news editor at CBC, Scott got involved with CFAT due to its hybrid editing technology in the early 1990s, which rivalled the linear editing suites offered by the CBC.
"The scholarship really opened up a lot of doors for me," says Scott, who went on to edit music videos for Thrush Hermit and jale, as well as numerous documentaries for CBC and the consumer-conscious youth hit Street Cents.
A lot has changed since Scott's work with the organization. Joel Plaskett went solo, Andrew Bush grew facial hair, media went digital and the word "tape" became obsolete in the English language. But through it all, CFAT has stayed true to its beginnings.
"The whole basis of the centre is really built on partnership and collaborative nature," saysa Bourgeois. "It was started as a collective and we try to continue with that motto."