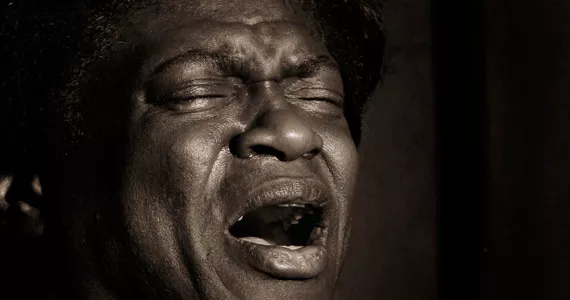 Kisha Bari
Charles Bradley's got a whole lotta soul.
"How would you define soul, James?"
That's the question journalist David Frost put to James Brown in 1970, as quoted in R.J. Smith's new biography of the Godfather of Soul, The One.
"The truth," Brown answered. "The down-to-earth truth...it explains the hard knocks, it explains everyday life, telling it like it is. The truth."
Charles Bradley sings truth.
He sings it in the same manner that Brown speaks of it: hardship belted with a sense that each phrase wears the weight of a thousand sorrows, even when the noise is a joyous one. Whether he's singing about love, labour or loss, Bradley's voice-breaking soul revivalism is not unlike Brown's famous "cape" shtick, flirting with collapse before rising up in resurrection.
"It comes from way back in the segregation days, when you couldn't say what was on your mind," says Bradley, on the phone from a park in Brooklyn. "You could only to go to a small little Baptist church and sit there moaning, groaning, singing the best you could...you found the music, and just let it out, oh my god, that feeling inside you that just can't be explained."
The past year of Bradley's life would be remarkable by any measure: an acclaimed debut album (2011's No Time for Dreaming), a documentary film (Soul of America) making the festival rounds and touring the world with a heart-stopping, sweat-draining love-in of a stage show. (Those who were at his Sappyfest set last July speak of it with fevered reverence.)
But Bradley is 64, hardly the typical age for a new music discovery in any genre. And behind that age is a lifetime of hard knocks and stolen opportunities that would be a riveting story even if it weren't set to stirring soul tunes.
Bradley grew up in poverty, finding his way out of Brooklyn via a job program for underprivileged families. He worked as a cook in Maine, New York state, Alaska and California, hitchhiking across the country when it was time to change scenery.
Out west, he had saved enough for a down payment on his first house when he was fired from his job of 17 years. He had just returned to Brooklyn, trying to build a music career, when his brother was shot and killed in cold blood.
At the time, Bradley was performing in New York as a James Brown tribute act dubbed Black Velvet. It was in that guise that Gabriel Roth of Daptone Records found him, seeing potential beyond the homage. Their pairing led to a friendship and collaboration with former Dap-Kings guitarist Thomas Brenneck, who pushed Bradley to draw upon his own life experience in writing No Time for Dreaming.
"Sometimes, when you hear me really screaming, I can't find the words to say," says Bradley, who's earned the nickname The Screaming Eagle of Soul. "My vocals can't find what my heart is truly trying to say, so I just gotta scream it out."
Bradley's ripped-from-the-'60s soul music wears its influences (Sam Cooke, Otis Redding, early Brown) without shame, but in his songs and his story is the sound of an America still struggling with the same questions his musical heroes faced 50 years ago.
His answer, which he will share with Halifax at the Jazz Festival next week, is all about love.
"All I want to do is be able to try and give love, and let people know who I am. I'm a man who loves to sing. So when I get on stage, I try and speak the truth, sing the truth, try to reach the audience and let them know that there's still some good people out there."
Charles Bradley and his Extraordinaires w/Cyndi Cain, Friday, July 13 at The Festival Tent, 8pm, $23/$20