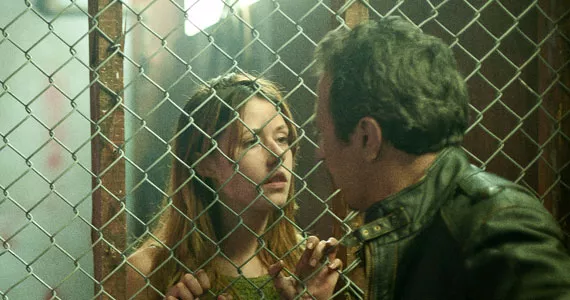 Michael Melski knows a little something about the duality of Halifax, how its mini-ecosystems churn alongside each other. He's witnessed the city's "culture of white privilege and wealth," but has lived in tougher neighbourhoods in Spryfield, Dartmouth and Halifax's north end.
Melski's seen pretty and he's seen gritty, and finds cinematic inspiration in the latter. "You hear the sirens at night and screaming through walls," he says of living in HRM's crime and drug-addled districts. "This is a film about what's happening on the other side of those walls."
The film he's speaking of is Charlie Zone, a thriller that recently wrapped its three-week sprint of a shoot. The $1.1 million feature is the second directorial effort from Melski, who also helmed the 2008 comedy Growing Op. His latest effort stars Amanda Crew as a young heroin addict whose parents hire a disgraced boxer (Glen Gould) to forcibly rescue her from a seedy downward spiral.
The two characters find some common ground in their similarly dark pasts. Sucking back cigarettes on a sunny day on set in Bedford, Melski says stories like those of his protagonists are being written here every day.
"There's so many things going on in the city that we don't get to see because we get in our own traps, our own loops of friends and hangouts and bus routes," he says. "If you step off of that, you can find yourself in a whole different world that exists alongside, parallel.
"There are 100 crack houses and shooting galleries in Metro, based on some estimates. We don't see those. They're way beneath the eyeline of Spring Garden Road and Argyle Street and the hipster culture that kind of exists side-by-side with it."
With Charlie Zone---which takes its title from the former name of Halifax's north end community police office---Melski wants to humanize those Haligonians caught in destructive cycles of poverty, racism, crime and addiction.
"It's a fictional story and a dramatic thriller, but within that we're aiming for real honesty about the fact that these people are human. You can't dismiss them because you're faced with the three-dimensional realities of who they are."
Helping Melski render the character of Jan, the runaway addict, is Crew, a native of Langley, BC, and a veteran of such Hollywood fare as She's the Man and Final Destination 3. Like Melski, she was attracted to the darkness of Charlie Zone.
"I think actors are twisted people who crave that sort of stuff," laughs Crew on a break between scenes.
Those breaks have been rare, but the actor welcomes the tight schedule.
"I think that helps with this type of film where it's a really dark, gritty, character-driven film," she says. "When you're working under that kind of pressure it helps with just jumping into the scenes full-on."
Melski calls Crew "courageous and smart" and thinks she is poised for a full-on career breakout. If that happens, it could raise the profile of a little local movie that sheds light on struggling subcultures. A movie that itself is an example of a more upwardly-mobile subculture---the Halifax film industry.
"That's one of the great things about Halifax," says Melski. "We don't necessarily have a lot of money, but we have passion and that innocence to think you can make a big movie that looks like it costs way more, just because you have heart."