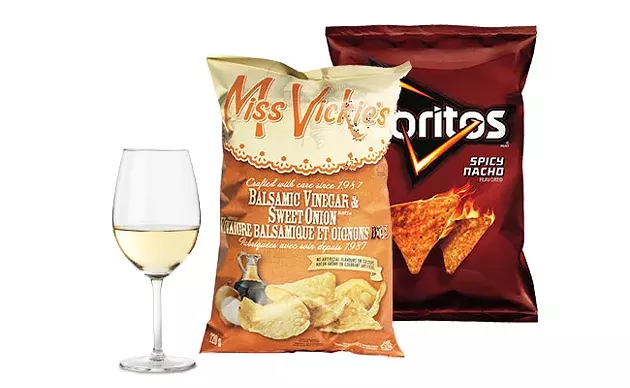 Black Tie Chip Night
Fri, Jan 19, 8-10pm
Atlantic Beer Institute, 1496 Lower Water Street
$20/$30
You might think you love chips, but The Villain's Theatre's artistic producer Colleen MacIsaac and artistic director, Dan Brayr, can probably out-do you. The self-described "chip connoisseurs" have learned a thing or two about the salty snack from the theatre company's famed chip nights: "The Friday night of [each show's] run started as a gala," Bray explains. "But we started bringing in potato chips and people were just really into it."
Now, at a fundraiser on January 19, the duo are ripping open a new bag with a tasting session where you can nosh on flights of carefully-selected chips in the name of local theatre. Here, they share a few favourite flavours.

Is there an ideal drink you'd pair with a chip?
Colleen MacIsaac: "Spicy Doritos with a white beer."
Dan Bray: "Miss Vickie's balsamic with a dry, white wine."
What about dip?
CM: "This is an issue of contention. It's almost destroyed this theatre company."
DB: "I think the potato chip is perfect as it is. With a corn chip, you know, maybe some salsa, sure. I'm more of a purist, I guess."
CM: "I feel like when it comes to just plain, salted chips, there's no point unless there's dip."
DB: "I don't need any fancy add-ons. It's like drinking cherry coke instead of regular coke. But, I also do like cherry coke, so..."
Are some chips better for different occasions?
CM: "One thing to consider is the crunch volume. Recently, we were hanging out watching a movie that was really quiet and intense and we're eating kettle chips and all you could hear was 'crunch crunch'."
DB: "For a date: Those root vegetable chips because it'll make you feel like you're on an airplane and that's pretty fancy."
CM: "I'm a big proponent of the party mix. People will be like 'Oh, what's this bowl of pretzels doing here?' And then they realize it used to be party mix. And then someone comes along who likes pretzels—I like pretzels. I'll go eat those pretzels."