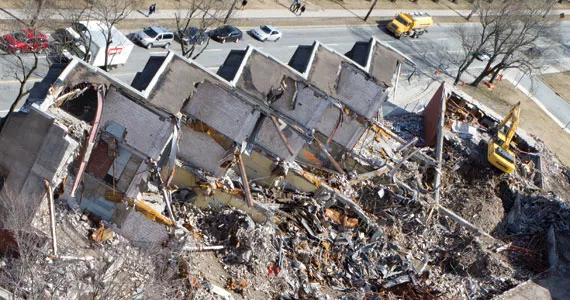 Queen Elizabeth High School is coming down, with plans for an urban garden to be planted on the land.
It's not every day a high school gets turned into a farm. But that's what's going on at the corner of Bell Road and Robie Street, where Queen Elizabeth High School once stood. Partners for Care, a registered not-for-profit charity that ventures to raise money for the city's hospitals, had the idea to reclaim the school site, to be called the Common Roots Urban Farm. "Partners in Care will oversee the project," says John Gillis, spokesperson for Capital Health. "They don't have the expertise in farming, obviously. People like the Nova Scotia Agricultural College and the Ecology Action Centre have come on board. We're hoping that partners like that can help us operate it."
The roughly two-and-a-half acres of land has transferred to Capital Health with the demolition of the school, which closed in 2006.
Though Gillis imagines that in five or so years an expansion of the Halifax Infirmary will be built there, the land itself needn't remain fallow while development goes through its various processes. "It could be longer than that," he says. "And if there's a way to incorporate that farm and interim use into what goes there permanently, we'd like to do that."
It's a little too soon to say what will be grown or how it will be distributed, but the idea of a farm just adjacent to the downtown is an exciting one.
"Having any kind of urban farm or community garden brings people back to the earth," says city councillor Dawn Sloane, whose father had a farm in Shubenacadie when she was growing up. She sees the Common Roots Urban Farm as an opportunity to build social capital as well as an invaluable educational tool: "People are craving local food sources and knowing how their food is grown. There's a total difference with a tomato that comes from your backyard or an urban garden and one you buy at the store. And having something at a bigger scale will foster partnerships in the community."