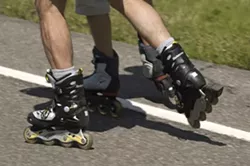 With the warmer weather approaching, The Oval is swapping ice skates to in-line skates.
The city is tendering for 612 inline skates and related equipment like helmets.
The new equipment should be in place, and ready to rent to the public by July 1, with rentals continuing on until the end of August before switching back to ice skates in the winter.
And The Oval will be used for more then just in-line skating.
"We want to make it open and accessible, a space where you can bring your kids on a bike and walk around on it or jog, and there will be free time for that outside of the skating hours," says John Henry, the manager in charge of operations at The Oval.
He says to expect for a wider range of programming at The Oval compared to the winter season, as time will be allotted for activities outside of skating.
Exact times have yet to be decided, but Henry wants the new in-line skates to be available for rent for periods throughout the day and evening, and on weekends.