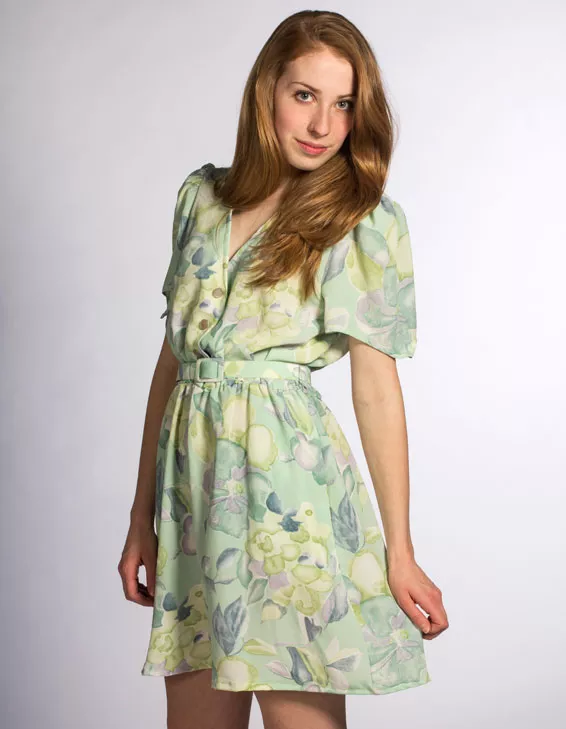 The prodigy
Cardboard Houses' Izzy Dempsey up-cycles thrift-store finds and transforms them into youthful, trendy outfits.
At the age of 15, Izzy Dempsey opened an Etsy account under the name Cardboard Houses and started selling her handmade, vintage-inspired clothing line. Four years later the young designer continues to make one-of-a-kind pieces with international sales from as far away as Australia. The name stems from when Dempsey was a kid, making houses to play in out of old boxes.
Now 19, she continues to show a passion for creative recycling--- only this time she's using vintage clothing and materials; "I up-cycle clothing," she says. "Kind of taking something and then changing it." Dempsey's process starts with thrifting at stores like The Salvation Army and then adding a personal flare by tailoring each article. "I'll think of different options, like what to do with the back or where the waistline should go," she says. Dempsey isn't your typical fashion connoisseur concerning herself with the latest trends. Rather, she admits to having a limited knowledge of the fashion world and looks to her thrift-store finds for ideas.
"I take a lot of what I want to create from everyday stuff," she says. "I take it from what I see around." Designs like her white lace mini-dress and a turquoise floral tank with tie-up back are great examples of Dempsey's youthful style, but the young couturier still faces a major challenge: creating clothes for the not-so-petite majority. "I'm a lot shorter than the average girl," she says, which makes it hard for her to create larger sizes as she is the one trying on the original pieces.
Dempsey has yet to decide what the future holds for Cardboard Houses. She says that as much as she loves making clothes, it's hard to envision anything more than an online boutique while she's still attending classes at NSCC. But, after being approached to make custom designs, including helping tailor a third-generation wedding dress, it's pretty clear that people are interested in keeping Cardboard Houses around for awhile.
Favourite spring outfit: Layering shorts and baggy shirts with a lot of plaid.
---
The graduate
Elliot Jane Mussett brings an architectural passion to soft, sheer fabrics.
Elliot Jane Mussett has always been fascinated by clothing, but not in the usual sense. While most designers seem focused on fabric, patterns and silhouette, Mussett is drawn to the relationship clothing has to the body. She says the relationship is rooted in movement: "A lot of my designs have been architectural and mixing strong lines with sheer, flowy fabrics that move with the body." Before ever considering herself a designer, Mussett would play with sewing machines and make dresses for fun. It was not until university that she combined her eye for fashion and her unique, architectural passion to create her brand ejm. Like most little girls, Mussett was drawn to clothes at an early age and says that as a kid, she would turn scarves into clothing while playing dress up. Now, the almost-grad recently showed her work at Runaway, NSCAD's senior and student fashion show, featuring leather-heavy, dramatic pieces. While the show means her time at NSCAD is coming to an end, Mussett promises to continue designing and plans on opening a business in Halifax. "I feel like Halifax is on the verge of really being something," she says. "A lot is going on right now and I want to be a part of that." But before settling down, Mussett wants to head to the big MTL. "Their boutique scene is crazy, I love the variety they have there," she says of Canada's Paris.
Born and raised a true Nova Scotian, Mussett looks close to home for inspiration. Rather than fawning over international brands like Givenchy or Chanel (although she does have a soft spot for Roberto Cavalli's menswear) Mussett says she draws inspiration from Dreamboat Lucy and Chloe Comme Paris. One day soon another aspiring fashionista can add ejm to that list.
Favourite spring outfit: Long sheer skirts and loose-hanging tank tops.
---
The goth
Justin Lees' Nonplus line takes gender equality to a new level.
With Justin Lees' androgynous-inspired collection, Non°plus, the NSCAD student hopes to blur the lines between women's and men's apparel. "It's really fluid what men and women are wearing now and it's so interchangeable," he says. Originally a film student, Lees joined the fashion world after taking a fibre, fabric and fashion course. After falling in love with leather, denim and chiffon, he created his first collection titled "Second Cousins of the Anti-Christ" last semester. "I like more gothic aesthetics and just more weird and bizarre things," Lees says. Non°plus keeps up with his dark persona, thanks to leather detailing and black fabric. The name was derived from the Latin term for "no more" combined with the French word for "neither." "I thought that was really accurate," says Lees. "Where it's kind of genderless clothing, it's kind of neither and no more."
Inspired by designer Haider Ackermann and leather, Lees is humble and admits he is still very new to the industry. "Aside from my grandmother teaching me how to sew when I was younger and things like that, I basically learned how to properly sew at the beginning of this year." Although a newbie, Lees is determined to continue designing and is ready to put in the necessary work. As for life après NSCAD? He says the plan is to "not give myself a break afterwards and just keep trying to figure out how to get into the fashion industry." While he hopes to establish a brand somewhere with a more diverse market, Lees promises to always promote his roots: "I think it's really important to get your name out where you're from and I would make it known that I studied at NSCAD."
Favourite spring outfit: Anything with a lot of black, lighter fabrics like chiffon and jersey.
---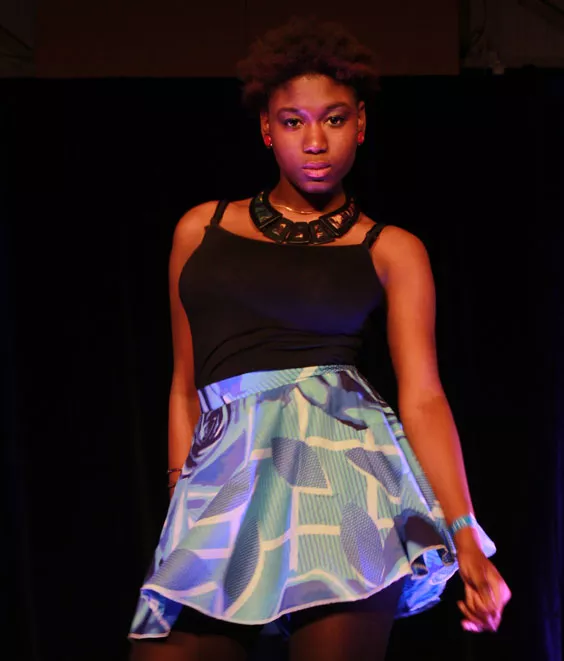 The destination designers
Efizy Culture's Yewonde Taiwo and Oristedere Ikomi create wearable, affordable accessories and clothes showing off Nigerian swag.
African clothing is hard to come by on the east coast, which is exactly why Yewonde Taiwo and Oristedere Ikomi decided to bring a little bit of their native style to Halifax. "It just started sitting in my apartment and going through different Nigerian blogs," says Ikomi, who partnered up with fellow Dalhousie student Taiwo over a year ago. With a shared Nigerian background, the worldly duo incorporates African culture in all its designs. The label name Efizy is an African slang term equivalent to the North American catch-all staple swag. "People say 'Oh you have so much efizy.' It reminds us of home because we're so far away," says Ikomi. The term is a perfect fit for the laidback and diverse brand. With a focus on casualwear, Ikomi and Taiwo use Ankara, the popular Nigerian fabric, in all their pieces---whether for a giraffe-print pocket on a tank top or to create an entire pleated skirt.
Despite a limited background in fashion, the women of Efizy prove that passion and good taste is all a designer needs. Taiwo takes care of the sewing while Ikomi incorporates her laidback look into the collections. "I like the tanks with the pockets," she says, "They're really chill and that's my look." While Efizy Culture will always revolve around relaxed and casual apparel, Ikomi and Taiwo are in the midst of creating a new collection called Simeon. Hoping to have it ready by summer's end, the higher-end line will include blazers and golf shirts to give those fancier fashionistas an opportunity to enjoy some of Efizy's African swag.
Favourite spring outfit: Tanks with pockets and a jacket (Ikomi).
---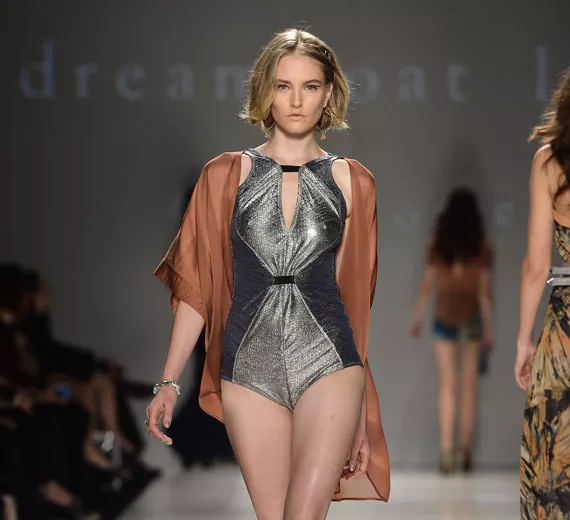 The dream team
Dreamboat Lucy's Hilary and Louanna Murphy are established, painfully cool and their pieces are soon to atop your wish list.
Sibling rivalry is not an issue when it comes to Dreamboat divas Hilary and Louanna Murphy. The sister team, who established their feminine and retro-inspired brand back in 2010, look to create casual clothing that people will covet. "Dreamboat was a word that we were using all the time, describing anything or anyone attractive; Lucy is a great name---kind of like your best friend's name," says Louanna. Although the girls admit that working as a sister-team can be daunting for some, Louanna and Hilary have always shared an interest in fashion and luckily, have always managed to get along. "Having a sibling business partner has really been an advantage because we were so similar and think alike but work in different veins," says Louanna. While Louanna tackles apparel, Hilary is in charge of jewellery. Together, they brainstorm a colour scheme for each collection, which is then used in both departments to keep everything looking consistent. Once colours have been chosen and rough sketches have been made, Louanna creates a visual design by experimenting with different fabrics. One thing they always keep in mind is "the wearability factor" in their designs.
Despite their style icons being international successes like Diane Kruger and the Rodarte sisters, the Prince Edward Island natives still manage to find inspiration in their own backyard. "We try to find things close to our heart, like choosing colours from a PEI summer, the rusty reds and purple from the sunset," says Louanna. Keeping things within the Atlantic provinces is important for the Murphys. But successful businesses are always looking to expand. "For us to branch out to different provinces is really important," says Hilary. "To stay in PEI is unrealistic but we will always be east coasters." And the east coast is lucky to have 'em.
Favourite spring outfit: Fringe and a head-to-toe print suit (Louanna). Shorts with tights and baggy tops (Hilary).
---
The rocker
Amy Honey's Fancy Lucky Vintage started on the stage, but ended up on the beach.
Amy Honey began her journey while living the '90s dream---rocking out in a riot grrrl band. She created her own stage clothing, so when people started asking where she got her awesome performance-wear, she decided to start selling it on the side. After taking a step back from the performance world to settle down, Honey and her husband opened up a record store out west. "I'd be upstairs doing everything behind the scenes on the computer," says Honey. "I just kind of got side tracked by fashion and randomly selling things on eBay."
Now, with a retail space and online Etsy store, Honey refers to Fancy Lucky Vintage as more of an indie boutique rather than a clothing line. Her shop at Lawrencetown Beach (4144 Lawrencetown Road) sells everything from vintage clothing to locally handmade art and jewelry. Honey purchases all the materials outright, whether from a collector or at an auction, ensuring each piece is completely different---"its own entity," she says. While most of what's sold at the Fancy Lucky Vintage store is in its original state, Honey's clientele consists of street traffic as well as photographers and people seeking original designs. "My job is to completely create that dress from the ground up. I like to create a story from the outfit," she says of her custom work.
Honey's style icon is Alexander McQueen: "Anything he ever did and everything Sarah Burton continues to do in his name moves me to tears."
Looking into the future, Honey hopes to one day attend Paris fashion week with a couture line, and ideally, "hang out with Karl" (Lagerfeld). While international success is on her radar, Honey promises to keep Fancy Lucky Vintage based out of Nova Scotia. "We tend to create our own magical fantasy land out here...Nova Scotia is a good place to be an artist, it breeds originality and creativity." But what is it that really keeps her on the east coast? "If I don't go for a walk on the beach with my dog the business fails."
Favourite spring outfit: Being barefoot on the sand and multi-purpose fabrics that can be used as a shawl, scarf, wrap or dress.