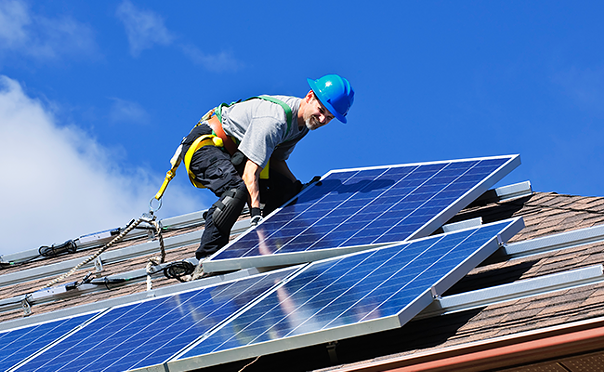 VIA iSTOCK
Not as much of this going on as the city hoped.
The sun isn't shining as brightly on Solar City these days.
Phase two of Halifax's solar energy financing project has a budget of $13 million for the next three years, but
in its first six months
has only managed to spend $311,257.
It's not as bad as it seems, though, cautions HRM manager Shannon Miedema. The program is on track to finance around $770,000 worth of solar energy installations by end of year.
"Now, that's still low compared to $13 million," Miedema offers. "The program, it was reimagined from what it was when it was a pilot program and it's structured very differently."
The oft-lauded Solar City program pays for the installation costs of solar energy systems in residential homes. Property owners then pay back the full amount to the city over the next 10 years through a local improvement charge on their property.
The original
two-year pilot program
installed close to 400 solar hot water systems in homes throughout HRM. It was so successful that for a time the number of residential installations in Halifax annually exceeded the solar panel installations in the rest of Canada.
Last summer Regional Council
approved a three-year "phase two" continuation
of the program that included an increased budget and expanded the finance options to solar heating and solar electric systems.
But the solar system's expansion has created a black hole of sales. The city's target is 450 installations a year, with half of those coming from hot water systems. So far, according to Miedema, Halifax has only financed 25 completed installations this year. Ten more are under construction.
The restructuring has been a "learning curve," admits Miedema, both for residents as well as contractors. "There was just more complexity, more information required."
She attributes the "lag" in installations as partially a result of the limited amount of industry technicians responding to high demand.
"Apparently they're all really flat out with all the work they're doing. Which is actually excellent. If the solar industry is busy and things are happening, that's really great."
Kelly Lunn,
owner
of EnCom Alternative Energy Solutions, is busy. His company does a couple hundred solar hot water installations a year. Virtually none go through Solar City, he says.
"I don't know if there's any great benefit to putting a system—be it solar hot water or solar electric—on your taxes," says Lunn. "You've got to remember, money is very cheap to borrow."
EnCom was the second highest-scoring vendor for Solar City's pilot program. The tender for those installations ended up going to a single company—Dartmouth's Thermo Dynamics—creating a pseudo-monopoly that
wasn't well-received
by other industry players.
Phase two is currently open to any certified solar contractors, but Lunn says very few of his customers are choosing to finance installations on their taxes via HRM's 4.75 percent interest rate.
Delays in getting back to the 2,500 residents who wanted to take part in Solar City during its pilot phase may have resulted in those homeowners financing projects through their banks instead, says Miedema, but it's difficult to be sure. The municipality had been hoping to track all solar installations through the required permits. But just like installing a deck or other small home upgrades, not everyone goes through the proper paperwork.
Still, Miedema says the program is "picking up speed" and the numbers should improve over the next two years.
"Is nothing happening? Well, no, lots of things are happening," she adds. "I think we can say quite a lot of positive things about it to date."
Lunn isn't so sure. He attributes the program's initial high volume of sales to a finite customer base.
"They had this pent-up list that had been waiting a while that wanted to do it through their taxes, and they did that," says Lunn. "Then that was it. You purged that potential small market."
According to the municipality, Solar City's already completed hot water installations will reduce greenhouse gases by 16 million kilograms and potentially save upwards of 320 million litres of water over the next 23 years.
Solar City's annual report will be presented to HRM's environment standing committee later this month.